The GRP Piping market is set for a rapid growth over the forecast period. In terms of revenue, the global GRP Piping market accounted for USD 5,428.15 Million in 2019 and is expected to reach USD 8,027.39 Million by 2026, growing at a CAGR of 5.75%.
Global Glass Reinforced Plastic (GRP) Piping Market: Overview
In the fiber glass pipe industry, Glass Reinforced Plastic (GRP) Pipes and Fiber Reinforced Plastics (FRP) Pipes acronyms are used interchangeably. The variation is that the Fiber Reinforced Plastics Pipes acronym is mainly used in the United States and Canada, while the word GRP Pipe is used in the majority of other countries. GRP is a composite material composed of a polymer matrix lined with fibers. GRP pipes are engineered for weather resistance, corrosion resistance, visual inspection friendliness, and longevity.
The polymer matrix is generally a vinyl ester, epoxy, or polyester thermosetting resin. The resin provides chemical and environmental resistance to the product, serves as a binder for the fibers in the structural laminate, and determines the form of a GRP element. The glass fibers offer resistance to the composite. They can be arranged in random or in a logical order. E-glass, or alumino-borosilicate glass, is the most popular form of glass fibre used in GRP. Electrical/Chemical Resistance (E-CR) glass is also widely used in applications that demand particularly high acidic corrosion protection.
Global Glass Reinforced Plastic (GRP) Piping Market: Growth Factors
The growing prevalence of GRP piping systems in onshore and offshore oilfields is anticipated to push product demand. In the oil and gas industry, glass fibre reinforced plastics piping systems are used for subsea piping systems, offshore platform piping systems, injection lines for water and gas, gas transmission lines, floating production storage, crude oil transmission, flow lines, exploration, and refinery piping systems. Rising hydrocarbon exploration and development activities are expected to drive demand over the forecast period.
The demand is expected to grow due to an increase in crude oil production, especially in the Middle East, Africa, and North America, in both onshore and offshore oilfields. Moreover, the significant rise in production in connected oil and gas reserves around the world is likely to have a positive effect on demand. Furthermore, the industry is regulated by rigorous regulations for the use of products in construction and automotive applications. Specialty GRP piping systems are required to follow the United States Leadership in Energy and Environmental Design (LEED) standards for green buildings.
The primary raw materials used in product manufacturing include soda, polyacrylonitrile fibers (PAN), pitch resins, ash, rayon, and silica sand. Fluctuations in raw material prices influence end-product prices as well. This aspect is anticipated to stymie the expansion of the Glass Fiber Reinforced Plastics (GRP) piping systems market during the projected timeline.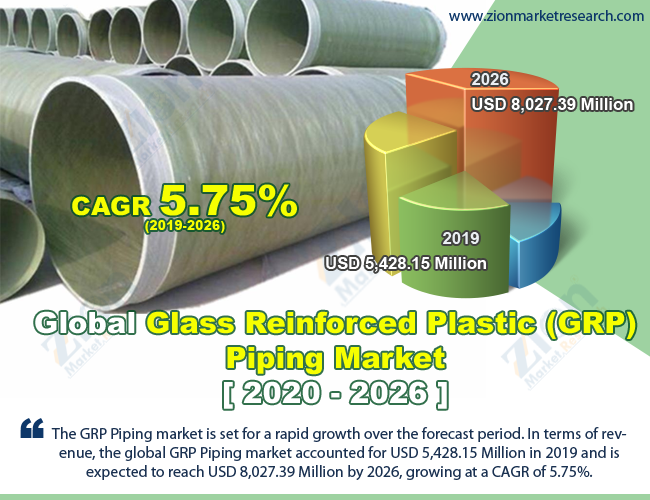 Request Free Sample
Global Glass Reinforced Plastic (GRP) Piping Market: Segmentation
Polyester resin is projected to grow at a steady CAGR in terms of revenue during the forecast period, due to the resin's ability to impart improved properties, such as corrosion resistance and increased strength and longevity to GRP piping systems and fittings. Moreover, polyester is used in the manufacturing of pipes, elbows, tees, and reducers in conjunction with reinforcing agents, chopped fibers, and catalysts.
On the basis of resins, vinylester Glass Reinforced Plastic (GRP) pipes and fittings offer excellent chemical resistance and higher temperature and are of lower cost than polyester. Also, these resins offer flame retardants properties to GRP piping systems, that aids in the widespread use of GRP pipes in the petrochemical and oil and gas transport industries.
Thermoplastic resins used in the production of GRP piping systems include, polypropylene, polyvinylchloride (PVC), and polyethylene. The excellent stability and structure provided by vinyl ester, epoxy, polyester, and thermoplastic is anticipated to fuel the growth from high-performance applications such as oil and gas refineries and desalination plants.
Pipes accounted for a significant market share in terms of sales in 2020 due to their use in the oil and gas sector, which is prone to corrosion due to high water to oil ratios. Growing demand for anti-corrosive pipes in desalination plants and oil and gas refineries is expected to drive GRP market growth in the near future.
Global Glass Reinforced Plastic (GRP) Piping Market: Regional Analysis
By Geography, the GRP Piping market is segmented into North America, Europe, Latin America, Asia Pacific, and Middle East and Africa.
Traditional pipeline construction has been a lengthy process that has not kept pace with North America's increasingly growing onshore domestic crude oil production. Because of the existence of a large number of companies offering chemical processing solutions and industrial waste water treatment, the region contributed a substantial market share in terms of revenue in 2020.
Reduced oil and gas consumption, as a result of a transition in the economy toward lower greenhouse gas (GHG) emissions and investments in the sewage and chemical industries, is projected to boost demand in Europe. The demand for epoxy glass fibre reinforced plastics pipes is expected to rise as natural gas exports from European countries such as the United Kingdom and Germany increases.
The market in Central and South America is affected by the import of primary energy inputs through an extensive pipeline network. Moreover, the rapid growth of end-user industries such as oil and gas, automotive, water treatment, and construction in emerging economies such as Argentina and Brazil are expected to drive regional demand.
The Middle East and Africa's fiberglass pipes markets are driven by oil and gas exports and processing in Middle Eastern countries and the irrigation industry in Africa. In addition, rising environmental issues, combined with the cost-intensive nature of waste management processes in offshore projects, are expected to drive demand for oilfield services, thereby contributing to the growth of glass fibre reinforced plastics piping systems products in the near future.
Global Glass Reinforced Plastic (GRP) Piping Market: Competitive Players
The major players in the global GRP Piping market include Saudi Arabian Amiantit Company, VEPLAS, d.d., Enduro Composites, Future Pipe Industries, Harwal Group, HOBAS, Hanwei Energy Services Corp., Dubai Pipes Factory Co., Composite Pipes Industry, Graphite India Limited, Smithline Reinforced Composites, Plasticon Composites, and Industrial Plastic Systems among others.
The report segment of global GRP Piping market are as follows:
Global Glass Reinforced Plastic (GRP) Piping Market: Resin Segment Analysis
Epoxy
Polyester
Vinyl Ester
Thermoplastic
Others
Global Glass Reinforced Plastic (GRP) Piping Market: Parts Segment Analysis
Pipes
Elbows
Blinds
Reducers
Nozzles
Others
Global Glass Reinforced Plastic (GRP) Piping Market: Application Segment Analysis
Oil & gas
Chemicals
Wastewater Treatment
Irrigation
Water Supply
Others
Global Glass Reinforced Plastic (GRP) Piping Market: Regional Segment Analysis
North America
Europe

France
The UK
Spain
Germany
Italy
Rest of Europe

Asia Pacific

China
Japan
India
South Korea
Southeast Asia
Rest of Asia Pacific

Latin America

Brazil
Mexico
Rest of Latin America

Middle East & Africa

GCC
South Africa
Rest of Middle East & Africa