Gene Panel Market: Industry Prospective
The global gene panel market was worth around $ 2 billion in 2021 and is predicted to grow to around $ 9 billion by 2028 at a CAGR rate of 22% over the forecast period. In this report, we will cover the overview, growth drivers, opportunities, and obstacles of the gene panel market from 2022 to 2028.
Gene Panel Market: Overview
A gene panel is a diagnostic testing tool for analyzing the possibility of multiple genes for cancer-associated mutations. They are also used for treatments of diseases such as cancer, syndrome-specific disorders, and any random infections. A gene panel test is considered to be the most reliable test for diagnostic purposes than any BRCA1/2 genetics test. They diagnose the possibility of breast cancer and also identify patients at risk.
They are also capable of detecting and capturing all relevant information regarding a disease including genome sequencing in the genome. Targeted gene paneling testing has been used for genetic disorders such as hearing impairment or eye defects that are caused due to mutations.
Untargeted disease gene panel testing includes testing multiple genes to identify any intellectual or inherent disabilities which are not generally available to the family.
Women and men can have mutations in BRCA1 or BRCA2 genes and gene panels analyze the risk of developing any type of cancer rights from fallopian tubes, ovaries, breasts, and also prostate in men.
These tests also include multiple litigation-dependent probe amplification signals and QPCR reactions. This makes it feasible not only for diagnostic purposes but also for predictive and prevention treatments which avert a disease even before the person is affected.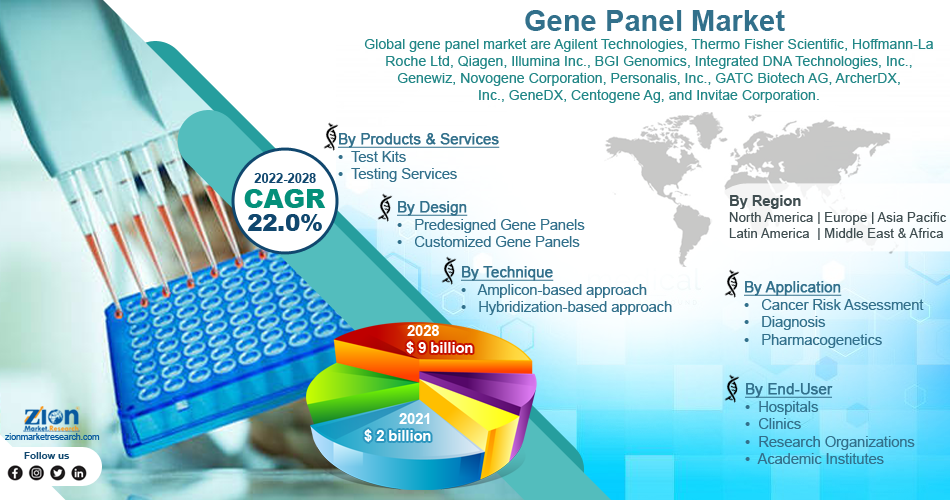 Request Free Sample
Covid-19 Impact:
Covid-19 had a mediocre effect on the global gene panel market. The global pandemic led to the financial crisis with sudden lockdown and curfews along with increasing health concerns. This affected the supply chain operations of the gene panel market by dwindling the sales to a grinding low. Genetic testing services adopted digitalization due to the crippled mobility during the pandemic with home testing samples becoming more prominent. However, healthcare, biotechnology, and pharmaceutical industries have been in demand during this time to serve patients and help healthcare professionals which kept the gene panel market stable to some extent. The demand for vaccines and medical tests for COVID-19 has promised market growth in the future as well.
Gene Panel Market: Growth Drivers
An increasing number of cancer cases and technological advancements in research for cancer therapies induce market growth
Rapidly increasing cancer cases across the world and the influx of chronic diseases in the geriatric population drive growth for the gene panel market. There are a number of initiatives by different companies globally and the benefits of gene panels to fight cancer boost market growth as well.
One of the other contributing factors to the growth of the market is the increasing focus on prenatal diagnosis and predictions of disorders in people prior to their infection. There has also been a great demand for genetic testing coupled with technological advancements like generation sequencing systems which propel market growth massively.
Growing demand for advanced medical testing along with options for personalized medicines in clinical diagnosis also promise market growth. Gene panel's extensive leverage in the diagnosis of congenital diseases and pharmacogenetics also impel growth in the global market.
Many pharmaceutical companies are focusing on the research of targeted therapies for treating cancer. These companies use gene panels widely thereby fueling the market growth. Genetic mutation disorders have become common these days amongst the geriatric population which supports the gene panel market exquisitely.
Gene Panel Market: Restraints
Increasing security concerns on genetic data and lack of accuracy hinder the market growth
Factors that hinder market growth are the increasing security concerns about the security of the data and lack of preciseness in the outcome. There is also a general standardization of results in diagnostic tests which restricts the leverage of gene panels. The awareness about gene panels and their benefits is lesser in developing countries and there is also a low adoption of advanced technologies here which impedes the growth of the global gene panel market.
Gene Panel Market: Opportunities
Technological advancements in gene panels testing provide lucrative opportunities for the market
Leading companies have come up with new plans for effective gene panels with improved technological advancements that provide opportunities going ahead. There has also been an increase in the prevalence of cancer in recent times along with age-related disorders which seems to provide opportunities for market expansion. Government initiative in population sequencing and modernization of healthcare techniques will provide excellent growth to the market. The continuing research and developments pertaining to gene sequencing could offer significant opportunities for the development of the market.
Gene Panel Market: Challenges
Stringent rules for the functioning of pharmaceutical companies pose a challenge to the market
Pharmaceutical companies use gene panels extensively for various research and development programs including personalized medical testing purposes to diagnose and treat cancers. However, government regulations regarding the operations of these pharmaceutical companies along with the restrictions on their testing methods implemented by the government pose a challenge to the market growth of the gene panel market.
Increase in the cost of testing due to inappropriate results challenges market growth
The accuracy of the gene panel test is slightly lower and needs repetitive testing to clarify results. Hence, the correction of erroneous results happens through iteration which increases the cost of testing. This factor slightly obstructs market growth and also considerably poses a challenge for market growth.
Gene Panels Market: Segmentation
The global gene panel market in this research analysis is divided into product & service, design, technique, application, end-user, and region. Products & services are classified as test kits and testing services. Design is divided into predesigned gene panels and customized gene panels. Techniques consist of amplicon-based approach and hybridization-based approach. Applications are cancer risk assessment, diagnosis, and pharmacogenetics. End-users are hospitals, clinics, research organizations, and academic institutes.
Report Scope:
Recent Development
In January 2020, the partnership was established between Illumina and Qiagen to increase the supply of NGS-based IVD kits for patient management.
In October 2019, Ion AmpliSeq HD technology has been launched by Thermos Fisher Scientific as a next-generation library that will provide custom-designed gene panels to clinical researchers.
Gene Panel Market: Regional Landscape
The market in North America contributes the largest share of the global gene panel market due to the rising cases of chronic and infectious diseases here. There has been increasing support from the government for genomics research which increases the demand for gene panels here. The rising focus on research on rare diseases, genetic disorders, and NGS-based applications coupled with technological advancements fuel the regional market growth. Europe trails as the second-largest market due to the increase in modernized healthcare systems, research & development activities, and the emergence of new effective gene panels in access.
Gene Panel Market: Competitive landscape
The key players in the global gene panel market are Agilent Technologies, Thermo Fisher Scientific, Hoffmann-La Roche Ltd, Qiagen, Illumina Inc., BGI Genomics, Integrated DNA Technologies, Inc., Genewiz, Novogene Corporation, Personalis, Inc., GATC Biotech AG, ArcherDX, Inc., GeneDX, Centogene Ag, and Invitae Corporation.
Gene Panel Market segmentation follows,
By Products & Services
Test Kits
Testing Services
By Design
Predesigned Gene Panels
Customized Gene Panels
By Technique
Amplicon-based approach
Hybridization-based approach
By Application
Diagnosis
Pharmacogenetics
By End-User
Clinics
Research Organizations
Academic Institutes
By Region
North America
Europe

France
The UK
Spain
Germany
Italy
Rest of Europe

Asia Pacific

China
Japan
India
South Korea
Southeast Asia
Rest of Asia Pacific

Latin America

Brazil
Mexico
Rest of Latin America

Middle East & Africa

GCC
South Africa
Rest of Middle East & Africa