Fosfomycin Trometamol Industry Prospective:
The global fosfomycin trometamol market size was worth around USD 54.93 million in 2022 and is predicted to grow to around USD 74.52 million by 2030 with a compound annual growth rate (CAGR) of roughly 3.92% between 2023 and 2030.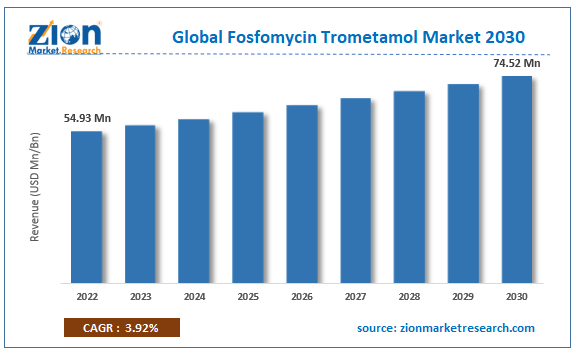 Request Free Sample
Fosfomycin Trometamol Market: Overview
Fosfomycin trometamol is a medication used for the treatment of bladder infections including lower urinary tract infections (UTIs) and acute cystitis in women. The medicine works by inhibiting bacterial growth causing the infection. Typically, the medicine has a salty taste and white crystalline color in powder form. It does not have any associated odor and can dissolve easily in methanol. However, fosfomycin trometamol is not soluble in chloroform. It is a broad-spectrum, antibacterial disinfectant known for its efficiency in targeting gram-positive and gram-negative bacteria. Fosfomycin trometamol should be consumed only based on a doctor's prescription since administering the medicine without any real medical need can lead to serious side effects. It has to be consumed orally as a single dose by mixing it in water in most cases. While the increasing rate of UTI infection is driving the fosfomycin trometamol market growth, it is also subject to specific challenges and limitations restricting the growth trajectory.
Key Insights:
As per the analysis shared by our research analyst, the global fosfomycin trometamol market is estimated to grow annually at a CAGR of around 3.92% over the forecast period (2023-2030)
In terms of revenue, the global fosfomycin trometamol market size was valued at around USD 54.93 million in 2022 and is projected to reach USD 74.52 million, by 2030.
The fosfomycin trometamol market is projected to grow at a significant rate due to the rising rate of UTI patients
Based on application segmentation, common urinary tract infection was predicted to show maximum market share in the year 2022
Based on type segmentation, fosfomycin tromethamine granules was the leading type in 2022
On the basis of region, North America was the leading revenue generator in 2022
Fosfomycin Trometamol Market: Growth Drivers
Rising rate of UTI patients to drive market growth
The global fosfomycin trometamol market is expected to grow owing to the increasing rate of urinary tract infections in women. UTI occurs in the urinary system including ureters, kidneys, urethra, and bladder. Fosfomycin trometamol is not recommended for treating UTI outside the bladder. However, studies indicate that most urinary tract infections generally occur in the lower tract including the bladder and urethra. Furthermore, the condition generally affects women and the medicine is recommended for treating UTI in the female population. The condition is known to be painful and can lead to severe annoyance in patients. If UTI spreads to other parts of the urinary system such as the kidney it can lead to more serious complications resulting in a higher need to treat the condition while it is restricted to the bladder area. Certain common symptoms of UTI include frequent urination, strong and persistent urge to urinate, strong-smelling urine, burning feeling while urinating, and pelvic pain. The infection occurs when bacteria enter the urinary tract. Medical professionals have outlined certain risk factors in women including sexual activity, female anatomy, menopause, and consuming certain types of birth control. As per reports by the Urology Care Foundation, around 10 in every 25 women show symptoms of UTI during their lifetime. As per other statistics, around 50% of women across the globe are projected to face UTI complications at least once in their lives.
Increasing investments toward new and well-equipped urology centers to deliver a higher growth rate
The fosfomycin trometamol industry is expected to deliver higher results due to the growing investments toward the launch and construction of new urology centers equipped with the latest technologies and medicines. In October 2023, Brigham and Women's Hospital announced the founding of the Department of Urology. The new segment is the latest addition of new segments in the hospital's history in the last decade. More care centers for UTIs will allow a higher number of female population to gain access to essential medical care.
Fosfomycin Trometamol Market: Restraints
Associated side effects of the condition to restrict market growth
The global fosfomycin trometamol market size is expected to be restricted due to the several side effects associated with the medication. The most common unwanted reactions after medicine administration include headache, nausea, diarrhea, dizziness, and vaginal discomfort. Although the side effects subside after some time, there is a risk of the conditions getting worse or intensifying, requiring the patient to visit a medical professional. In addition to this, certain instances indicate that there is a slight and rare risk of severe intestinal conditions caused by C. difficile bacteria. The condition may get triggered during the treatment or weeks after completing treatment.
Fosfomycin Trometamol Market: Opportunities
Increasing approval for medicine sales in new markets to generate growth opportunities
During the forecast period, fosfomycin trometamol drug developers can expect higher revenue owing to the increasing number of drug approvals in emerging or new markets. In October 2020, Xiromed LLC announced that it had received the necessary approvals for launching Fosfomycin Tromethamine Granules for Oral Solution. It is the first AA-rated generic variant of the US Food and Drugs Administration approved Monurol®. Xiromed LLC is the generic segment of Insud Pharma, S.L., an international pharmaceutical company.
Growing research and innovation in UTI detection and treatment to open new avenues for further growth
The fosfomycin trometamol industry growth trend will be fueled by the increasing research and innovation projects related to UTI detection and treatment on a global scale. In August 2022, researchers at the University of Technology Sydney (UTS) published a new report detailing how the scientists used modern technology including state-of-the-art microscopy to understand how Uropathogenic Escherichia coli, UTI-causing bacteria spread and multiply. By determining the bacteria's behavior, new opportunities have been created to not only identify the condition in the initial stages but also develop proactive treatment.
Fosfomycin Trometamol Market: Challenges
Availability of other UTI treatment methods is a critical challenge
Urinary tract infections can be treated by other methods as well and may not require the use of fosfomycin trometamol. For instance, simple UTIs can also be treated using cephalexin, trimethoprim and sulfamethoxazole, ceftriaxone, and nitrofurantoin. Moreover, fosfomycin trometamol has limited applications since it cannot be used to treat UTIs that have spread outside the bladder. In addition to this, the experience and subjective treatment approach adopted by the medical professional leads to additional challenges working against the growth in the industry.
Fosfomycin Trometamol Market: Segmentation
The global fosfomycin trometamol market is segmented based on application, type, and region.
Based on application, the global market segments are postoperative urinary tract infection, common urinary tract infection, preoperative urinary tract infection, and others. In 2022, the highest growth was observed in the common urinary tract infection segment since the medicine is generally used for the treatment of uncomplicated or simple UTIs. It is not recommended to be used in serious cases of urinary tract infections. Additionally, the medicine has to be consumed only when it is medically prescribed at any onset of side effects and should be reported to the professional if they persist for long. Studies and official statistics report that the medicine starts showing results in 2 to 3 days.
Based on type, the fosfomycin trometamol industry is divided into fosfomycin tromethamine powder and fosfomycin tromethamine granules. In 2022, the revenue was the highest in fosfomycin tromethamine granules due to a higher number of granule-based medicine launches and approvals. However, the choice between powder and granule form depends on the professional handling the case and medicine availability as both variants perform the same role. As per research, the recommended dosage for women over 18 years of age is one sachet of fosfomycin tromethamine.
Fosfomycin Trometamol Market: Report Scope
Report Attributes
Report Details
Report Name
Fosfomycin Trometamol Market
Market Size in 2022
USD 54.93 Million
Market Forecast in 2030
USD 74.52 Million
Growth Rate
CAGR of 3.92%
Number of Pages
225
Key Companies Covered
Meiji Seika Pharma, Zambon Group, CSPC Pharmaceutical Group, Sandoz, Merck & Co., S.A.L.A.R.S. Pharmaceuticals, Pfizer, Sanofi, Teva Pharmaceutical Industries, Bristol Myers Squibb, Sun Pharmaceutical Industries, North China Pharmaceutical Corporation (NCPC), Mylan, GlaxoSmithKline, Bayer, and others.
Segments Covered
By Application, By Type, and By Region
Regions Covered
North America, Europe, Asia Pacific (APAC), Latin America, Middle East, and Africa (MEA)
Base Year
2022
Historical Year
2017 to 2021
Forecast Year
2023 - 2030
Customization Scope
Avail customized purchase options to meet your exact research needs. Request For Customization
Fosfomycin Trometamol Market: Regional Analysis
North America to witness the highest growth rate during the forecast period
The global fosfomycin trometamol market is expected to be dominated by North America during the forecast period. The key regional market driver is the extensive access to primary medical care for citizens of the US and Canada regions. The rising prevalence of UTI infections in women caused by several external factors and high awareness resulting in quick response to medical issues have assisted in making North America the most dominant nation in the market. In addition to this, the increased rate of FDA approvals, growing demand for generic medicines, and rising healthcare expenditure from the regional governments are also considered favorable factors in North America. In December 2021, MedicaMetrix Inc (MMx) and Emerson Hospital's Yeatts Urology Center (Concord, MA) announced a strategic partnership to establish an international center of excellence for urology. Growth in Europe is likely to be driven by the growing female population and increasing incidences of urinary tract infections. Rising awareness programs and high per capita spending capacity to deliver higher revenue in Europe.
Fosfomycin Trometamol Market: Competitive Analysis
The global fosfomycin trometamol market is led by players like:
Meiji Seika Pharma
Zambon Group
CSPC Pharmaceutical Group
Sandoz
Merck & Co.
S.A.L.A.R.S. Pharmaceuticals
Pfizer
Sanofi
Teva Pharmaceutical Industries
Bristol Myers Squibb
Sun Pharmaceutical Industries
North China Pharmaceutical Corporation (NCPC)
Mylan
GlaxoSmithKline
Bayer
The global fosfomycin trometamol market is segmented as follows:
By Application
Postoperative Urinary Tract Infection
Common Urinary Tract Infection
Preoperative Urinary Tract Infection
Others
By Type
Fosfomycin Tromethamine Powder
Fosfomycin Tromethamine Granules
By Region
North America
Europe

France
The UK
Spain
Germany
Italy
Rest of Europe

Asia Pacific

China
Japan
India
South Korea
Southeast Asia
Rest of Asia Pacific

Latin America

Brazil
Mexico
Rest of Latin America

Middle East & Africa

GCC
South Africa
Rest of Middle East & Africa