According to the report, global demand for Food Processing Seals market was valued at approximately USD 2.7 billion in 2019, and is expected to generate revenue of around USD 3.2 billion by end of 2026, growing at a CAGR of around 2.6 % between 2020 and 2026.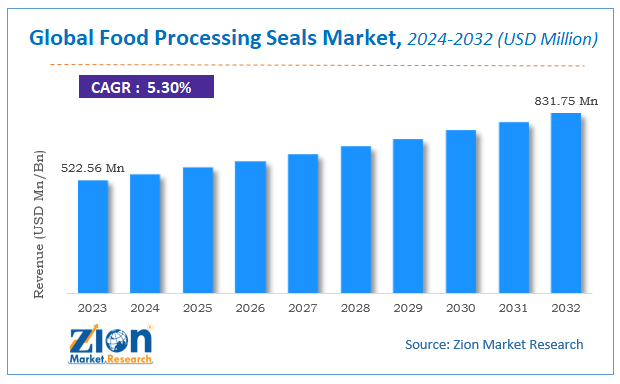 Request Free Sample
Global Food Processing Seals Market: Overview
Food processing seals find utility across food processing activities for avoiding food contamination and leaking of food. They are rust resistant and conform to the state legislation and guidelines such as the FDA. They find use in myriad food & beverage devices for the purpose of sealing.
Global Food Processing Seals Market: Growth Factors
The massive production of packaged as well as processed food items in various countries worldwide will protrude the food processing seals market demand. Strict enforcement of legislation pertaining to food grade seals applications as well as utilization of seal material is likely to embellish the business growth trends. Government of various countries has executed stringent laws pertaining to the use of specific food items and instrument in food processing. This, in turn, will augment the market size. Nonetheless, the rise in the consciousness about the product and acceptance of natural, organic, and unprocessed beverages, as well as foods, are obstructing the food processing seals market revenue.
Moreover, food processing seals offer safety & hygiene and ensure that the ingredients do not spill out. The inherent features of these products to endure high temperatures and tough climatic conditions will intensify the industry progress over the coming years. Massive customer demand for confectionery items, bakery items, and frozen foods will spur the market expansion.
Global Food Processing Seals Market: Segmentation
The food processing seals market can be segmented into material type and application. In terms of material type, the market is sectored into metals, elastomers, and face materials. Application wise, the food processing seals market can be classified into bakery & confectionery, alcoholic beverages, dairy items, meat, non-alcoholic beverages, and poultry & seafood.
Global Food Processing Seals Market: Regional Analysis
The Asia Pacific is predicted to witness lucrative growth over the forecast timeframe. The growth can be attributed to the massive popularity of food items in the countries of Asia Pacific as a result of altering standards of living as well as a rise in the per capita spending of the end-users. Apart from this, large-scale intake of meat in Indonesia, Thailand, India, and China is projected to scale up the scope of the business in the Asia Pacific zone.
The European region is forecast to dominate the overall market in terms of both size and revenue. The regional dominance can be due to production as well as the processing of food items on a very large scale. Furthermore, strict vigilance of the government associated with the use of these products in food & beverages will drive the regional market demand. Additionally, escalating intake of fast food and convenience food items in the UK, German, and France will act as a growth driver for the food processing seals market in Europe. The market in North America is estimated to witness moderate growth over the review period.
Global Food Processing Seals Market: Competitive Players
Few of the main participants in food processing seals market are Freudenberg Group, Smiths Group Plc, James Walker, CDK Seals, Parker Hannifin, EnPro Industries, Inc., A.W. Chesterton Company, Cinch Seal, IDEX Corporation, Meccanotecnica Umbra S.p.A., Klinger Group, Smiths Group Plc, SKF, and Trelleborg AB.
Global Food Processing Seals Market: Regional Segment Analysis
North America
Europe
The Asia Pacific
Latin America
The Middle East and Africa
What Reports Provides
Full in-depth analysis of the parent market
Important changes in market dynamics
Segmentation details of the market
Former, on-going, and projected market analysis in terms of volume and value
Assessment of niche industry developments
Market share analysis
Key strategies of major players
Emerging segments and regional markets
Testimonials to companies in order to fortify their foothold in the market.