Floor POP Display Industry Prospective:
The global floor POP display market size was worth around USD 4.14 billion in 2022 and is predicted to grow to around USD 6.91 billion by 2030 with a compound annual growth rate (CAGR) of roughly 6.68% between 2023 and 2030.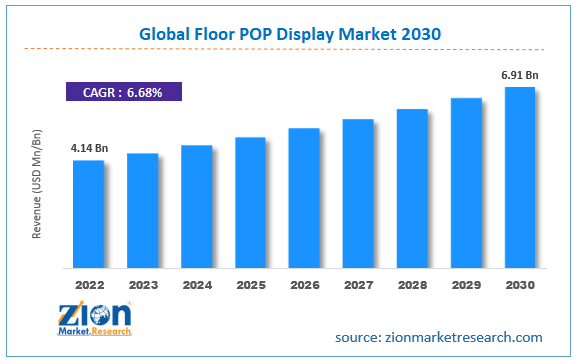 Request Free Sample
Floor POP Display Market: Overview
A floor point-of-purchase (POP) display is a marketing and advertising tool in the form of a free-standing fixture. These items can be used to display products while leaving sufficient space for brand messaging. They can be customized since it is easy to design them in various shapes and sizes. Floor POP displays are made from several types of materials including polyvinyl chloride, medium-density, or corrugated fiberboard. Companies may use the tool as a strategic marketing tool by placing their products on floor POP in areas that have higher traffic such as the checkout counter or food item sections. There are several key attributes related to the tool such as the final design of floor POP, its structural integrity, product placement, displayed brand message, and graphics, that play a crucial role in improving the marketing efficiency of the tool.
Key Insights:
As per the analysis shared by our research analyst, the global floor POP display market is estimated to grow annually at a CAGR of around 6.68% over the forecast period (2023-2030)
In terms of revenue, the global floor POP display market size was valued at around USD 4.14 billion in 2022 and is projected to reach USD 6.91 billion, by 2030.
The floor POP display market is projected to grow at a significant rate due to the rising number of retail outlets and megastores
Based on sales channel segmentation, the supermarket segment was predicted to show maximum market share in the year 2022
Based on material type segmentation, corrugated board was the leading type in 2022
On the basis of region, North America was the leading revenue generator in 2022
Floor POP Display Market: Growth Drivers
Rising number of retail outlets and megastores to promote market growth
The global floor POP display market is expected to witness higher growth due to the increasing number of retail outlets and megastores across the globe. As the world population continues to rise resulting in surging consumerism levels for all types of products ranging from food to electronic items, several retailers have constructed new shopping centers, outlets, and stores. For instance, Walmart, a leading multinational retail corporation, runs around 10,622 stores across 24 countries. It caters to the needs of over 37 million people every day with a total revenue of USD 570 billion as of 2023. In August 2023, Aqara, a company operating in the smart home products section, opened its first Amazon store in Poland.
In 2015, leaders at the highly popular e-commerce company Amazon conceptualized the idea of Amazon Go stores which is an offline version of the buying website where consumers can go to the store and purchase the items they like. Such changing and novel strategies in the evolving retail industry are likely to improve the buying experience of consumers thus increasing the number of footfall in brick-and-mortar units. This trend, in turn, is likely to push the demand and consumption of floor POP displays since they are known to be excellent advertising tools as they are cost-effective and flexible in terms of use.
Floor POP Display Market: Restraints
Concerns over floor POP acting as a safety hazard to create growth restrictions
The global floor POP display market growth may be restricted due to the product being considered or acting as a safety hazard since it may come in the way of shoppers especially if they are in a hurry, preoccupied, or shopping in groups with children. Senior citizens and toddlers or children are at the highest risk of colliding with floor POP if it is not placed correctly. Moreover, there may be incidents when the unit may fall on the floor or on people standing nearby such as during the event of an earthquake. These factors may cause retail outlets to disallow the use of floor POP or prefer allowing more secure advertising tools such as wall-mounted displays.
Floor POP Display Market: Opportunities
Aggressive product diversification and marketing strategies adopted by brands to create growth opportunities
With a consistent increase in the number of players in the retail industry across sub-segments such as fast-moving consumer goods, furniture, clothing, personal care, books, jewelry, sports products, and several other items, the need for adopting aggressive marketing tactics is higher than ever. For instance, in July 2021, Only Earth, a Singapore-based producer of plant-based ready-to-drink beverages announced its plans to diversify its product range while making an entry into the Indian market. While the companies continue to capture a broader group of audiences with diverse tastes and preferences, marketing and advertising tactics play a serious role in determining product success. In 2020, Nike, a leading giant selling athletic wear, spent nearly USD 3.6 billion on advertising. In the last five years, the company's marketing expenses have crossed USD 17 billion. Most of the companies spent a hefty share of total revenue on marketing activities and the trend is likely to continue in the coming years thus driving the demand in the floor POP display industry .
Floor POP Display Market: Challenges
Growing number of online buyers to create hurdles during the expansion period
In the last few years, the e-commerce industry has reached new heights with growing popularity. Online buying trend was further strengthened during COVID-19 when most people preferred to purchase products including everyday essentials through online sales channels. This has resulted in reduced consumer footfall in retail outlets. Additionally, during online buying, the consumer may get their hands on discount offers further attracting more buyers as they may consider online shopping as a higher value for their money. It could create several hurdles for the manufacturers and suppliers working in the global market.
Floor POP Display Market: Segmentation
The global floor POP display market is segmented based on sales channel, end-user industry, material type, and region.
Based on sales channel, the global market is segmented into convenience store, hypermarket, supermarket, departmental store, and other retail formats. The highest growth was observed in the supermarket segment along with hypermarket and departmental stores segments. Supermarkets house more brands and their products. Additionally, they tend to customers ranging from regular buyers to occasional visitors such as people traveling from one place to another. The increasing investments in building new supermarkets, especially in emerging countries with rising per capita income and urbanization or growing product awareness, the segmental growth is expected to continue the current trend. As of 2023, China has more than 1700 supermarket businesses spread across the region.
Based on industry, the floor POP display industry is divided into electronics, food & beverages, printing & stationery, automotive, cosmetics & personal care, pharmaceuticals, and others.
Based on material type, the global market is divided into glass, corrugated board, plastic sheet, metal, and foam board. The highest demand was observed in the corrugated board segment of the floor POP display industry due to the superior functional capabilities of floor POP displays made from corrugated material. It offers higher convenience and functionality and is the main reason for the segmental dominance covering over 62.1% of the total revenue. The segment corresponding to plastic sheet material is likely to experience a better response during the projection period.
Floor POP Display Market: Report Scope
Report Attributes
Report Details
Report Name
Floor POP Display Market
Market Size in 2022
USD 4.14 Billion
Market Forecast in 2030
USD 6.91 Billion
Growth Rate
CAGR of 6.68%
Number of Pages
216
Key Companies Covered
International Paper, S Smith, WestRock, Creative Displays Now, Smurfit Kappa, Marketing Alliance Group, Georgia-Pacific, St. John Packaging, Pacific Northern Inc., Menasha Packaging, Pratt Industries, Retail Resource, Great Northern Corporation, FFR Merchandising, U.S. Corrugated., and others.
Segments Covered
By Sales Channel, By End-User Industry, By Material Type, and By Region
Regions Covered
North America, Europe, Asia Pacific (APAC), Latin America, Middle East, and Africa (MEA)
Base Year
2022
Historical Year
2017 to 2021
Forecast Year
2023 - 2030
Customization Scope
Avail customized purchase options to meet your exact research needs. Request For Customization
Floor POP Display Market: Regional Analysis
North America to hold the highest growth rate during the projected timeline
The global floor POP display market will be highest in North America with the US and Canada contributing to a significant section of the regional market. These countries have exceptional infrastructure for supermarkets and hypermarkets that spread across multiple acres due to space availability. Moreover, the consumption rate for all types of products in North America is higher as compared to other territories. Consumer spending makes up for 13% of the total US gross domestic product (GDP) and the average total amount is USD 13 trillion. Additionally, several key retailers have emerged from Canadian and American countries. Costco, a leading US headquartered retail chain has a presence in several countries including Japan, South Korea, Ireland, Australia, Sweden, United Kingdom, and Taiwan, and has over 840 stores across these countries. In September 2023, Kroger and Albertsons supermarkets were reported to have held talks with C&S Wholesale Grocers for selling their 400s stores. The transaction is expected to be worth USD 2 billion. Such marketing collaboration, mergers & acquisitions, or partnerships are likely to drive the consumption of floor POP displays.
Floor POP Display Market: Competitive Analysis
The global floor POP display market is led by players like:
International Paper
S Smith
WestRock
Creative Displays Now
Smurfit Kappa
Marketing Alliance Group
Georgia-Pacific
St. John Packaging
Pacific Northern Inc.
Menasha Packaging
Pratt Industries
Retail Resource
Great Northern Corporation
FFR Merchandising
U.S. Corrugated.
The global floor POP display market is segmented as follows:
By Sales Channel
Convenience Store
Hypermarket
Supermarket
Departmental Store
Other Retail Formats
By End-User Industry
Electronics
Food & Beverages
Printing & Stationery
Automotive
Cosmetics & Personal Care
Pharmaceuticals
Others
By Material Type
Glass
Corrugated Board
Metal
Foam Board
By Region
North America
Europe

France
The UK
Spain
Germany
Italy
Rest of Europe

Asia Pacific

China
Japan
India
South Korea
Southeast Asia
Rest of Asia Pacific

Latin America

Brazil
Mexico
Rest of Latin America

Middle East & Africa

GCC
South Africa
Rest of Middle East & Africa