Facial Injectables Industry Prospective:
The global facial injectables market size was worth around USD 12.04 billion in 2022 and is predicted to grow to around USD 26.15 billion by 2030 with a compound annual growth rate (CAGR) of roughly 10.21% between 2023 and 2030.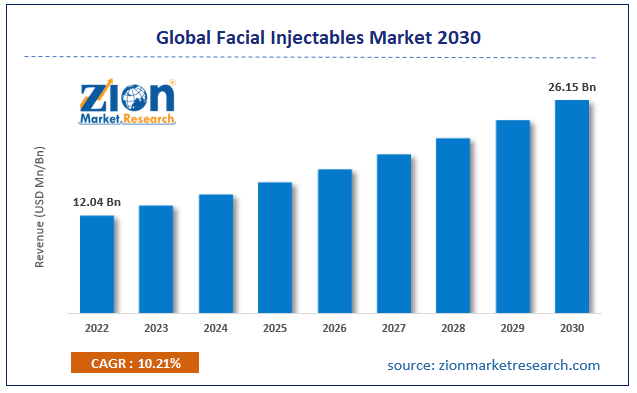 Request Free Sample
Facial Injectables Market: Overview
Facial injectables are medical and dermal products that are injected into the skin of a person to improve the overall facial appearance. They are typically gel-based and help in creating a fuller and smoother appearance. The US Food and Drugs Administration classifies facial injectables as medical devices. Most of the facial injectables that have been approved for commercial application are temporary since they are made of substances or materials that the body starts breaking down and absorbing after some time. Hence, the patients have to keep repeating the medical procedure if they wish to continue using facial injectables.
Some of the most commonly used facial injectables include hyaluronic acid, calcium hydroxylapatite, and poly-L-lactic acid (PLLA). Hyaluronic acid is a type of sugar that is naturally found in the human body while calcium hydroxylapatite is a crucial bone component and an essential mineral. PLLA is a synthetic but biodegradable material. On the other hand, another significantly used facial injectable is polymethylmethacrylate (PMMA); however, it is not absorbed by the body, unlike other variants. It is made of bovine collagen.
Key Insights:
As per the analysis shared by our research analyst, the global facial injectables market is estimated to grow annually at a CAGR of around 10.21% over the forecast period (2023-2030)
In terms of revenue, the global facial injectables market size was valued at around USD 12.04 billion in 2022 and is projected to reach USD 26.15 billion, by 2030.
The facial injectables market is projected to grow at a significant rate due to the increasing focus on physical appearance and beauty consciousness
Based on application segmentation, facial line correction was predicted to show maximum market share in the year 2022
Based on product segmentation, botulinum toxin type A was the leading product in 2022
On the basis of region, North America was the leading revenue generator in 2022
Facial Injectables Market: Growth Drivers
Increasing focus on physical appearance and beauty consciousness to drive market growth
The global facial injectables market is expected to grow owing to the increasing focus on physical appearance as well as the growing importance of facial beauty. More people are willing to seek every method possible to keep appearing younger. However, with age, the body starts losing collagen leading to the appearance of physical signs of aging such as wrinkling and dark spots. However, the general population has become extremely conscious of their physical appearance leading to more demand for cosmetic procedures that help reduce or eliminate these signs. Facial injectables are a popular choice to get rid of the early signs such as wrinkles. A recent survey conducted in the US concluded that more than 36% of the respondents were thinking of undergoing cosmetic treatment to appear younger. The reasons can vary from one person to another. For instance, some people wish to appear as young as they feel or to improve their self-confidence. The decision to undertake the help of facial injectables can also be medically induced. However, as compared to a few years ago, more people in the current population segment are willing to undergo these treatments.
A leading influential factor is the impact of social media. While these platforms have certain benefits associated with them, they can also be harmful to the minds of vulnerable and impressionable minds. Social media has been accused of setting up false beauty standards due to the excessive use of digital filters and doctored photos or videos. Research indicates that nearly 10.5% of American citizens are addicted to social media. This trend is not limited to one nation but is widely prevalent in other countries.
Facial Injectables Market: Restraints
Associated side-effects of using facial injectables may restrict market growth
The global facial injectables market growth may be restricted owing to the several common risks and side effects associated with using facial injectables. For instance, the most common issues reported include tenderness, swelling, redness, rash, and difficulty in doing certain tasks if the filler is injected at the back of the hand. Some of the less common yet prevalent risks are a sore at the injected site, infection, necrosis, inflammation, and raised bumps under the skin. In addition to this, since the fillers get absorbed by the body after some time, the process may have to be repeated. It can be time-consuming and expensive. Maintaining such a lifestyle can become difficult after a while leading to reduced demand for facial injectables.
Facial Injectables Market: Opportunities
Growing accessibility and higher technological advancements create growth opportunities
Since procedures using facial injectables have gained higher popularity, more people are openly talking about these medical treatments. Until a few years ago, cosmetic procedures had a certain social stigma associated with them. However, with the growing awareness and acceptance rate, the demand for facial injectables has improved which in turn has helped the industry providing facial-injectables-related services and has thrived leading to greater accessibility. In addition to this, the facial injectables industry is fast expanding to newer regions. In March 2022, Allergan Aesthetics announced the launch of HAarmonyCa lidocaine in the European market. The dual-effect injection consists of calcium hydroxyapatite and hyaluronic acid. The revenue size for facial injectables may further rise owing to the increasing technological advancements associated with ensuring risk-free application and higher performance of the injectables. In September 2021, Sofregen and Galderma announced a partnership aimed at developing next-generation novel biostimulator fillers with the help of silk-based technology.
Facial Injectables Market: Challenges
Managing the sale and use of non-approved facial injectables is a crucial challenge for the industry players
The facial injectables industry faces challenges in terms of managing the sale and application of non-approved facial injectables since they can lead to severe and irreparable damages. For instance, the US FDA does not approve injectable fillers or silicone for body enhancement. There are serious warnings against using them in body parts such as buttocks, breasts, and space between the muscles. Using the non-approved injectables can lead to death. Moreover, the agencies are also trying to curb the sale of fillers that are directly sold to the public. Since these fillers should only be injected by trained professionals at certified clinics and under sanitized conditions.
Facial Injectables Market: Segmentation
The global facial injectables market is segmented based on application, end-use, product, and region.
Based on application, the global market is segmented into facial line correction, lipoatrophy treatment, acne scar treatment, lip enhancement, and others. In 2022, the highest growth was observed in the facial line correction segment which dominated around 33.5% of the total share. These procedures include the use of injectables for reducing or eliminating the most common signs of aging such as wrinkles and fine lines. With the growing number of elderly population and increased emphasis on appearing young the segmental growth is likely to keep pushing forward. Studies indicate that people start looking for wrinkle treatment between the ages of 45 years to 60 years. The procedure does not freeze facial expressions unlike some of the other options available in the cosmetic industry.
Based on end-use, the facial injectables industry segments are dermatology clinics, MedSpa, and hospitals.
Based on product, the facial injectables industry is divided into poly-L-lactic acid, calcium hydroxylapatite (CaHA), hyaluronic acid (HA), collagen & PMMA microspheres, botulinum toxin type A, and others. In 2022, the most trending segment was botulinum toxin type A which controlled around 49.21% of the total market. Botox treatments are used to reverse the signs of aging. The HA segment is expected to grow at a CAGR of 9.61% during the forecast period due to the more organic nature in which the treatment provides results since the main ingredient HA is known to have moisture-binding capabilities.
Facial Injectables Market: Report Scope
Report Attributes
Report Details
Report Name
Facial Injectables Market
Market Size in 2022
USD 12.04 Billion
Market Forecast in 2030
USD 26.15 Billion
Growth Rate
CAGR of 10.21%
Number of Pages
225
Key Companies Covered
Galderma, Allergan, Prollenium Medical Technologies, Merz Pharmaceuticals, Revance Therapeutics, Ipsen, Anika Therapeutics, Suneva Medical, Sinclair Pharma, Teoxane, AQTIS Medical, BioPlus Co., Ltd., Mentor Worldwide LLC, Regen Lab SA, Croma-Pharma GmbH, SciVision Biotech Inc., Cutera Inc., Bloomage BioTechnology Corporation Limited, Luminera Derm, and Contura., and others.
Segments Covered
By Application, By End-Use, By Product, and By Region
Regions Covered
North America, Europe, Asia Pacific (APAC), Latin America, Middle East, and Africa (MEA)
Base Year
2022
Historical Year
2017 to 2021
Forecast Year
2023 - 2030
Customization Scope
Avail customized purchase options to meet your exact research needs. Request For Customization
Facial Injectables Market: Regional Analysis
North America to continue its growth streak during the projected period
The global facial injectables market is expected to be led by North America during the forecast period. In 2022, it was the largest revenue generator contributing around 42.5% of the global revenue. The primary reason for higher growth is the presence of a robust and highly influential cosmetic treatment and procedure market in the US. The country not only has high domestic demand for facial injectables but people from across the globe visit the US to undergo these treatments. The regional market is highly regulated with the US FDA playing a crucial role in ensuring patient safety.
The presence of multiple licensed and certified medical professionals conducting these procedures every day has further created more demand for facial injectables in North America. Additionally, the rising aging population, higher disposable income, and growing awareness contribute equally toward regional dominance. In May 2023, Allergan Aesthetics, an AbbVie subsidiary, announced that it had received the much-awaited approval from the FDA for SKINVIVE™ by JUVÉDERM. The product is expected to improve cheek skin smoothness in people over the age of 21.
Facial Injectables Market: Competitive Analysis
The global facial injectables market is led by players like:
Galderma
Allergan
Prollenium Medical Technologies
Merz Pharmaceuticals
Revance Therapeutics
Ipsen
Anika Therapeutics
Suneva Medical
Sinclair Pharma
Teoxane
AQTIS Medical
BioPlus Co. Ltd.
Mentor Worldwide LLC
Regen Lab SA
Croma-Pharma GmbH
SciVision Biotech Inc.
Cutera Inc.
Bloomage BioTechnology Corporation Limited
Luminera Derm
Contura.
The global facial injectables market is segmented as follows:
By Application
Facial Line Correction
Lipoatrophy Treatment
Lip Enhancement
Others
By End-Use
Dermatology Clinics
Hospital
By Product
Poly-L-Lactic Acid
Calcium Hydroxylapatite (CaHA)
Hyaluronic Acid (HA)
Collagen & PMMA Microspheres
Botulinum Toxin Type A
Others
By Region
North America
Europe

France
The UK
Spain
Germany
Italy
Rest of Europe

Asia Pacific

China
Japan
India
South Korea
Southeast Asia
Rest of Asia Pacific

Latin America

Brazil
Mexico
Rest of Latin America

Middle East & Africa

GCC
South Africa
Rest of Middle East & Africa