Market Overview
The global Encryption Software System market accounted for USD 6.1 Billion in 2020 and is expected to reach USD 29.1 Billion by 2028, growing at a CAGR of 21.6% from 2021 to 2028.
Encryption software is a kind of security database that allows encryption and decryption to avoid unauthorized access. It assists the encryption of data object, network packet and files in order to keep them secure. There are two kind of keys used named asymmetric keys and symmetric keys. Email encryption, File encryption, Network encryption and Disk encryption are broadly used categories of encryption software.
Key players in the industry are developing advanced all-in-one solutions for the end-users at a competitive price point. The vendors are working upon various growth strategies such as product launches, collaborations, merges and acquisitions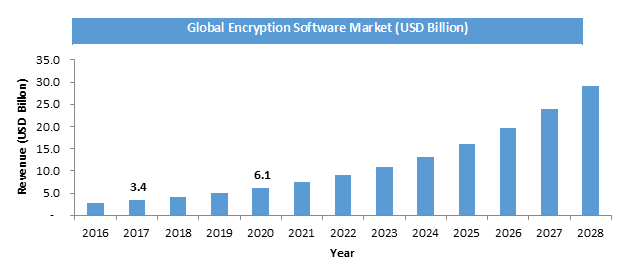 Request Free Sample
COVID-19 Impact Analysis:
COVID-19 pandemic has resulted in a deeply crisis with the imposition of several restrictions across the globe. The rising global digital security threat encryption of has become very important, it helps to protect the integrity of perilous public health data and other confidential data across the globe. Several organizations in various countries attended webinars to discuss the issue of data encryption, and has proposed policies. Rising awareness towards the data protection and privacy owing to complexity of political, socioeconomic and technical dimensions seems to be a great opportunity for the software developers. Growing challenges for the protection of confidential e-economy and fortification of Internet Infrastructure are the factors propelling the market in this pandemic.
Growth Factors
The encryption software market is being boosted by a number of elements such as growing requirement for fulfilment of the obligatory requirement of numerous organizations for data protection. The increasing requirement for cloud-based databases and cloud services also has propelled the global encryption software market. The growing danger of stealing of scholar data has driven numerous industries to accept the database encryption solutions, thus boosting the development of the global encryption software market in the forecast period. Additionally, the stringent regulatory compliance amongst varied business verticals such as healthcare and BFSI has compelled the employment of data security solutions that are conforming to the particular standards.
Report Scope:
| Report Attributes | Report Details |
| --- | --- |
| Report Name | Encryption Software Market Size Report |
| Market Size in 2020 | USD 6.1 Billion |
| Market Forecast in 2028 | USD 29.1 Billion |
| Growth Rate | CAGR of 21.6% |
| Number of Pages | 188 |
| Forecast Units | Value (USD Billion), and Volume (Units) |
| Key Companies Covered | IBM, Microsoft., Sophos ltd, Gemalto, Inc., Net App Inc, Hewlett- Packard., Vormetric, Oracle, Intel., Symantec, and Weber Ambiental |
| Segments Covered | By Type, By Application, By Process, and By Region |
| Base Year | 2019 |
| Historical Year | 2017 to 2021 |
| Forecast Year | 2020 - 2028 |
| Customization Scope | Avail customized purchase options to meet your exact research needs. Request For Customization |
Segment Analysis Preview
Encryption Software system market is segmented by Deployment Type into Cloud, On-Premises, and Others. Cloud segment is anticipated to capture the major market owing to increasing demand for securing complex data across the globe. Governments organizations, private companies, institutions are adopting the cloud for the storage of their vital and large data.
By Application the market is segmented into Encryption for Data-at-rest, Full Disc Encryption (FDE), Fie Level Encryption, and Others. Data-at-rest application has the maximum market in common with the encryption software market. Data-at-rest encryption software is expected to show the significant share of the total encryption software market.
For data-at-rest, the two most frequently used encryption software techniques are File-Level Encryption (FLE) and Full Disk Encryption (FDE). The Full Disk Encryption software is the most popular technique used for the data protection against stealing. It ensures the fulfillment of all the data breach notification and data privacy regulations.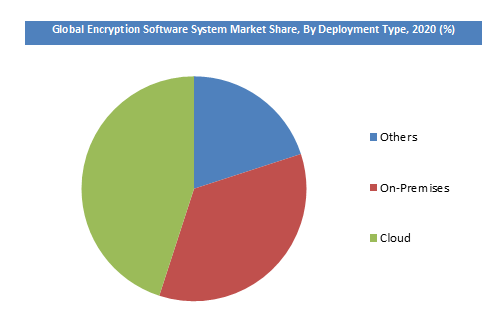 Request Free Sample
Key Market Players & Competitive Landscape
The report covers detailed competitive outlook including the market share and company profiles of the key participants operating in the global air quality control system market are IBM, Microsoft., Sophos ltd, Gemalto, Inc., Net App Inc, Hewlett- Packard., Vormetric, Oracle, Intel., Symantec, and Weber Ambiental.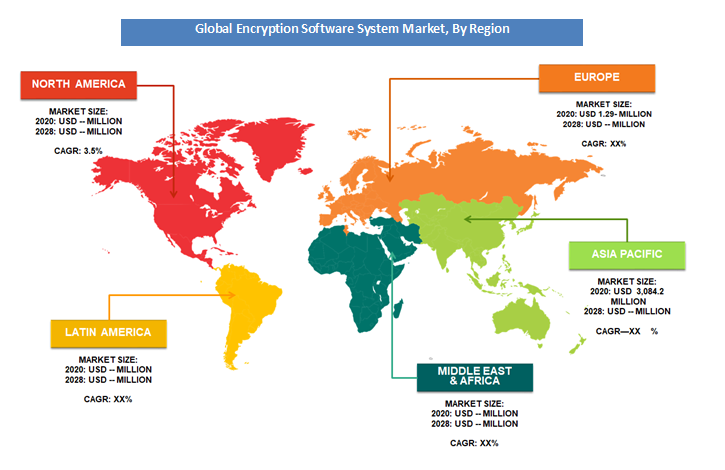 Request Free Sample
The global Encryption Software Market is segmented as follows:
By Deployment Type
By Applications
Encryption for Data-at-rest
Full Disc Encryption (FDE)
Fie Level Encryption
Others
By Region
North America
Europe

France
The UK
Spain
Germany
Italy
Rest of Europe

Asia Pacific

China
Japan
India
South Korea
Southeast Asia
Rest of Asia Pacific

Latin America

Brazil
Mexico
Rest of Latin America

Middle East & Africa

GCC
South Africa
Rest of Middle East & Africa