This report analyzes and estimates the Electric Powertrain market at global, regional, and country level. The research study provides historic data from 2015 to 2019 along with forecast from 2020 to 2025 based on value (USD Billion). The report offers detailed insights of the Electric Powertrain market drivers and restraints along with their impact analysis at global level from 2015 to 2025.
The report covers in-depth analysis of the strategies adopted by major competitors in the global Electric Powertrain market. To understand the competitive landscape in the global Electric Powertrain market, an analysis of Porter's Five Forces model is also included. The research study comprises of market attractiveness analysis, wherein all the segments are benchmarked on the basis of their market size and growth rate.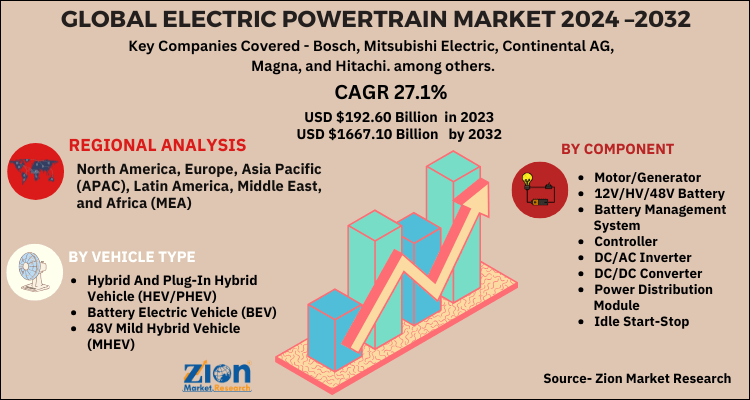 Request Free Sample
The research study provides a decisive view on the global Electric Powertrain market based on Component, Vehicle Type, Powertrain Type, and Region. All the segments of the market have been analyzed based on the past, present, and future trends. The market is estimated from 2019 to 2025.
The favorable government incentives for advancing the production of electric vehicles on a massive scale that too at the domestic level is likely to aid in increasing the growth of the global Electric Powertrain market. Additionally, the growing inclination of consumers toward electric vehicles will boost the Electric Powertrain market expansion during the forecast period. The stringent government regulations for adoption of electric vehicles and CO2 emission rate will fuel the Electric Powertrain market. The sales of electric powertrain are anticipated to bolster owing to the growing developments in the in powertrain components such as battery management systems, lithium-ion batteries, motors, and others.
The surging advancements in R&D activities and collaborations among automotive companies will stimulate the growth of the global Electric Powertrain market during the forecast period. Apart from this, the escalating interest of consumers toward mild hybrid vehicles is expected to increase the demand for electric powertrains in the near future.
On the basis of component, the global Electric Powertrain market is segregated into Motor/Generator, 12V/HV/48V Battery, Battery Management System, 48V ISG/BSG, Controller, Power Distribution Module, DC/AC Inverter, DC/DC Converter Regenerative Braking, Idle Start-Stop, On-Board Charger, and Others. By vehicle type, the market for electric powertrain is divided into 48V Mild Hybrid Vehicle (MHEV), Battery Electric Vehicle (BEV), and Hybrid And Plug-In Hybrid Vehicle (HEV/PHEV). In terms of powertrain type, the market is sectored into MHEV Powertrain, BEV Powertrain, Series Hybrid Powertrain, Parallel Hybrid Powertrain, and Series-Parallel Hybrid Powertrain. The regional segmentation comprises the past, present, and estimated demand for the Middle East & Africa, North America, Asia Pacific, Latin America, and Europe. The regional segment is further split into the U.S., Canada, Mexico, UK, France, Germany, China, Japan, India, South Korea, Brazil, and Argentina among others.
Some of the key players of the global electric powertrain market include Bosch, Mitsubishi Electric, Continental AG, Magna, and Hitachi.
The report on the global Electric Powertrain market is segmented into:
Global Electric Powertrain Market: By Vehicle Type Segmentation Analysis
Hybrid And Plug-In Hybrid Vehicle (HEV/PHEV)
Battery Electric Vehicle (BEV)
48V Mild Hybrid Vehicle (MHEV)
Global Electric Powertrain Market: By Component Segmentation Analysis
Motor/Generator
12V/HV/48V Battery
Battery Management System
Controller
DC/AC Inverter
DC/DC Converter
Power Distribution Module
Idle Start-Stop
On-board Charger
Regenerative Braking
48V BSG/ISG
Others
Global Electric Powertrain Market: By Regional Segmentation Analysis
North America
Europe

France
The UK
Spain
Germany
Italy
Rest of Europe

Asia Pacific

China
Japan
India
South Korea
Southeast Asia
Rest of Asia Pacific

Latin America

Brazil
Mexico
Rest of Latin America

Middle East & Africa

GCC
South Africa
Rest of Middle East & Africa