Industry Prospective:
The global dried seaweed market size was worth around USD 14000 million in 2021 and is predicted to grow to around USD 28000 million by 2030 with a compound annual growth rate (CAGR) of roughly 9.10% between 2022 and 2030. The report analyzes the global dried seaweed market drivers, restraints/challenges, and the effect they have on the demands during the projection period. In addition, the report explores emerging opportunities in the dried seaweed market.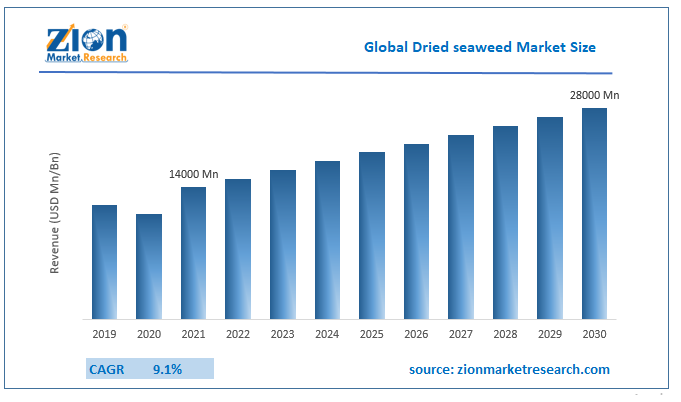 Request Free Sample
Dried Seaweed Market: Overview
Seaweed is an extremely common marine algae and plant that can be found in all water bodies like the ocean, lakes, rivers, and others. Some species of seaweeds are microscopic and remain suspended in water columns and act as food-providing agents for marine food systems. While others are giants, easily visible to the human eye.
The water algae are full of vitamins, fiber, and minerals, and are edible. For more than 15 centuries, Japanese culture has adopted seaweeds for multiple applications ranging from using them as healing agents to food items. Some forms of seaweed contain antimicrobial and anti-inflammatory properties, hence were popularly used in ancient times. Dried seaweed is known for its numerous health benefits and is consumed in many diet cultures. However, it is important to thoroughly clean and dry the seaweed before it is consumed for appropriate results.
Key Insights
As per the analysis shared by our research analyst, the global dried seaweed market is estimated to grow annually at a CAGR of around 9.10% over the forecast period (2022-2030).
In terms of revenue, the global dried seaweed meat market size was valued at around USD 14000 million in 2021 and is projected to reach USD 28000 million, by 2030. Due to a variety of driving factors, the market is predicted to rise at a significant rate.
Based on type segmentation, nori was predicted to show maximum market share in the year 2021
Based on application segmentation, food was the leading revenue-generating application in 2021.
On the basis of region, Asia-Pacific was the leading revenue generator in 2021
Covid-19 Impact
The global market cap faced a blow due to Covid-19 which was a result of the closure of hotels, restaurants, catering (HORECA), and other serving units. HORECA is the largest provider of dried seaweed as food items across the globe. Even when the lockdown impositions were lifted, hotels and eating units were only allowed to function partially resulting in great losses incurred by the industry. However, the positive side included a relatively increased rate of dried seaweed consumption on a personal level owing to its nutritional benefits.
Dried Seaweed Market: Growth Drivers
Rising awareness about the benefits of dried seaweed to propel market growth
The global dried seaweed market is projected to benefit from the rising awareness about the benefits imparted by dried seaweed consumption. Post the impact of Covid-19, more people are now looking for options to help them improve their immunity and eating habits by involving a mixture of vitamins, minerals, fiber, etc. in their daily diet. Moreso, there is a rising trend of incorporating plant-based diets instead of animal meat.
These factors have resulted in exploration toward understanding the exact health benefits that dried seaweed along with other non-animal plants have to offer. Since seaweed is known to be an excellent source of protein, carbohydrates, and minerals, which is a rare combination to find in single animal meat, it is gaining more popularity among consumers. Fiber-rich food items are recommended for diabetic patients, and seaweed consumption may help with the disease. A 2018 study using rats as subjects concluded that a certain type of seaweed can help control type 2 diabetes. However, more research is needed on the subject.
Dried Seaweed Market: Restraints
Concerns over the presence of heavy metals in seaweed to restrict the market growth
Excessive consumption of dried seaweeds is not recommended as it may have unwanted implications on human health. There are growing concerns about the presence of heavy metals in seaweeds since the source of absorption in seaweeds is the water body itself. Even though the level of heavy metals may be low but regular consumption may build up in the body turning it toxic.
Dried Seaweed Market: Opportunities
Assistance in maintaining heart condition to provide growth opportunities
The global dried seaweed market size may benefit from the properties of dried seaweed in helping maintain the heart's condition owing to its fibrous-rich content along with the presence of high levels of antioxidants. As per the Centers for Disease Control & Prevention, the United States witnesses 1 death in every 34 seconds from cardiovascular diseases (CVDs). The growing concern and efforts on a personal level by the general population to curb these conditions are projected to provide growth opportunities as the demand for the product grows.
Dried Seaweed Market: Challenges
Rising water pollution to challenge market growth
The overall aquaculture industry is anticipated to suffer declining growth because of increasing water pollution which has impacted the marine culture to extreme limits. The quality of aqua products has reduced drastically and more people are refraining from consuming these items owing to the presence of high numbers and potentially dangerous water pollutants that come back into the human food cycle when water-borne items are consumed. As per the National Research Development Corporation, around 80% of wastewater returns to the environment.
Dried Seaweed Market: Segmentation
The global dried seaweed market is segmented based on end-users, applications, types, and region
Based on end-users, the global market segments are humans and animals. Even though the segment is led by humans, 1 tablespoon of dried seaweed can be used for dog foods.
Based on application, the global market is divided into food, medicine, skincare, anti-pollutants, and others. As per a 2017 report by The Fish Site, more than 9 billion pieces of dried seaweed are consumed in a year in Japan
Based on type, the global market segments are kombu, wakame, dulse, nori, kelp, and others. Nori leads the segment. Around 295.9 square meters of Japanese coastal waters are available for producing 3,50,000 tons of nori.
Recent Developments:
In April 2022, research scholars at King Faisal University in Saudi Arabia published a report concluding that dried seaweed can be used to separate and remove extremely toxic textile dye found in industrial wastewater. The study was conducted on methylene blue dye. Textile effluents are termed as the most harmful environmental pollutants owing to the presence of toxic dyes.
In September 2021, Lakshadweep, an Indian island, initiated seaweed farming in nine of its inhabited islands. The step is following a study led by the Central Marine Fisheries Research Institute claiming that there is high potential to find high-quality seaweeds in non-polluted lagoons. These seaweeds can be used in the food, pharmaceutical, and nutraceutical industries.
Dried seaweed Market Report Scope:
Report Attributes
Report Details
Report Name
Dried seaweed Market Research Report
Market Size in 2021
USD 14000 Million
Market Forecast in 2030
USD 28000 Million
Compound Annual Growth Rate
CAGR of 9.10%
Number of Pages
186
Forecast Units
Value (USD Million), and Volume (Units)
Key Companies Covered
Marcel Carrageenan, Seaweed Solutions AS, Green Ocean Farming, AtSeNova, Nantong Xinlang Seaweed & Foods Co., Ltd, Beijing Leili Agricultural Co., and Organic Irish Seaweed-Emerald Isle
Segments Covered
By End Users, By Application, By Type and By Region
Regions Covered
North America, Europe, Asia Pacific (APAC), Latin America, Middle East and Africa (MEA)
Countries Covered
North America: U.S and Canada
Europe: Germany, Italy, Russia, U.K, Spain, France, Rest of Europe
APAC: China, Australia, Japan, India, South Korea, South East Asia, Rest of Asia Pacific
Latin America: Brazil, Argentina, Chile
The Middle East And Africa: South Africa, GCC, Rest of MEA
Base Year
2021
Historical Year
2016 to 2020
Forecast Year
2022 - 2030
Customization Scope
Avail customized purchase options to meet your exact research needs. Request For Customization
Dried Seaweed Market: Regional Analysis
Asia-Pacific to lead the market cap during the projection period
The global dried seaweed market is projected to be dominated by Asia-Pacific since it already has an immense hold on densely populated countries like Japan, India, and China. Marine algae is a constant in various diet cultures in the region especially in Japan, the Republic of Korea, and China. These three territories are regarded as the largest consumers of seaweed in the entire world, especially in the food segment.
The Republic of Korea is reported to produce over 60,000,00 tonnes of wet seaweed annually with a market value of USD 5 billion. China is termed the largest producer of edible seaweed with over 5 million tonnes of seaweed dominated by kombu produced every year. The growing seaweed industry in India is projected to help regional growth in the coming years. This is expected to be driven by the presence of vast coastal lines across the country's border making it a potential HubSpot for seaweed farming.
Dried Seaweed Market: Competitive Analysis
The global dried seaweed market is dominated by players like Marcel Carrageenan, Seaweed Solutions AS, Green Ocean Farming, AtSeNova, Nantong Xinlang Seaweed & Foods Co., Ltd,
Beijing Leili Agricultural Co., and Organic Irish Seaweed-Emerald Isle
The global dried seaweed market is segmented as follows:
By End Users
By Application
Food
Medicine
Skincare
Anti-Pollutants
Others
By Type
Kombu
Wakame
Dulse
Nori
Kelp
Others
By Region
North America
Europe

France
The UK
Spain
Germany
Italy
Rest of Europe

Asia Pacific

China
Japan
India
South Korea
Southeast Asia
Rest of Asia Pacific

Latin America

Brazil
Mexico
Rest of Latin America

Middle East & Africa

GCC
South Africa
Rest of Middle East & Africa