Abstract
The report covers forecast and analysis for the Dexamethasone market on a global and regional level. The study provides historic data from 2016 to 2019 along with a forecast from 2020 to 2026 based on revenue (USD Billion). The study includes drivers and restraints for the Dexamethasone market along with the impact they have on the demand over the forecast period. Additionally, the report includes the study of opportunities available in the Dexamethasone market on a global as well as regional level.
In order to give the users of this report a comprehensive view on the Dexamethasone market we have included competitive landscape and analysis of Porter's Five Forces model for the market. The study encompasses a market attractiveness analysis, wherein Formulation type, Patient type, Application, End user, and regional segments are benchmarked based on their market size, growth rate and general attractiveness.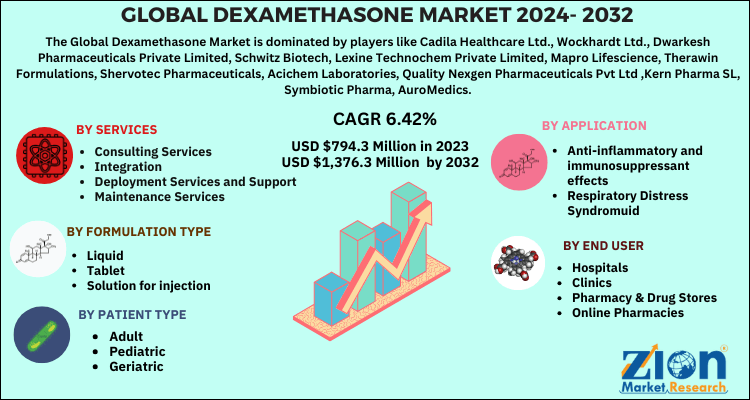 The report provides company market share analysis in order to give a broader overview of the key players in the Dexamethasone market. In addition, the report also covers key strategic developments of the market including acquisitions & mergers, new product launch, agreements, partnerships, collaborations & joint ventures, research & development, regional expansion of major participants involved in the Dexamethasone market on global and regional basis.
The report segments global Dexamethasone market as follows:
Global Dexamethasone Market: Formulation type
Liquid
Tablet
Solution for injection
Other
Global Dexamethasone Market: By Patient type
Adult
Pediatric
Geriatric
Global Dexamethasone Market: By Application
Anti-inflammatory and immunosuppressant effects
Respiratory Distress Syndrome
COVID-19
Others
Global Dexamethasone Market: By End user
Hospitals
Clinics
Pharmacy & Drug Stores
Online Pharmacies
Global Dexamethasone Market: By Region
North America
Europe

France
The UK
Spain
Germany
Italy
Rest of Europe

Asia Pacific

China
Japan
India
South Korea
Southeast Asia
Rest of Asia Pacific

Latin America

Brazil
Mexico
Rest of Latin America

Middle East & Africa

GCC
South Africa
Rest of Middle East & Africa
---
Frequently Asked Questions
North America will be the leading region during the forecast period. Increasing cases of covid-19, and High prevalence of diseases, will boost the market growth in this region. Europe will be the second largest market.
Industry Players of Dexamethasone Market are Cadila Healthcare Ltd., Wockhardt Ltd., Dwarkesh Pharmaceuticals Private Limited, Schwitz Biotech, Lexine Technochem Private Limited, Mapro Lifescience, Therawin Formulations, Shervotec Pharmaceuticals, Acichem Laboratories, Quality Nexgen Pharmaceuticals Pvt Ltd ,Kern Pharma SL, Symbiotic Pharma, AuroMedics, Fresenius Kabi, Hikma, Mylan, Somerset Therapeutics, American Regent, Shanghai General Pharmaceutical, Hunan Hansen Pharm, Chengdu Brilliant Pharmaceutical, Cisen Pharmaceutical, CSPC Group, Jiangsu Wuzhong Pharm, Guangzhou Baiyunshan Tianxin Pharmaceutical among others.
The rise of dexamethasone as a lifesaving treatment for critically ill COVID-19 patients due to a sudden outburst, Increasing various inflammatory conditions, and growing prevalence of diseases will act as major driving factors in the growth of global Dexamethasone market.