Market Overview
The global customized premixes market is estimated for USD 1.45 Billion in 2020 and is expected to reach USD 2.25 Billion by 2028; growing at a CAGR of customized premixes market will be 5.93 % from 2021 to 2028.
Customized premixes are a blend of micronutrients that are individually added to the food. It includes nutrients like nutraceuticals, amino acids, minerals, nucleotides and vitamins. Customized nutrient premixes are generally used in powder form as they are more stable in the powder form as compared to that of liquid. These ingredients promote absorption of phosphorous and calcium vital for bone growth and development. These premixes have emerged as one of the essential ingredients in the food industry, especially due to the quality and economic benefits in the manufacturing of nutritional products. It is a mixture of the micro and macro nutrients which augments the nutritional value of the product.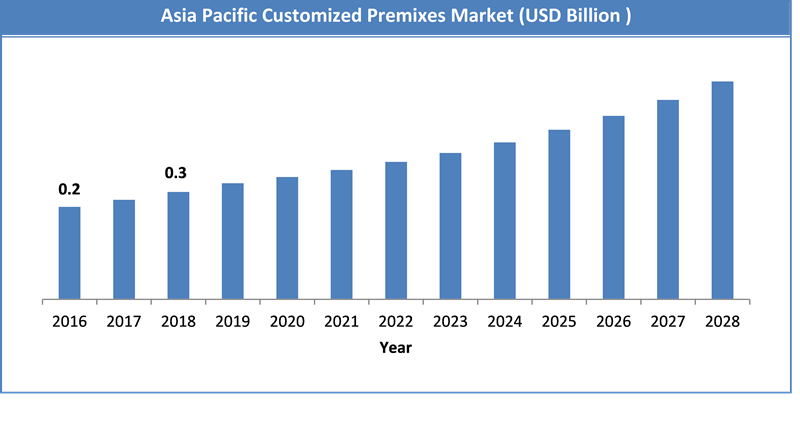 Request Free Sample
COVID-19 Impact Analysis
The COVID-19 had a major impact on numerous industries owing to the shutdown of manufacturing plants across the globe. The pandemic has significantly affected the demand and supply chain in numerous industries owing to the restriction in the movement of goods. The pandemic had a positive impact on functional foods as compared to food products, as consumers are putting great emphasis on their health and immune system to stay fit and health. The Industrial consumers are demanding clinically-proven ingredients like vitamins and lipids for their new products and enhance their existing products in order to push their products for health and immunity boosting. Consumers are making their health a priority and have started keeping a track of their health, change in the lifestyle and eating habits. All this is expected to propel demand for the market.
Growth Factors
The customized premixes market is anticipated to grow in the estimated timeframe. The surge is due to use of premise for bridging nutritional gaps, balancing nutrient loss and fortified food products among others. Green Leafy vegetable, high protein diets and super foods are some of the other factors which are expected to trigger market demand in the long run. Additionally, these foods are consumed to keep a check of heart health, gut health and weight management.
Surging demand for mineral and vitamin enriched foods and increasing health consciousness between consumers are anticipated to drive the market growth. The demand for premixes has grown at a significant rate due to the increasing consumption of fortified beverages, mainly energy drinks and sports drinks, among professional athletes and sports enthusiasts across all regions. Additionally, rising demand for functional beverages enriched with various nutrients, such as minerals, vitamins, amino acids, and nucleotide is high among them among the health-conscious consumers in the U.S., which is expected to propel demand in the projected time.
Rising consumption of dietary supplements owing to the surging occurrence of chronic diseases and increasing healthcare costs has stimulated the demand for premixes, mainly vitamins and minerals, due to the health benefits it offers. Vitamins and minerals helps in maintaining hormonal balance and a healthy immune system, bone health, regulating metabolism and supporting tissue growth. All these factors are anticipated to propel growth for the customized premixes market in the long run.
Report Scope: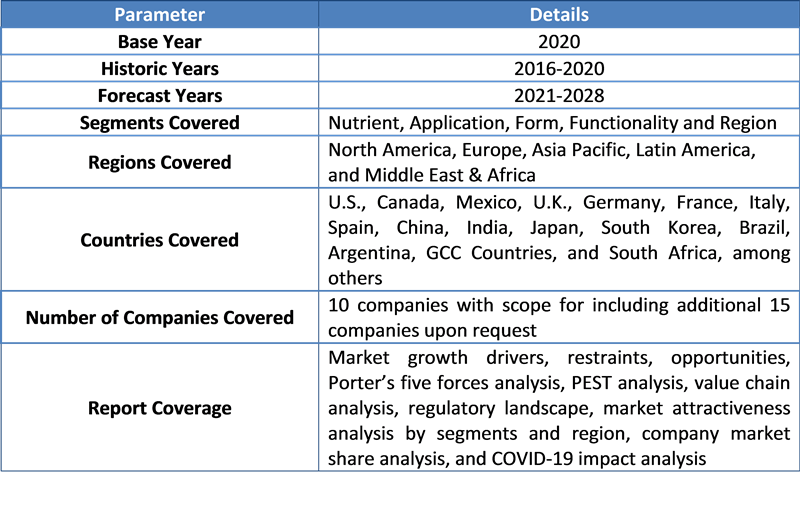 Request Free Sample
Form Segment Analysis Preview
Powdered customized premixes under form segment held a share of above 18% in 2019. This is due to the durability. The powdered premixes will be highly preferable by consumers as these customized nutrient premixes have fairly greater stability in powdered form in contrast to liquid form. Powdered premixes are easy to handle and pack, and thus are highly preferred by the end-use industries, like dietary supplements and food and beverage. Freeze-drying and spray and are the frequently used processes used to make powder premixes. Spray drying process is common among companies, due to its larger scalability, cost-effectiveness and shorter cycle time, as compared to freeze-drying process. These customized premixes have an array of food applications like low-fat milk powders, health drink powders, soup mixes and desert mixtures.
Application Segment Analysis Preview
Food & Beverages under application segment will grow at a CAGR of over 7% in 2021 to 2028. The customized premixes are extensively used in producing of beverage products like carbonated water, nutritional drinks, sports drinks, energy drinks, isotonic beverages and fruit juices and non-carbonated beverages. Furthermore, surging use of these premixes in food products such as cereals, bakery, dairy and confectionaries is expected to fuel the market growth in the forecast period.
The rising trend of eat on the go, owing to the busy lifestyle, has resulted in the occurrence of chronic diseases like cancer, diabetes and heart diseases across regions. Thus, the surging consumption fortified food and nutrient-rich products are expected to enhance the demand for customized premixes in segment. Dairy, cereals, bakery & confectionery, nutrition products, dietary supplements and others forms the application segment.
Regional Analysis Preview
North America held a share above 35% in the customized premixes market in 2019. The growth is due to the increasing demand for micro and macro nutrient enriched food products owing to the surge in the lifestyle diseases such as stroke, heart disease, diabetes, metabolic syndrome and obesity are the prime factors responsible for the regional market growth. Furthermore, presence of key manufacturers such as ADM Animal Nutrition and Prinova Group LLC in the region, are another factor stimulating market growth in the long run. The surging consumption of nutritional supplements in the elderly population in North American region is expected to propel demand for nutritional supplements in the region. As per a survey in 2019, by CRN on dietary supplements, 77% of adults take dietary supplements in the U.S, which will support growth. Furthermore, with the increase in the elderly population in the country, new and innovative products demand has increased significantly, which is projected to influence market demand in North American region.
Asia Pacific is expected to grow at a CAGR of over 7% in 2021-2028. This is due to the rising consumption of healthy foods and dietary supplements, along with increasing health awareness and rising disposable income. The demand for fortified foods with specific health benefits is growing exponentially during the estimated time frame. This is due to change in lifestyle of consumers along with increased purchasing power and consumer demand for healthy products is expected to support growth for the market in the projected time frame.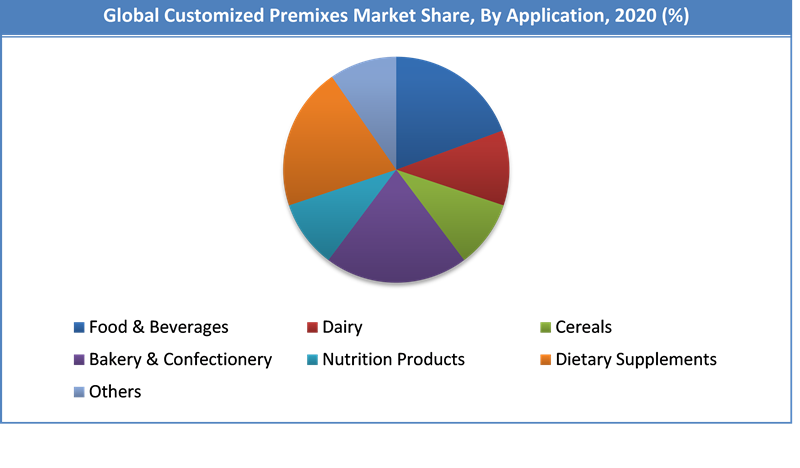 Request Free Sample
Key Market Players & Competitive Landscape
Some of the key players of customized premixes market are Royal DSM N.V., Glanbia PLC, Corbion N.V., Chemische Fabrik Budenheim Kg, Vitablend Netherlands B.V., Watson Inc., Stern Vitamin GmbH & Co. Kg, The Wright Group, DPO International Sdn. Bhd., Farbest Brands among others.
Request Free Sample
The global customized premixes market is segmented as follows:
By Nutrient
Vitamins
Minerals
Amino acids
Nutraceuticals
Nucleotides
By Application
Food & Beverages
Dairy
Cereals
Bakery & Confectionery
Nutrition Products
Dietary Supplements
Others
By Form
By Functionality
Bone health
Skin health
Energy
Immunity
Digestion
Others
By Region
North America
Europe

France
The UK
Spain
Germany
Italy
Rest of Europe

Asia Pacific

China
Japan
India
South Korea
Southeast Asia
Rest of Asia Pacific

Latin America

Brazil
Mexico
Rest of Latin America

Middle East & Africa

GCC
South Africa
Rest of Middle East & Africa