Corn Wet-Milling Market Size & Industry Analysis:
The global corn wet-milling market size was worth around USD 76.19 billion in 2021 and is predicted to grow to around USD 101.9 billion by 2030 with a compound annual growth rate (CAGR) of roughly 5.1% between 2022 and 2030. The report analyzes the global corn wet-milling market drivers, restraints/challenges, and the effect they have on the demands during the projection period. In addition, the report explores emerging opportunities in the corn wet-milling market.
Corn Wet-Milling Market: Overview
Corn wet-milling refers to the process of breaking down individual corn kernels, fruits originating from corn, into sub-components namely; corn starch, corn oil, fiber, and protein. Water is the main ingredient required during the process followed by a series of processes. Corn wet-milling originated in the United States and has become a significant part of its economy for more than a century. At the end of the process, the resultant is a high-grade and pure product with wide applications in the food sector, and with growing research, they are now utilized in other segments as well in minority.
One of the main characteristics of the process is the division of corn kernels based on size and weight, making it a strenuous task. Since it is a wet process, a large amount of water is required to complete corn wet-milling where it performs the duty of a barrier or a separator during the steps followed. The process does not have any other chemical involved except a solution of aqueous sulfur dioxide with its main role during steeping, the process of soaking a naturally-occurring solid in water to soften it or to extract its flavors. During steeping, corn is soaked in a solution of aqueous sulfur dioxide to avoid contamination due to the oil found in the germ and can be easily separated.
Key Insights
As per the analysis shared by our research analyst, the global corn wet-milling market is estimated to grow annually at a CAGR of around 3.61% over the forecast period (2022-2030)
In terms of revenue, the global corn wet-milling market size was valued at around USD 76.19 billion in 2021 and is projected to reach USD 101.9 billion, by 2030.
The global corn wet-milling market is projected to increase due to growing applications of products derived from the corn wet-milling process.
Based on type segmentation, the dent was predicted to show maximum market share in the year 2021
Based on application segmentation, food was the leading application in 2021
On the basis of region, Asia-Pacific was the leading revenue generator in 2021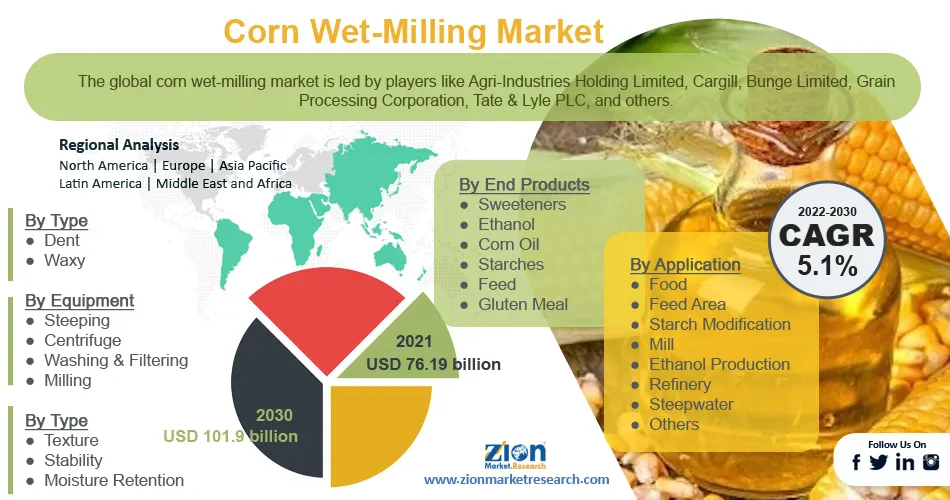 Request Free Sample
Corn Wet-Milling Market: Growth Drivers
Growing demand in the food sector to propel demand
The global corn wet-milling market is projected to increase due to growing applications of products derived from the corn wet-milling process. Market players dealing in the industry work primarily on the production of sugar, oil, syrup, starch, and other by-products. All of these items are considered basics in all diet forms and their demand is always high as compared to other food forms. With the growing population, the food industry is expected to grow exponentially in the coming years, and corn wet-milling-derived products may gain more consumer databases simultaneously. As per Statista, US citizens consumed more than 11 million metric tons of sugar between 2020 and 2022. An average American citizen is estimated to consume more than 16 teaspoons of sugar daily. Using only traditional methods to meet such demand may not be sufficient and players will have to invest in more ways to produce food products showing a high-consumption rate.
Corn Wet-Milling Market: Restraints
High operational cost to restrict market expansion
The global market size may witness growth restrictions owing to the high operational cost associated with the corn wet-milling process. Since the method uses a high amount of water and involves various steps to reach the desired output, by the end of the process, the total expense including labor cost increases to an exceptionally high number thus limiting the adoption rate of the process. As estimated, the cost of constructing a corn wet milling facility with a capacity of processing 1 million corn brussels every day may reach up to USD 79,000,000.
Corn Wet-Milling Market: Opportunities
Demand for high-grade food products to provide excellent growth opportunities
The corn wet-milling process produces one of the highest-grade yields with excellent consistency between batches and homogeneity. With increasing consumer awareness and demand for quality food products, the global corn wet milling market players have started investing in deploying methods that provide optimum results and consumer satisfaction. This trend has allowed corporations to gain economically as well as improve brand status impacting the adoption rate of the process positively.
Corn Wet-Milling Market: Challenges
Raw material price fluctuation to challenge market growth
Corn kernels are the primary raw materials required in the process and the prices of which vary depending on the trade agreement between two parties or political dynamics between the exporting and importing countries. This is a major concern of businesses as the cost of the process in itself is high and price fluctuations can lead to further increases in expenses.
Corn Wet-Milling Market: Segmentation
The global corn wet-milling market is segmented by type, equipment, end products, application, and region
Based on type, the global market segments are dent and waxy. During the projection period, the global market may be led by dent types of corn kernels. They are also known as grain corn and show high soft starch content resulting in rising demand in the global market. Dent corn is widely used to derive most of the cultivators or hybrid corn and they are divided into flour corn, flint corn, popcorn, pod corn, and sweet corn. They are mostly cultivated for commercial purposes to produce fodder or to be sold as grain. Dent corn has starch content ranging between 60% to 72% with yellow dent corn leading with the highest number. Their protein content lies between 0.28% and 0.32% as per research studies.
Based on application, the global market divisions are food, feed area, starch modification, mill, ethanol production, refinery, steepwater, and others. In 2021, the food sector witnessed the largest application of corn wet-milling process due to the versatility and nutritional content of corn. Since they are rich sources of multiple compounds essential for human and animal health, market players have developed multiple ways of incorporating the products thus obtained in various food forms. Ethanol production is another promising application although it involves multiple steps and is expensive. Approximately 95% of the ethanol produced globally is derived from corn.
Recent Developments:
In January 2022, Ambuja Exports, a leading India-based construction company witnessed an increase in share price by 4.96% as a result of the company's announcement to construct a new corn wet-milling plant in the Gujrat city of India.
In September 2022, Cargill inaugurated a corn wet mill plant in Indonesia with an investment of USD 100 million. This new set-up is expected to help the company meet the growing demand in the Asian market for sweeteners, starch, and other feeds
Corn Wet-Milling Market Report Scope:
Report Attributes
Report Details
Report Name
Corn Wet-Milling Market Research Report
Market Size in 2021
USD 76.19 Billion
Market Forecast in 2030
USD 101.9 Billion
Compound Annual Growth Rate
CAGR of 5.1%
Number of Pages
187
Forecast Units
Value (USD Billion), and Volume (Units)
Key Companies Covered
Agri-Industries Holding Limited, Cargill, Bunge Limited, Grain Processing Corporation, Tate & Lyle PLC, and others.
Segments Covered
By Type, By Equipment, By End Products, By Application and By Region
Regions Covered
North America, Europe, Asia Pacific (APAC), Latin America, Middle East and Africa (MEA)
Countries Covered
North America: U.S and Canada
Europe: Germany, Italy, Russia, U.K, Spain, France, Rest of Europe
APAC: China, Australia, Japan, India, South Korea, South East Asia, Rest of Asia Pacific
Latin America: Brazil, Argentina, Chile
The Middle East And Africa: South Africa, GCC, Rest of MEA
Base Year
2021
Historical Year
2016 to 2020
Forecast Year
2022 - 2030
Customization Scope
Avail customized purchase options to meet your exact research needs. Request For Customization
Corn Wet-Milling Market: Regional Analysis
Asia-Pacific to deliver the highest CAGR during the projection period
The global corn wet-milling market is projected to witness dominating performance of Asia-Pacific during the forecast period owing to the increasing demand in the food sector as a direct consequence of the exponentially rising population in India and China, which are currently home to more than 50% of the world's population. The agriculture sector of these regions allows the economies to benefit from the revenue in the regional market as both China and India have two of the strongest agricultural sectors globally. The Indian agriculture industry generated more than INR 71000 billion in 2021, while China has the largest agricultural industry across all nations. The growing export of food grains is a major contributor to regional growth and with changing power dynamics, this trend is expected to continue in the coming years.
Corn Wet-Milling Market: Competitive Analysis
The global corn wet-milling market is led by players like:
Agri-Industries Holding Limited
Cargill
Bunge Limited
Grain Processing Corporation
Tate & Lyle PLC
The global corn wet-milling market is segmented as follows:
By Type
By Equipment
Steeping
Washing & Filtering
Milling
By End Products
Sweeteners
Ethanol
Corn Oil
Starches
Feed
Gluten Meal
By Application
Food
Feed Area
Starch Modification
Mill
Ethanol Production
Refinery
Steepwater
Others
By Type
Texture
Stability
Moisture Retention
By Region
North America
Europe

France
The UK
Spain
Germany
Italy
Rest of Europe

Asia Pacific

China
Japan
India
South Korea
Southeast Asia
Rest of Asia Pacific

Latin America

Brazil
Mexico
Rest of Latin America

Middle East & Africa

GCC
South Africa
Rest of Middle East & Africa