Description
Market Overview
The global conformal coating market accounted for USD 795 Million in 2020 and is expected to reach USD 1,362 Million by 2028, growing at a CAGR of 6.9% from 2021 to 2028.
Conformal coatings are thin polymeric films which are used for contouring printed circuit board, thereby protecting board component. Conformal coatings are generally of thickness 25-250 micrometers and protect printed circuit boards from moisture, air, chemicals, dust, and high temperature. Conformal coatings are of four types: silicone, acrylic, varnish, and urethane. Type of material of these coatings is selected based on manufacturing processes adopted and surrounding operating conditions. Conformal coatings are applied in variety of methods such as spraying, dip coating, brushing, and dispensing.
Conformal coatings are mainly utilized in providing protection to PCBs from harsh environmental conditions and avoid mold growth, corrosion, and component failures. Conformal coatings are applicable in a wide range of industries such as aerospace, consumer electronics, automotive, and medical as increasing reliability of PCBs is of high importance in such industries to ensure efficient operations. Conformal coatings are of high importance in electromagnetic sensitive components, opened components, optical components, and flexible electronic components.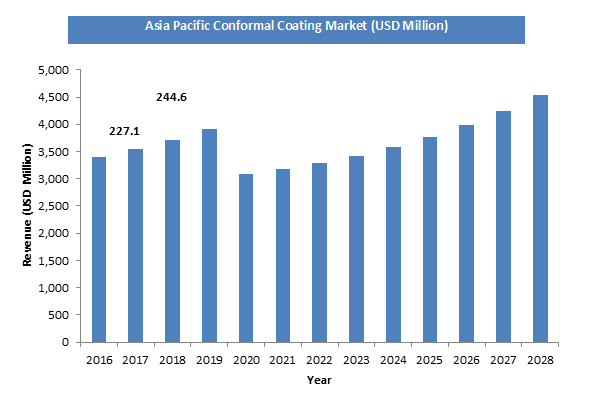 COVID-19 Impact Analysis
Conformal coating market has experienced a significant decrease due to reducing manufacturing output from industries like automotive, aerospace, and consumer electronics. Lockdown regulations imposed by governments around the world has affected consumption of products such as mobile phones, laptops, semiconductors, electric components, and vehicles. Such decrease in the consumption has resulted in decrease in the demand for electrical and electronic components, which has hampered the demand for protective coatings for printed circuit boards. This trend has been hindering the global conformal coating market. However, easing lockdown regulations have paved the way for growth of manufacturing industry around the world, which is likely to help companies to increase their manufacturing output. This factor is likely to trigger the conformal coating market.
Growth Factors
Global semiconductor industry has been driven by rising demand electronic components from industries such as consumer electronics, telecommunications, automotive, and industrial automation. This growth in semiconductor industry worldwide has also been propelled by soaring adoption of automation products for industrial uses. Such growth has propelled the demand for printed circuit boards and various types of electronic components, which is driving the consumption of protecting coatings used on electronic components. Rising consumption of protecting coatings for PCBs is fueling conformal coating market growth.
Automotive, aerospace, and telecommunication industries have experienced adoption of newly advanced innovative technologies for various applications. This trend has accelerated the demand for miniaturized electronic components. Rise in the use of micro-electronic components has also propelled the utilization of coatings in semiconductor applications. Such growth in the use of coatings for avoiding circuit damage should proliferate the demand for conformal coating.
Report Scope: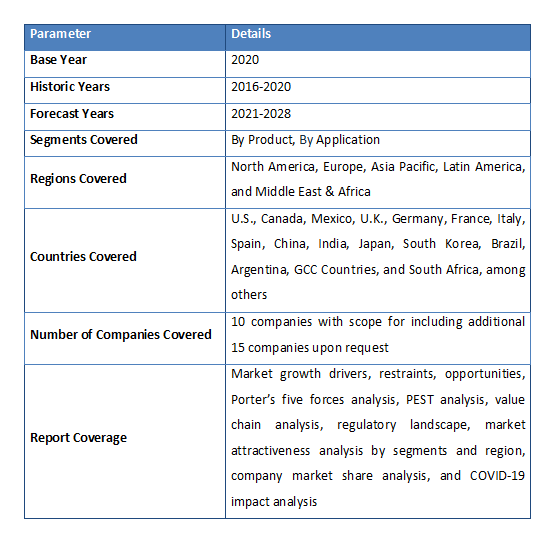 Product Segment Analysis Preview
Depending upon product types, the acrylic segment dominated the global conformal coating market in 2020, constituting a market share of nearly 40%. Acrylic is a thermoplastic homopolymer which is used as conformal coating owing to its high dielectric strength and abrasion resistance. Acrylic has been popular among manufacturing companies owing to its easy availability and ability to be removed easily. Use of acrylic conformal coating has increased as these have low cost and reduce overall product cost. Such benefit of acrylic conformal coating has been driving the market growth.
Silicon segment is expected to grow at the highest rate in the global conformal coating market over the forecasted timeline. Silicone conformal coating is utilized for protecting printed circuit boards from physical and thermal shocks, dust, air, moisture, and corrosion. Silicone conformal coating is increasing adopted by semiconductor companies owing to their ability to offer greater protection over a wide range of temperature. Such advantage of silicon resin coatings over different types of conformal coating is likely to fuel the silicon conformal coating market growth.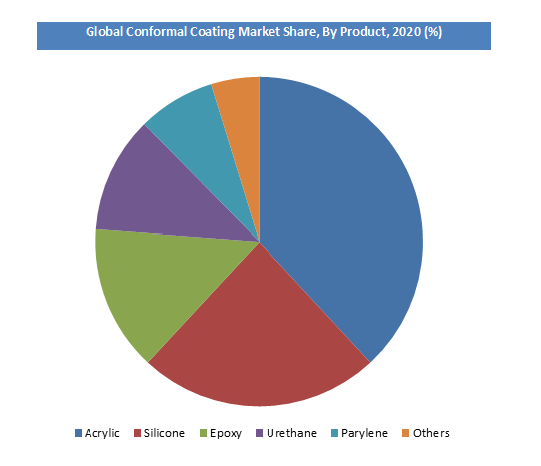 Application Segment Analysis Preview
In terms of applications, the consumer electronics segment held a major share in the global conformal coating market in 2020. Rising sales of consumer electronic goods such as mobile phones, laptops, and home appliances has driven the consumption of electronic components. This rise in the sale of consumer electronic components has augmented the consumption of conformal coating as protection, which should accelerate market growth.
Regional Analysis Preview
The Asia Pacific region dominated the global conformal coating market in 2020, constituting a market share of nearly 40%. Asia Pacific is home to some of the largest semiconductor markets such as China, Taiwan, Japan, and India. Electronic component sales in Asia Pacific has been rising owing to growing demand for smartphones, laptops, washing machines, and kitchen appliances. This growth in the demand for electronic component has driven the consumption protective coatings in various industries, which is likely to boost the Asia Pacific conformal coating market.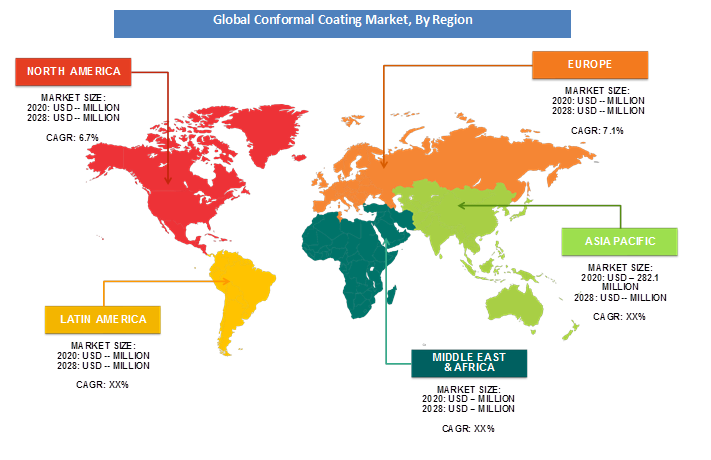 North American region held a significant share in the global conformal coating market in 2020. New trends in electronic industries such as miniaturization of electronic circuits have driven adoption of new manufacturing technologies by companies. Adoption of new technologies is likely to trigger the North America conformal coating market growth.
Key Market Players & Competitive Landscape
Some of key players in conformal coating market are DOW Corning Corporation, Electrolube, MG Chemicals Ltd., Chemtronics, Chase Corporation, Dymax Corporation, Precision Valve & Automation, Inc., Nordson Corporation, Henkel AG, Peters Group, and Shin-Etsu Chemical Co. Ltd.
The global Conformal Coating market is segmented as follows:
By Product
Acrylic
Silicone
Epoxy
Urethane
Parylene
By Application
Consumer electronics
Automotive
Aerospace & Defense
Industrial
Telecommunication
By Region
North America
Europe

France
The UK
Spain
Germany
Italy
Rest of Europe

Asia Pacific

China
Japan
India
South Korea
Southeast Asia
Rest of Asia Pacific

Latin America

Brazil
Mexico
Rest of Latin America

Middle East & Africa

GCC
South Africa
Rest of Middle East & Africa