Cloud Applications Market Overview
The global cloud applications market accounted for US 170.38 Billion in 2020 and is expected to reach USD 540.34 Billion by 2028, growing at a CAGR of 15.5% from 2021 to 2028.
A cloud application, also known as a cloud app, is a software program that combines cloud-based and local components. These applications are used by companies without having to download them, update them, or manage some kind of server, and they are paid for. For processing logic, this model relies on remote servers that are accessed via a web browser with a constant internet connection. These cloud apps are software and tools that are provided to consumers as part of the Software-as-a-Service model (SaaS).
Cloud apps' scalability and versatility, as well as the customization offered by numerous cloud service providers, are assisting businesses in embracing cloud applications. Cloud providers assist in lowering the cost of installing IT infrastructure, and hardware, and recruiting qualified personnel. These advantages enable companies to concentrate on their core competencies, and these reasons enable the Cloud applications market to grow and accelerate the adoption of cloud applications around the world.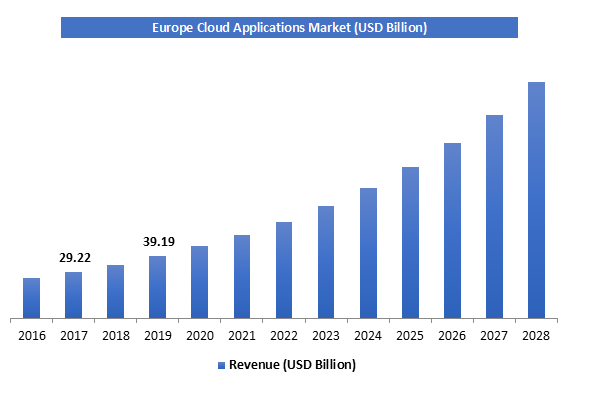 Request Free Sample
COVID-19 Impact Analysis
The cloud application market has seen phenomenal growth in recent years; however, the market has seen a significant increase as a result of the COVID-19 pandemic. This is mostly due to the growing adoption of cloud applications, as more than 90% of companies around the world have implemented work-from-home policies in order to keep their operations running smoothly. Several cloud service providers such as Microsoft, Google, and UKCloud have recently issued statements explaining the efforts taken to offer the sudden surge in the demand for Cloud applications due to work-from-home policies adopted by the companies.
Growth Factors
The technical maturity of regular applications is a primary explanation for the paradigm change, as the global adoption of cloud applications is increasing due to the absence of maintenance and updating of applications at the owner's end. This is leading to technological advances and has a direct effect on cost correction in Global Cloud Applications Market. Increased adoption of cloud computing services by Small and Medium Enterprises, as well as the financial constraints of emerging businesses, provide a forum for cloud computing technology to demonstrate its cost-effectiveness.
Over the last few decades, there has been an increase in the number of small and medium-sized businesses. The increased number of small and medium businesses has a big impact on cloud applications market opportunities; but, in the long run, this factor is projected to have a major impact on the cloud computing market. Entrepreneurs are encouraged to use cloud computing technologies because of the financial benefits and cost-cutting. The outlook for the cloud services market is expected to be boosted by the growth of these Small and Medium Enterprises. If the number of SMEs grows, so does the potential for large-scale deployment of cloud computing services, which has a positive effect on business development.
Report Scope :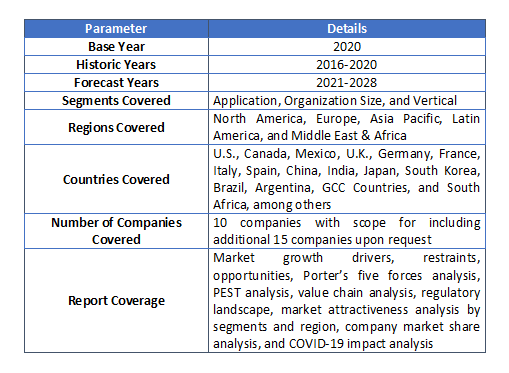 Request Free Sample
Organization Size Segment Analysis Preview
The adoption of cloud applications among SMEs and large enterprises has created a surge to manage and oversee the supply chain activities in the most effective manner to reduce cost as well as enhance and guarantee efficient operations. Cloud applications provide enterprises with real-time access to the Enterprise data, which facilitates rapid decision-making and enhanced business processes.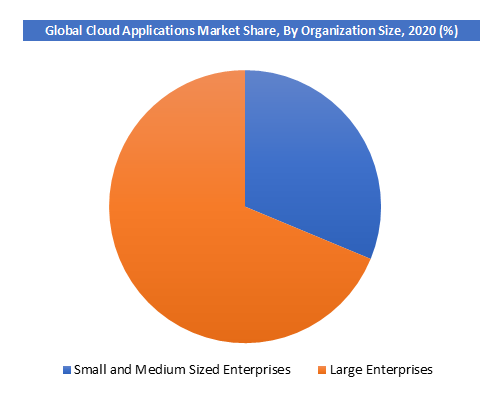 Request Free Sample
Vertical Segment Analysis Preview
The BFSI sector held a share of around 15% in 2020. As BFSI companies are witnessing an expanded customer base and internet user and are required to manage, recover, and secure large volumes of data, they continuously require cloud applications as it provides a transformative digital solution. Also, IT and Telecommunications is expected to grow further in terms of usage of cloud applications just like the previous years. The surging demand for OTT platforms has made an opportunity and a need for telecommunications to have increased usage of cloud applications.
Regional Analysis Preview
North America held a share of over 30% in 2020. This is because of the factors like presence of major economies such as the U.S. and Canada. The presence of major market players and a higher penetration rate in internet-developed IT infrastructure is also fueling the market growth in this region.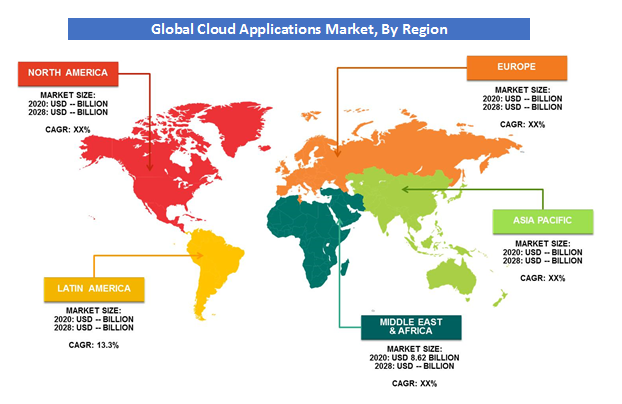 Request Free Sample
Asia Pacific region is projected to grow at a CAGR of around 17% over the forecast period. Adoption of Internet of Things (IoT) in various industrial and business operations is expected to open new avenues for the Cloud Applications market over the coming years.
Key Market Players & Competitive Landscape
Microsoft, Salesforce, Oracle, SAP, Googe, Workday, Adobe, IBM, Infor, Sage Group, Intuit, Epicor, IFS, ServiceNow, OpenText, Cisco, Box, Zoho, Citrix, LogMeIn, and Upland Software among others are some of the major Cloud Applications. Strategic alliances and lucrative acquisitions among various global and local players in the cloud ecosystem are also examined in the research study. To grow their business in the market, these companies have primarily used the collaboration approach. They've also introduced new items to meet the needs of a wide range of end users around the globe.
The global cloud applications market is segmented as follows:
By Application
ERP
CRM
HCM
SCM
BI and Analytics
Others
By Organization size
Small and Medium Sized Enterprises
Large Enterprises
By Vertical
BFSI
Manufacturing
Government & Public Sector
Telecommunications
Others
By Region
North America
Europe

France
The UK
Spain
Germany
Italy
Rest of Europe

Asia Pacific

China
Japan
India
South Korea
Southeast Asia
Rest of Asia Pacific

Latin America

Brazil
Mexico
Rest of Latin America

Middle East & Africa

GCC
South Africa
Rest of Middle East & Africa