Chlorine Market Overview
The global chlorine market accounted for USD 35.5 Billion in 2020 and is expected to reach USD 50.2 Billion by 2028, expanding at a CAGR of 5.2% from 2021 to 2028.
PVC products and water treatment can't be imagined without chlorine. It is, in fact, looked upon as the most valuable chemical across the industry vertical and is expected to witness a stupendous CAGR in the next 10 years. It is a known fact that chloride pipes are more durable as well as stronger than conventional pipes. As such, high-rise buildings where it needs to stand sunlight, rain, and gravity ask for chloride pipes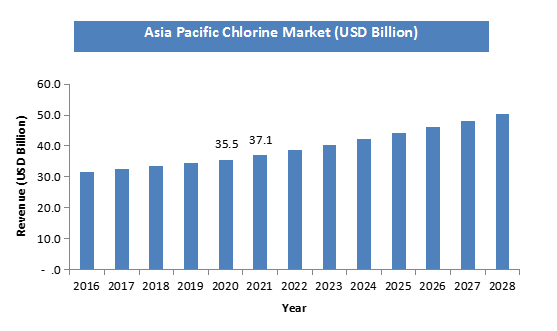 Request Free Sample
COVID-19 Impact Analysis:
The pharma industry is asking for chlorine as a solvent. Amidst the ongoing pandemic, various means are being tried out all over the world to combat it. Though the vaccination drive is at its peak, it will take at least mid-2022 for the majority of the world's populace to get vaccinated. Additionally, the imposition of lockdown has slowed down the production of chlorine. It will take a while for this topsy-turvy situation to reach normalcy. Still, looking at the essential nature of services, optimum chlorine production is on. Besides, the demand for chlorine-based sanitizers is likely to continue in the coming years as a precautionary measure.
Growth Factors:
The global chlorine market is predominantly driven by the growing need for sanitization in public places. It is a widely used disinfectant in agrochemicals, pharmaceuticals, and other industries. Moreover, chlorine is essential in the water treatment process. With the emergence of SMART Cities and townships, stringent regulations have been incorporated for the disposal of wastewater. In modern colonies, wastewater is recycled and reused through a chlorine filtration process. Therefore, chlorine forms an important and inseparable ingredient in application-based industries.
Report Scope: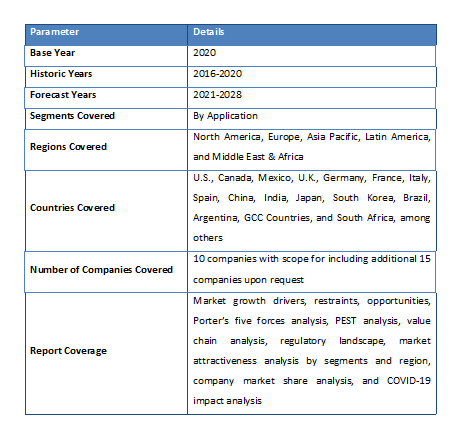 Request Free Sample
Application Segment Analysis Preview:
Based on application, the chlorine market is segmented as EDC/PVC, inorganic chemicals, organic chemicals, chlorinated intermediaries, isocyanates, pulp & paper, water treatment, and others (TiO2 & HCl). EDC/PVC accounted for a significant share in 2019 owing to an increase in demand from the construction industry. Water treatment is the second leading segment attributed to hygiene and sanitization demands for public utilities.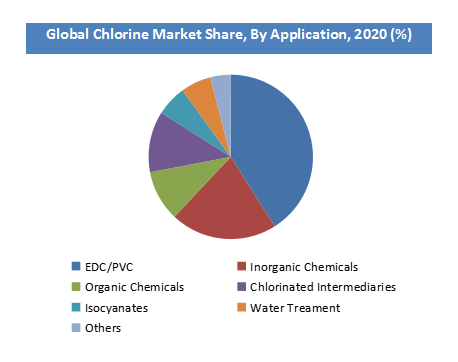 Request Free Sample
Regional Segment Analysis Preview:
The Asia Pacific accounted for a significant market share in 2020. The presence of plastic and paint industries in the Asia Pacific is expected to propel regional market growth. Besides, chlorine is largely used as a disinfectant for hygiene in lavatories. Europe and North America are expected to follow the Asia Pacific owing to the rise in the importance of Chlorine for public utilities.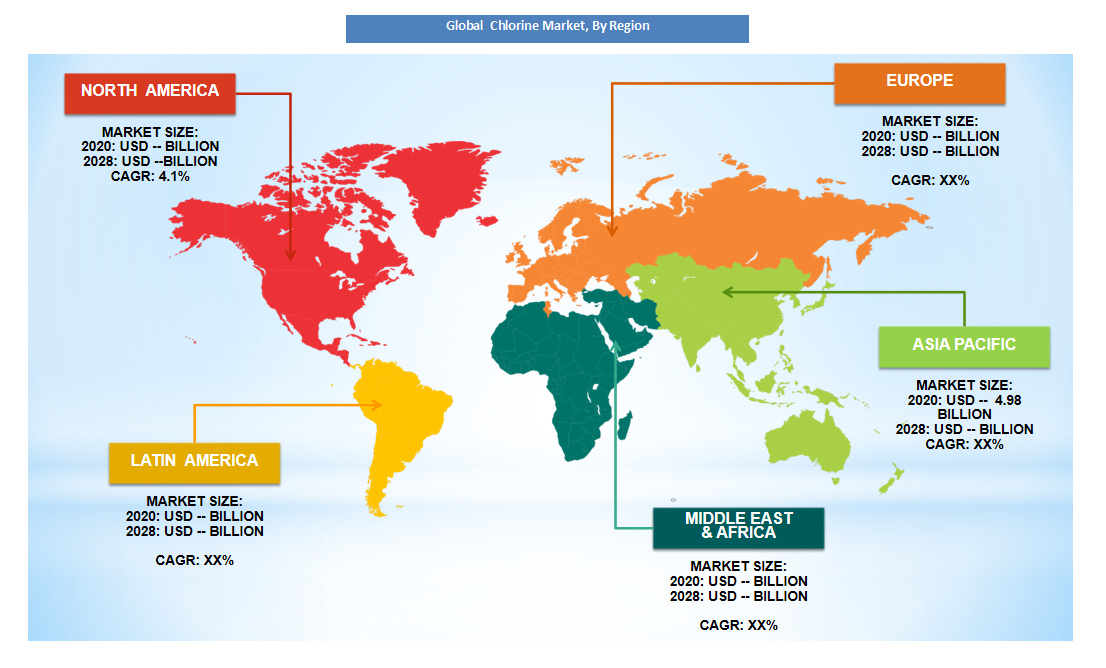 Request Free Sample
Key Players and Competitive Landscape:
Some of the key players in the chlorine market include The Dow Chemical Company, Formosa Plastics Corporation, PPG Industries, Tata Chemicals Limited, Tosoh Corporation, and Ineos Group Ltd. and Olin Corporation.
The Global Chlorine Market is segmented as :
By Application:
Organic Chemicals
Inorganic Chemicals
EDC/PVC
Solvent
Pulp & Paper
Water Treatment
Others
By Region
North America
Europe

France
The UK
Spain
Germany
Italy
Rest of Europe

Asia Pacific

China
Japan
India
South Korea
Southeast Asia
Rest of Asia Pacific

Latin America

Brazil
Mexico
Rest of Latin America

Middle East & Africa

GCC
South Africa
Rest of Middle East & Africa