Chelating Agents Market Overview
The global chelating agents market accounted for USD 4.5 Billion in 2020 and is expected to reach USD 12.5 Billion by 2028, expanding at a CAGR of 16.1% from 2021 to 2028.
Chelating agents play an important role in photosynthesis and oxygen transport in biological processes. In addition, several biological catalysts are chelates. Commercially, the global chelating agents market is economically important in form of products besides the production of other chemicals. A chelating agent is capable of forming several bonds in a single metal ion allowing it to become a multidentate ligand. For example, ethylenediamine can be referred to as a chelate.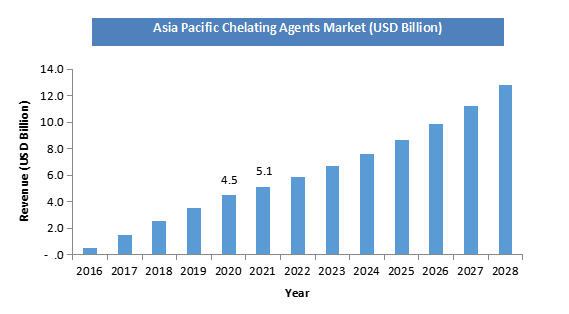 Request Free Sample
COVID-19 Impact Analysis:
Though the end-users are finding it difficult to sustain the onslaught of COVID-19, the food industry is asking for personal hygiene paper products and medical specialty papers, which is expected to keep the market at least in the ongoing mode. It will take a while for the paper & pulp industry to bounce back, as partial/total lockdown imposed all across has hampered production. However, mid-2022 is expected to bring in positives' in the form of the majority of people getting vaccinated.
Growth Factors:
Chelating agents are amongst the chemical compounds reacting for forming a water-soluble, stable complex, that too, with the metal ions. At times, they have also termed chelators, chelants, or sequestering agents. The cleaning and detergent and pulp & paper industries are the major drivers of the chelating agents market. Plus, fast industrialization, which asks for water treatment chemicals, is another one. As such, there is a soaring demand for cleaning formulations like all-purpose cleaners, surface cleaners, disinfectants, and cleansers.
Report Scope: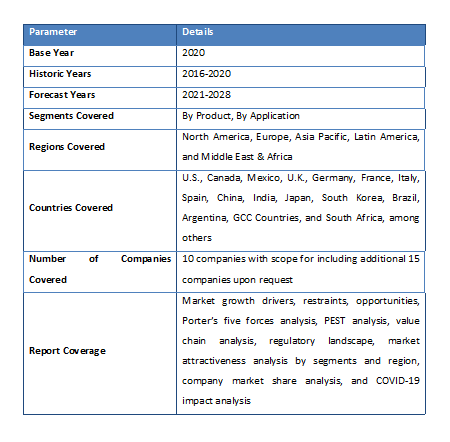 Request Free Sample
Product Segment Analysis Preview:
Based on product, the chelating agents market is segmented into sodium gluconate, amino polycarboxylate (APCA), organophosphate, and others. Sodium gluconate accounted for a significant market share and is expected to continue dominating the global market in the coming years. Organophosphate is likely to account for the second leading position owing to an increase in demand.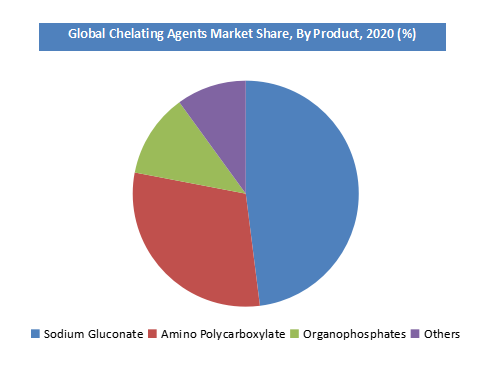 Request Free Sample
Application Segment Analysis Preview:
By application, the chelating agents market is segmented into water treatment, agrochemicals, household & industrial cleaning, pulp & paper, chemical processing, consumer products, and others. Pulp & paper emerged as the large segment attributing to high revenue and volume share. Moreover, the rise in demand for tissue papers is expected to propel the demand for chelating agents in the coming years.
Regional Segment Analysis Preview:
The Asia Pacific held a notable share in 2020 owing to the presence of key players and their dominance. The demand from regional markets in the Asia Pacific is of high significance to the market development. The presence of manufacturing units and distribution channels are some of the factors supplementing the market growth. North America and Europe are likely to attain a significant share in the coming years owing to the increase in popularity of chelating agents.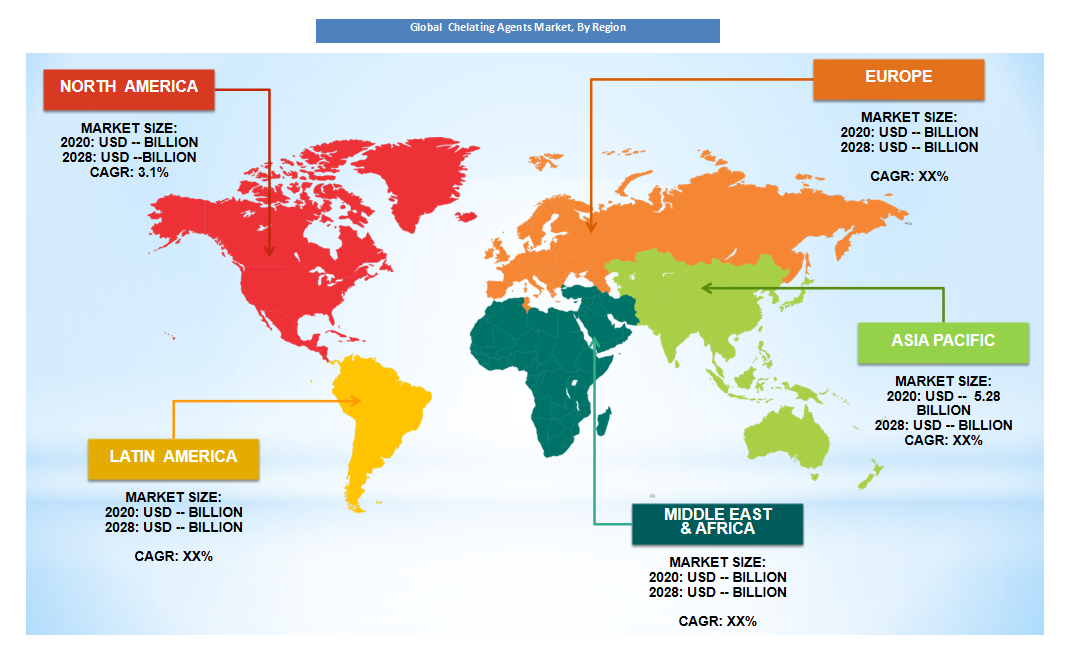 Request Free Sample
Key Players and Competitive Landscape:
Some of the key companies operatives in the global chelating agent market include Cargill Incorporated, BASF SE, AkzoNobel N.V., Sigma-Aldrich Corporation, Archers Daniels Midland Company, Dow Chemical Company, and Lanxess AG amongst others.
The Global Chelating Agents Market is segmented into,
By Product Type:
Sodium Gluconate
Aminopolycarboxylate (APCA)
Organophosphate
Others
By Application Type:
Pulp & Paper
Household & Industrial Cleaning
Water Treatment
Agrochemicals
Chemical Processing
Consumer Products
Others
By Region
North America
Europe

France
The UK
Spain
Germany
Italy
Rest of Europe

Asia Pacific

China
Japan
India
South Korea
Southeast Asia
Rest of Asia Pacific

Latin America

Brazil
Mexico
Rest of Latin America

Middle East & Africa

GCC
South Africa
Rest of Middle East & Africa