The report covers forecast and analysis for the global cancer supportive care drugs market. The study provides historic data from 2016 to 2018 along with forecast from 2019 to 2025 based on revenue (USD Million). In-depth secondary research is used to ascertain overall market size, top industry players, top treatments, industry associations, etc. Macro-economic indicators such as healthcare industry outlook, healthcare spending, research funding, GDP along with company websites, company annual reports, white papers, financial reports and other sources have also been considered to arrive at the indicated market numbers.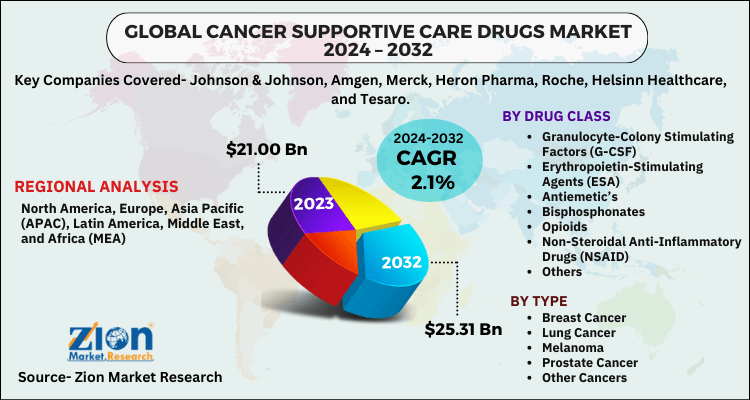 Cancer treatment causes many side effects. Some of the side effects include pain, fatigue, loss of confidence and self-esteem, changes in sexuality, menopausal symptoms for women, fertility problems, lymphoedema, cognitive changes, depression, and other side effects. Some of these side effects are very serious medical conditions that needs to be treated and others are inconvenient or upsetting but are not harmful to health. Rise in such type of incidences in the disease and growing need to manage these effectively has led to the growth in the market for cancer supportive care drugs.
The study provides a decisive view on the cancer supportive care drugs market by segmenting the market based on product, cancer type, and regions. All the segments have been analyzed based on present and future trends and the market is estimated from 2019 to 2025. Based on cancer type the market is segmented into granulocyte-colony stimulating factors (G-CSF), erythropoietin-stimulating agents (ESA), antiemetics, bisphosphonates, opioids, non-steroidal anti-inflammatory drugs (NSAID), and others. Granulocyte-colony stimulating factors and erythropoietin-stimulating agents are likely to grow at high CARG owing to the shift from biologics to biosimilars. The shift is backed by high mortality, patent loss, major safety issues associated with narcotic agents, and addiction.
Based on cancer type the market is segmented into breast cancer, lung cancer, melanoma, prostate cancer, and other cancers. Breast cancer segment is expected to grow at fastest rate in global market over the forecast period. Regional segmentation includes the current and forecast demand for Asia Pacific, North America, Latin America, Europe, and Middle East & Africa with its further bifurcation into major countries.
The study also includes drivers and restraints for the cancer supportive care drugs along with the impact they have on the demand over the forecast period. Besides, the report includes the study of opportunities and trends available in the cancer supportive care drugs market on global level. The market for cancer supportive drugs has a huge demand and is likely to grow in coming future. As per the stats provided by GLOBOCAN, 14.5 million new cancer cases were diagnosed worldwide in the year 2013. As per WHO, the growth in cancer cases is likely to raise by 75% in the next decade with more than 20 million new cancer cases. Cancer is highly dominant in middle and lower income countries due to lack of apt healthcare infrastructure to effectively combat this condition. Similarly, 65% of the total worldwide death related to cancer was reported from less developed regions.
The report also provides company market share analysis in order to give a broader view of the key players in the market. Industry insights and information is delivered in the required format. ZMR develops a list of industry players (manufacturers), distributors, retailers and industry experts. Some of the players included in cancer supportive care drugs market are Johnson & Johnson, Amgen, Merck, Heron Pharma, Roche, Helsinn Healthcare, and Tesaro.
The report segments the cancer supportive care drugs market as follows:
Global Cancer Supportive Care Drugs Market: Drug Class Segment Analysis
Granulocyte-Colony Stimulating Factors (G-CSF)
Erythropoietin-Stimulating Agents (ESA)
Antiemetic's
Bisphosphonates
Opioids
Non-Steroidal Anti-Inflammatory Drugs (NSAID)
Others
Global Cancer Supportive Care Drugs Market: Cancer Type Segment Analysis
Breast Cancer
Lung Cancer
Melanoma
Prostate Cancer
Other Cancers
Global Cancer Supportive Care Drugs Market: Regional Segment Analysis
North America
Europe
Asia Pacific
Latin America
Middle East and Africa