Burn Care Market Size And Forecast
The global burn care market was valued at $1.2B in 2021 and is projected to generate a revenue of $3.12B by 2028 while growing at a CAGR of 7.2% during the forecast period. The report analyzes the global burn care market's drivers, restraints/challenges, and the effect they have on the demands during the projection period. In addition, the report explores emerging opportunities in the burn care market.
Burn Care Market: Overview
A burn occurs when the skin tissue is damaged due to exposure to chemicals, heat, electricity, sunlight, or radiation. Most burn cases are accidental situations. The seriousness of the burn is determined by the diagnosing medical professional and in case of any type of burn, it should be quickly reported to the doctor in order to reduce the impact of the burn because untreated burns readily lead to infections and can become critical in many cases.
Around half a million burn cases are reported annually across the globe with varying intensity where children are the most at risk. Anybody can be a victim of accidental burns like children getting burnt because of boiling water or oil spillage on the skin, teenagers may accidentally burn a patch of their skin when messing around with lighters, and other such situations. Burns are generally categorized into 3 types: first-degree burn which is the mildest form and even sunburn is included in this category, second-degree burn which affects the top & lower level of the skin (dermis), third-degree burn which damages all three layers of the skin including epidermis, dermis, and fat. It also affects the sweat glands & hair follicles and has proven to be fatal in many situations. Some of the signs of burns are blisters, swelling, pain, peeling skin, and white or charred skin.
The global burn care market includes basic steps like putting the burnt area under running water in case of extremely minor burn, advanced surgical processes in case of third-degree burns requiring intensive care, and multiple incisive surgeries to reduce the pain of the patient.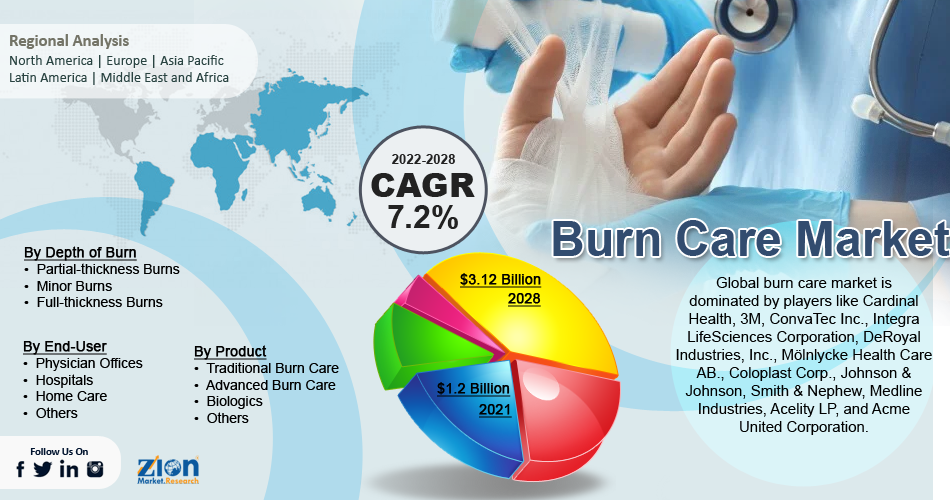 Request Free Sample
Covid-19 Impact
The global market was marginally impacted by the onset of Covid-19. Since multiple over-the-counter burn care products were available at local pharmacies and critical cases were being treated at hospitals, the entire process became more tedious owing to restrictions related to Covid-19. For milder burns, the global market witnessed a slight jump owing to remote work culture, closure of restaurants, and the subsequent need to cook at home leading to an increase in many home care remedies for such burns.
Burn Care Market: Growth Drivers
Rising burn-related accidental cases to aid global market growth
With the growing urbanization and modernization of cities, we are always in close contact with explosive substances or skin irritants. They can range anything from cleaning agents to chemicals used at construction sites, high voltage electric currents, and fuels, to name a few. A slight ignorance can lead to serious burn cases. For example, if safety procedures are not correctly followed at construction sites, there is a chance of a live unexposed wire coming in contact with a human. Or careless attitude at chemical manufacturing sites may have negative implications. Since we are always in proximity to such strong burn agents, the chances of burns have become higher than ever and are expected to aid global burn care market growth in the coming years.
Burn Care Market: Restraints
High cost of complex burns treatment to retrain global market growth
Third-degree burns or burns that affect the critical parts of the body like the eye, ear, nerve damage, and other such burns are difficult to operate. They require special equipment along with specialized medical personnel. Even post-care is extremely sensitive. This increases the overall cost of treatment in third-degree burns which is also coupled with less availability of specialized treatment facilities equipped to handle such complex cases which are projected to restrain the global market growth during the forecast period.
Burn Care Market: Opportunities
Technological advancement in burn care may provide growth opportunities in the global market
With the number of burn cases rising every year and their causes being different from one another, the private market players and government agencies have realized the importance of accommodating advanced technology in burn care. This is not just helpful for medical professionals but for the patients as well. These technologies involve laser treatments to remove burn marks, near-to-perfect skin grafting, and other patient-friendly approaches. The rising adoption and R&D on technologies related to burn care are expected to provide lucrative growth opportunities in the global burn care market.
Burn Care Market: Challenges
Lack of awareness about burn care in developing nations to pose a challenge to global market expansion
There is a general lack of awareness amongst the population in developing nations or underdeveloped nations about proper burn care management. This is either owed to lesser government initiatives to educate the masses or poor healthcare infrastructure which leads to a scarce number of medical facilities specializing in burn management. Some of the regions do not have a sufficient number of domestic companies manufacturing burn care products and the cost of international products may be too high posing affordability issues thus creating challenging situations in global market expansion.
Burn Care Market: Segmentation
The global burn care market is segmented by the depth of burn, product, end-user, and region.
Based on the depth of burn, the global market segments are partial-thickness burns, minor burns, and full-thickness burns. Partial-thickness burns have been holding the largest share owing to the increasing use of biologics like skin grafting or other substitutes which eases the process of medical treatment for the patients.
By product, the global market is segmented into traditional burn care, advanced burn care, biologics, and others. The market is currently receiving high contributions from the advanced burn care segment because it aids pain control, removal of dead tissue, and prevention of infection, while also reducing scarring and helping in functional recovery.
By end-user, the global market segments are physician offices, hospitals, home care, and others where hospitals and physician offices received the highest number of patients owing to rising awareness about proper burn care and since treatments at authorized burn centers can aid the prevention of infection as contrary to home care which may not be very effective in some situations.
Recent Developments:
In November 2021, Convatec announced a 3-year extension of its wound care agreement with Vizient Inc. in the USA with the aim to provide excellent quality wound care across the USA. Convatec, a UK-based company, is a leading manufacturer of treatment products for burn injuries, skincare, and wounds. Vizient Inc. is a USA-based healthcare services firm.
In August 2021, RLS Global managed to receive approval from the New Zealand Medicine & Medical Devices Safety Authority. This authorization will aid RLS global, a healthcare producer of burn care, to use ChloraSolv in the region, which is used for foot ulcers in diabetic patients.
Report Scope:
Burn Care Market: Regional Analysis
North America to dominate the global market during the forecast period
North America managed to hold over 50% of the global burn care market share in 2021 and is projected to follow the same trend in 2021 owing to the increasing number of medical burn cases in the region. In 2018, as per official records, the region treated more than 300 children every day with the USA alone and almost 2 deaths recorded. This is also prolled by the existence of key market players in the region thus providing affordable burn care to its population. The constant technological innovation in burn care is expected to aid regional growth in the coming years.
Asia-Pacific is also expected to generate high revenue in the coming years due to rising accidents in the region thus enhancing the need for burn care. Rampant industrialization and subsequent burn-related accidents are also expected to aid regional growth.
Burn Care Market: Competitive Analysis
The global burn care market is dominated by players like Cardinal Health, 3M, ConvaTec Inc., Integra LifeSciences Corporation, DeRoyal Industries, Inc., Mölnlycke Health Care AB., Coloplast Corp., Johnson & Johnson, Smith & Nephew, Medline Industries, Acelity LP, and Acme United Corporation.
Global burn care market is segmented as follows:
By Depth of Burn
Partial-thickness Burns
Minor Burns
Full-thickness Burns
By Product
Traditional Burn Care
Advanced Burn Care
Biologics
Others
By End-User
Physician Offices
Hospitals
Home Care
Others
By Region
North America
Europe

France
The UK
Spain
Germany
Italy
Rest of Europe

Asia Pacific

China
Japan
India
South Korea
Southeast Asia
Rest of Asia Pacific

Latin America

Brazil
Mexico
Rest of Latin America

Middle East & Africa

GCC
South Africa
Rest of Middle East & Africa