Industry Prospective:
The global bulletproof helmet market size was worth around USD 916.7 Million in 2022 and is predicted to grow to around USD 1429.5 Million by 2030 with a compound annual growth rate (CAGR) of roughly 5.88% between 2023 and 2030. The report analyzes the global bulletproof helmet market drivers, restraints/challenges, and the effect they have on the demands during the projection period. In addition, the report explores emerging opportunities in the bulletproof helmet industry.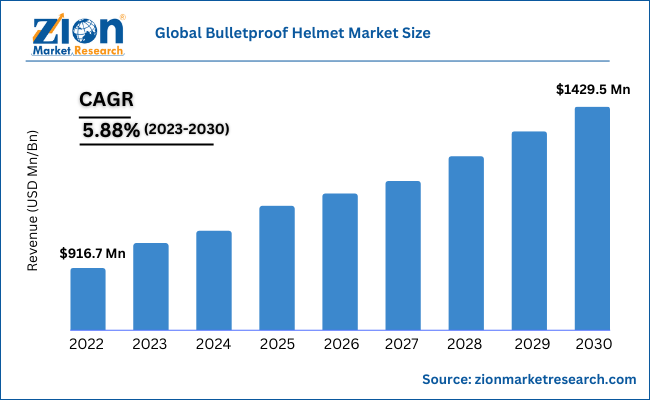 Request Free Sample
Bulletproof Helmet Market: Overview
The bulletproof helmet industry deals with the production and distribution of a type of protective headgear called a helmet that is intended to protect the wearer from various types of ballistic threats like shrapnel and bullets. The materials used in the production are very specific in terms of weight and strength. The most commonly used materials are carbon fiber, Kevlar, and ceramic composites. Bulletproof helmets are typically used by military personnel and law enforcement agencies along with individuals or private security staff that work with high-risk functions or occupations like journalists reporting from war areas. As global threats across the globe have risen in the last few years, the demand for high-grade bulletproof helmets has also registered high growth. The industry includes designers, manufacturers, and distributors of bulletproof helmets along with units or organizations that are responsible for providing necessary training and certification for the use of these helmets.
Key Insights:
As per the analysis shared by our research analyst, the global bulletproof helmet market is estimated to grow annually at a CAGR of around 5.88% over the forecast period (2023-2030)
In terms of revenue, the global bulletproof helmet market size was valued at around USD 916.7 million in 2022 and is projected to reach USD 1429.5 million, by 2030.
The bulletproof helmet market is projected to grow at a significant rate due to the growing rate of armed conflict
Based on material segmentation, the composite material was predicted to show maximum market share in the year 2022
Based on application segmentation, military & defense was the leading type in 2022
On the basis of region, Asia-Pacific was the leading revenue generator in 2022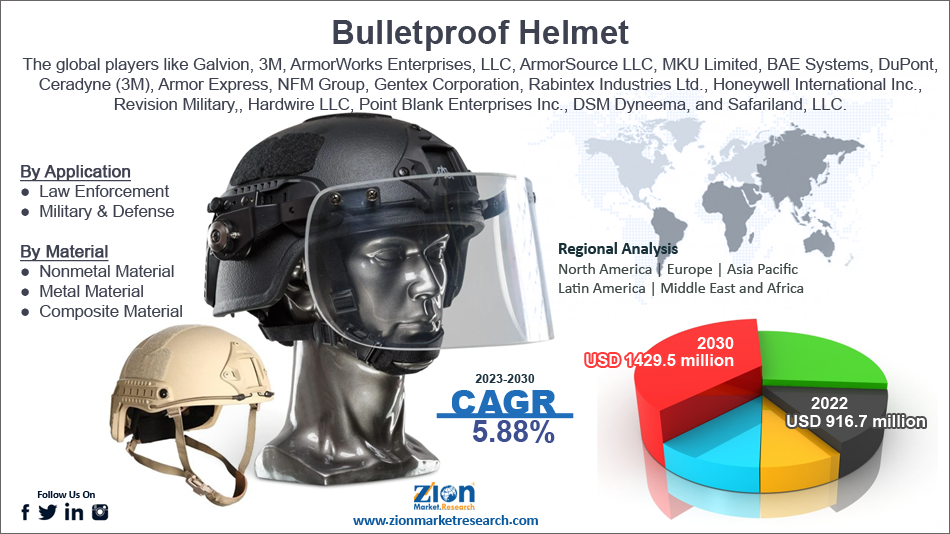 Request Free Sample
Bulletproof Helmet Market: Growth Drivers
Growing rate of armed conflicts to drive market growth
The global bulletproof helmet market is expected to grow owing to the increasing rate of armed conflict across the globe. Currently, there are many nations across the world that are witnessing intense physical conflict either within the country with domestic radical groups or with other nations. For instance, the Russia-Ukraine war began on 22nd February 2022 and there are no signs of stopping as both countries along with allies continue to conduct damaging activities. Ukraine's armed force currently consists of close to 2,46,000 soldiers. Furthermore, there are several other countries that have been in a stand-off against one another for many years. As per Global Terrorism Index 2020, more than 13,000 people died due to terrorist activities in 2020. The number continues to rise every year. In addition to this, the rising intensity of government regulations toward the protection of its soldiers could lead to additional revenue as many nations have mandated the use of bulletproof amenities like helmets and jackets.
Bulletproof Helmet Market: Restraints
High cost and other limitations to restrict the market growth
One of the key reasons for restricted growth in the global bulletproof helmet industry is the high-cost associated with the production and distribution of helmets. These safety equipment are made with high-grade materials that undergo complex production processes to deliver the desired results. Hence they may be unaffordable for certain end-buyers, especially for countries with limited military budgets or undergoing economic duress. In addition to this, bulletproof helmets offer limited durability as compared to their counterparts causing doubts over long-term protection. Bulletproof helmets are heavier than traditional helmets and can become a cause of physical stress for the wearer which further restricts their adoption.
Bulletproof Helmet Market: Opportunities
Expansion in international markets to provide growth opportunities
In the international market, the demand for bulletproof accessories like helmets is growing tremendously. This is mostly observed in countries that are in a constant state of war or disruption either due to internal or foreign influence. Furthermore, the increasing rate of collaboration between producers and buying nations or private agencies could lead to higher growth opportunities for the bulletproof helmet market during the forecast period. Manufacturers are also investing in the development of lightweight and durable goods that offer cost-efficiency thus improving chances of higher purchases from end-buyers.
Bulletproof Helmet Market: Challenges
Regulatory hurdles to challenge market growth
Since bulletproof helmets are mainly a part of accessories and equipment used by law enforcement agencies, the quality of the product is of utmost significance since it relates to the safety it offers to the wearer. Hence, the regulations and rules surrounding the manufacturing or sale of such helmets are extremely stringent and require accurate certifications. The entire process can be resource-consuming including time and money.
Bulletproof Helmet Market: Segmentation
The global bulletproof helmet market is segmented based on application, material, and region.
Based on application, the global market segments are law enforcement and military & defense. In 2022, the industry witnessed the highest growth in the military & defense segment mainly due to the rise in political and social unrest activities observed across the globe during 2022 mainly concerning multiple economies. Law enforcement agencies typically take care of unrest within the economy. Since military operations require personnel to be posted in extreme combat situations, the spending on the safety of this segment is higher as compared to law enforcement. Furthermore, currently, the majority of the nations are opting for ways in which they can improve their military strength for different social-political reasons. Stockholm International Peace Research Institute (SIPRI), China spent close to USD 250 billion on its military in 2020.
Based on material, the bulletproof helmet industry is divided into nonmetal material, metal material, and composite material. Typically, these helmets are made of composite material where a combination of materials that exhibit different chemical and physical properties are used to produce a particular composite. The selection of the material depends on its ability to absorb energy and distribute it across the final product while ensuring durability and lighter weight. Steel is another common material used in production. Moder-age bulletproof helmets weigh between 2.5 to 4.5 pounds.
Recent Developments:
In July 2020, the Indian Army, the military wing of India, initiated its acquisition of Ak-47-protected helmets in a bid to improve the safety standards for its soldiers. With a procurement strength of 100,000 units, it is one of the biggest purchase deals in this segment. The move was initiated in June month of the same year Infantry Directorate issued a Request for Information (RFI) to helmet producers and the Indian government
In August 2021, The Indian Army started the use of Made in India Bullet Proof Helmets provided by MKU Ltd under a contractual obligation with the country's Ministry of Defense. The helmets are protective against 9 mm carbine bullet strikes
In January 2023, The Indian Army announced its intention to procure bulletproof helmets, especially for Sikh soldiers who were unable to wear the other alternatives. The agency will procure 12,730 units of Kavro SCH 111 T
Bulletproof Helmet Market: Report Scope
Report Attributes
Report Details
Report Name
Bulletproof Helmet Market Research Report
Market Size in 2022
USD 916.7 Million
Market Forecast in 2030
USD 1429.5 Million
Growth Rate
CAGR of 5.88%
Number of Pages
211
Key Companies Covered
Galvion, 3M, ArmorWorks Enterprises, LLC, ArmorSource LLC, MKU Limited, BAE Systems, DuPont, Ceradyne (3M), Armor Express, NFM Group, Gentex Corporation, Rabintex Industries Ltd., Honeywell International Inc., Revision Military, Morgan Advanced Materials, Hardwire LLC, Point Blank Enterprises Inc., DSM Dyneema, and Safariland, LLC.
Segments Covered
By Application, By Material, And By Region
Regions Covered
North America, Europe, Asia Pacific (APAC), Latin America, Middle East, and Africa (MEA)
Base Year
2022
Historical Year
2017 to 2021
Forecast Year
2023 - 2030
Customization Scope
Avail customized purchase options to meet your exact research needs. Request For Customization
Bulletproof Helmet Market: Regional Analysis
North America to register the highest growth during forecast period
The global bulletproof helmet market is expected to witness the highest growth in North America during the forecast period. The high CAGR is mainly in response to the high demand for advanced protective gear from the large military and law enforcement contingents of the US and Canada. The former is home to one of the most well-funded military and defense agencies in the world. Growth in Europe is driven due to the high number of manufacturers and buyers across the countries of Germany, France, and the UK. The manufacturers from these regions have an immense hold over the international market. Asia-Pacific is expected to emerge as one of the fastest-growing segments with high contributions from India, Japan, China, and Russia. Increasing security concerns, the rising rate of political unrest, and other associated issues are leading reasons for the growth.
Bulletproof Helmet Market: Competitive Analysis
The global bulletproof helmet market is led by players like:
Galvion
3M
ArmorWorks Enterprises LLC
ArmorSource LLC
MKU Limited
BAE Systems
DuPont
Ceradyne (3M)
Armor Express
NFM Group
Gentex Corporation
Rabintex Industries Ltd.
Honeywell International Inc.
Revision Military
Morgan Advanced Materials
Hardwire LLC
Point Blank Enterprises Inc.
DSM Dyneema
Safariland LLC.
The global bulletproof helmet market is segmented as follows:
By Application
By Material
Nonmetal Material
Metal Material
Composite Material
By Region
North America
Europe

France
The UK
Spain
Germany
Italy
Rest of Europe

Asia Pacific

China
Japan
India
South Korea
Southeast Asia
Rest of Asia Pacific

Latin America

Brazil
Mexico
Rest of Latin America

Middle East & Africa

GCC
South Africa
Rest of Middle East & Africa