Bromadiolone Industry Prospective:
The global bromadiolone market size was worth around USD 412.38 million in 2022 and is predicted to grow to around USD 651.28 million by 2030 with a compound annual growth rate (CAGR) of roughly 5.61% between 2023 and 2030.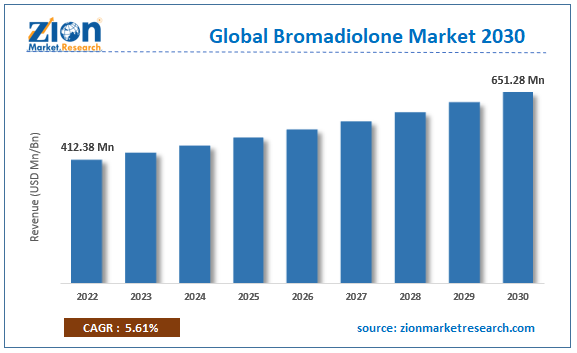 Request Free Sample
The report delves deeper into several crucial aspects of the global bromadiolone market. It includes a detailed discussion of existing growth factors and restraints. Future growth opportunities and challenges that impact the bromadiolone industry are comprehensively addressed in the report.
Bromadiolone Market: Overview
Bromadiolone is a chemical compound. It is also a highly potent rodenticide as it is used to control the population of rodents, particularly mice and rats. It belongs to the anticoagulant class of rodenticides and performs by inhibiting the ability of the blood to clot properly. Once bromadiolone is consumed by a rodent, it impacts its vitamin K recycling capabilities. This vitamin plays a crucial role in the blood-clotting process. As a result of this interference, rodents start suffering from internal bleeding which eventually leads to their death. It is typically used in bait formations such as blocks or pellets which can be easily placed in areas infested with rodents. However, the chemical must not be placed in proximity to humans as it can be toxic or may have severe health implications.
Key Insights:
As per the analysis shared by our research analyst, the global bromadiolone market is estimated to grow annually at a CAGR of around 5.61% over the forecast period (2023-2030)
In terms of revenue, the global bromadiolone market size was valued at around USD 412.38 million in 2022 and is projected to reach USD 651.28 million, by 2030.
The bromadiolone market is projected to grow at a significant rate due to the growing rate of rodent infestation
Based on application segmentation, pellets or bait blocks was predicted to show maximum market share in the year 2022
Based on type segmentation, the solid was the leading type in 2022
On the basis of region, Asia-Pacific was the leading revenue generator in 2022
Bromadiolone Market: Growth Drivers
Growing rate of rodent infestation globally to drive market growth
The global bromadiolone market is projected to grow owing to the increasing rate of rodent infestation across the globe. There are several social factors that have resulted in raising worries over rats and mice infestation. The primary reason why rats infest homes is because of their need to find a warm shelter, especially during colder seasons. Urbanization and the surging building industry have led to damage to the ecosystem which has started attracting wild rodents to urban homes. Moreover, in agricultural spaces, rodents are responsible for hoarding the food material in burrows which leads to damage to water canals, soil erosion, and directly affects agricultural produce. As per claims by the American Chemical Society, rodents such as mice and rats alone spoil nearly 20% of the world's food supply which is a result of water contamination caused by their feces and urine.
Bromadiolone Market: Restraints
Bromadiolone's classification as a hazardous substance to restrict market growth
As per the New Jersey Department of Health and Senior Services, bromadiolone is classified as a hazardous substance. The fact sheet claims that inhaling the compound can cause serious health issues. For instance, exposure to bromadiolone may lead to massive bruises, nose bleeds, bleeding gums, blood in the stool or urine, and severe abdominal pain. Moreover, excessive exposure can lead to death in certain situations. Such factors are likely to impede the global bromadiolone market growth during the projection period.
Bromadiolone Market: Opportunities
Increasing need for efficient farming needs to provide growth opportunities
As the world population is growing, the pressure on global food manufacturers has increased with time. Regional governments have undertaken multiple programs to promote safe agricultural practices which in turn may help in meeting the growing demand and expectations from the agricultural sector. Reports indicate that since 2006, European nations have spent nearly USD 54 billion per year under the Common Agricultural Policy (CAP) which was reformed in 2020.
Bromadiolone Market: Challenges
Rising concerns over collateral damage to challenge market growth
Bromadiolone is typically used to target rats and mice. However, there are growing concerns over the collateral damage associated with this compound. For instance, there is always a risk of potential harm to non-target species such as birds, mammals, and aquatic organisms. The impact of bromadiolone exposure to these species affects the overall ecosystem. This has led to a rise in demand for more eco-friendly alternatives to the harsh chemical. It could lead to a significant shift to safer alternatives in the coming years.
Bromadiolone Market: Segmentation
The global bromadiolone market is segmented based on application, type, and region.
Based on application, the global market segments are pellets or bait blocks, mother liquor, and others. In 2022, the highest CAGR was observed in the pellets or bait blocks segment of the bromadiolone industry since bromadiolone is traditionally and largely used in bait formulations. This form of administration helps in delivering a controlled dosage of the compound and they are designed to appear attractive to the rodent. Several advantages are associated with bromadiolone in block form which includes easy handling and placement. They can be used across commercial, residential, and agricultural settings. As per official estimates, there are around 7 billion rats spread worldwide. This number indicates an average of one rat per person.
Based on type, the bromadiolone industry is divided into liquid, powder, and others. The most popular form is the powder segment since there is greater demand for bromadiolone in pellets, bait blocks, or granule formulations. They offer advantages such as precise dosage and targeted placement which become difficult with the liquid form of the compound. Moreover, the growing consumption of bricks or pellets of bromadiolone is also a result of the controlled release of bromadiolone which enhances its efficacy in controlling rodent populations. However, there are specific applications of the liquid form as well but these uses are limited to incorporation into specialized equipment or customized formulations. Between 2003 and 2012, India recorded nearly 1400 deaths due to the consumption of rat poison.
Recent Developments:
In July 2022, Christian Medical College (CMC) Hospital organized and hosted a one-day seminar on the ingestion of rat poison which is known to cause liver damage. The seminar was held on hospital premises and around 10 staff members including nurses and doctors from the Coimbatore Government Medical College showed active participation in the meet
In October 2022, the official website of British Columbia posted an information bulletin stating that the Province is putting a permanent regulator ban on the sale and use of second-generation rodenticides. They are also known as SGARs and pose and are known to act as severe threats to animals that consume poisoned rodents
In May 2021, the government of New South Wales (NSW) announced a USD 50 million package for helping the regional NSW government tackle the widespread mouse plague that was affecting rural areas. The agency also applied for urgent approval from the Australian Pesticides and Veterinary Medicines Authority (APVMA) to use bromadiolone
Bromadiolone Market: Report Scope
Report Attributes
Report Details
Report Name
Bromadiolone Market Research Report
Market Size in 2022
USD 412.38 Million
Market Forecast in 2030
USD 651.28 Million
Growth Rate
CAGR of 5.61%
Number of Pages
224
Key Companies Covered
Syngenta AG, BASF SE, Bayer AG, Rentokil Initial plc, Liphatech Inc., Neogen Corporation, PelGar International, Bell Laboratories Inc., JT Eaton & Co. Inc., Senestech Inc., UPL Limited, Impex Europa S.L., HACCP International, Ensystex Inc., LiphaTech SAS, Impex Europa Ltd., Senetek PLC, Unichem d.o.o., Pi Chi Industry Co. Ltd., Rat Sorb, Eagle Brand Holdings Ltd., J.T. Eaton & Co. Ltd., Precious Harbour Co. Ltd., Qingdao Hilda-Jingyi Trading Co. Ltd., and DODSON Pest Control.
Segments Covered
BBy Application, By Type, and By Region
Regions Covered
North America, Europe, Asia Pacific (APAC), Latin America, Middle East, and Africa (MEA)
Base Year
2022
Historical Year
2017 to 2021
Forecast Year
2023 - 2030
Customization Scope
Avail customized purchase options to meet your exact research needs. Request For Customization
Bromadiolone Market: Regional Analysis
Asia-Pacific to witness the highest growth in near future
The global bromadiolone market is expected to register the highest growth in Asia-Pacific during the forecast period. This is mainly due to the increasing consumption of rodent killers in the regions of India, China, and other Southeast Asian countries. These nations have some of the largest agricultural lands, especially rice which tends to attract rats and mice. They also have huge pressure on the local agricultural sector due to the growing population and increasing food consumption. In 2021 and 2022, India's total agriculture export stood at USD 49.6 billion as per India Brand Equity Foundation.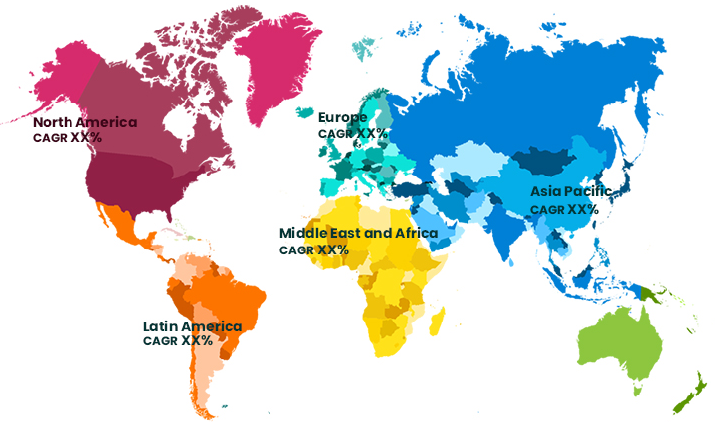 Request Free Sample
However, these regions are also extensively infested with rodents which cause huge losses to agricultural produce. In 2021, an Australian farmer was reported to have lost nearly AUD 130,000 worth of food grains due to a mouse plague that affected the whole continent. Such circumstances have led to governments and local bodies adopting extreme measures to curb rodent infestation.
Bromadiolone Market: Competitive Analysis
The global bromadiolone market is led by players like:
Syngenta AG
BASF SE
Bayer AG
Rentokil Initial plc
Liphatech Inc.
Neogen Corporation
PelGar International
Bell Laboratories Inc.
JT Eaton & Co. Inc.
Senestech Inc.
UPL Limited
Impex Europa S.L.
HACCP International
Ensystex Inc.
LiphaTech SAS
Impex Europa Ltd.
Senetek PLC
Unichem d.o.o.
Pi Chi Industry Co. Ltd.
Rat Sorb
Eagle Brand Holdings Ltd.
J.T. Eaton & Co. Ltd.
Precious Harbour Co. Ltd.
Qingdao Hilda-Jingyi Trading Co. Ltd.
DODSON Pest Control.
The global bromadiolone market is segmented as follows:
By Application
Pellets or Bait Blocks
Mother Liquor
Others
By Type
By Region
North America
Europe

France
The UK
Spain
Germany
Italy
Rest of Europe

Asia Pacific

China
Japan
India
South Korea
Southeast Asia
Rest of Asia Pacific

Latin America

Brazil
Mexico
Rest of Latin America

Middle East & Africa

GCC
South Africa
Rest of Middle East & Africa