Bonding Films Market Size & Industry Analysis:
The global bonding films market size was worth around USD 954.9 million in 2021 and is predicted to grow to around USD 1490 Million by 2028 with a compound annual growth rate (CAGR) of roughly 6.49% between 2022 and 2028. The report analyzes the global bonding films market drivers, restraints/challenges, and the effect they have on the demands during the projection period. In addition, the report explores emerging opportunities in the bonding films market.
Bonding Films Market: Overview
Bonding films, also known as adhesive films, are used to attach different substrates, lids, or large-area components. Typically, they are solid sheets of thermosetting polymers that have been partially cured or exhibit thermoplasticity. Bonding films can be dissected into different sizes depending on the requirement.
Thermosetting polymers are created by making a viscous liquid prepolymer also known as resin or a soft solid undergo the process of curing, also known as hardening. Curing is achieved by using suitable forms of radiation or by heating along with the use of a catalyst or extremely high pressure.
The process of hardening soft material results in the formation of an extremely high-grade cross-linked polymer through a chemical reaction and the result is the creation of a polymer network that is insoluble or infusible. Bonding films are more or less slim layers of adhesive material that are supported through a backing that can be removed. These agents or adhesives yield high output and are extremely easy to use. The global market is witnessing momentum in the adoption of these materials because of their performance value and convenient handling.
Key Insights
As per the analysis shared by our research analyst, the global bonding films market is estimated to grow annually at a CAGR of around 6.49% over the forecast period (2022-2028)
In terms of revenue, the global bonding films market size was valued at around USD 954.9 million in 2021 and is projected to reach USD 1490 Million , by 2028. Due to a variety of driving factors, the market is predicted to rise at a significant rate
Based on technology segmentation, thermally cured was predicted to show maximum market share in the year 2021
Based on end-user segmentation, electronics and electrical were the leading end-users in 2021
On the basis of region, Asia-Pacific was the leading revenue generator in 2021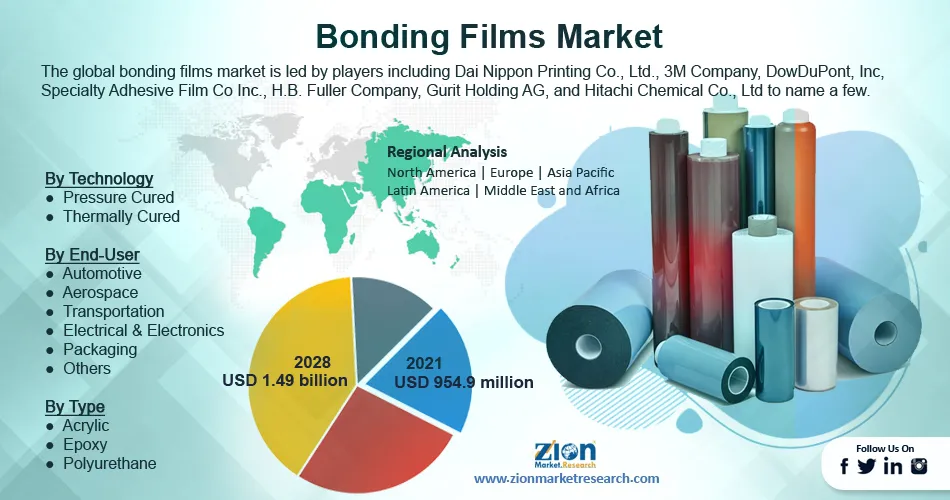 Request Free Sample
Bonding Films Market: Growth Drivers
Growing applications in the aviation sector to propel market demand
The global bonding films market is anticipated to grow owing to the high adoption rate of bonding films in the aerospace industry. The adhesives are used to bond together various structural parts of an aircraft that are made of different types of material including aluminum, titanium, or steel. Fiberglass, carbon-sandwich composite, and carbon laminate composite are also used in significant quantities.
The heaviest part of any aircraft is the fuselage. In the Boeing 787, the fuel-carrying part of the aircraft weighs more than 1,500 lb which is 686 kilograms. To bind the components together, manufacturers use high-grade adhesive materials as it forms a critical part in ensuring plane safety. Since bonding films can be customized as per the requirement and can be applied to any substrate using high pressure or heat, they have gained popularity amongst business leaders. The versatility of the material allows it to be used to bond fuselage and stringers and stiffen wing skins. They also prevent buckling in these structures.
Bonding Films Market: Restraints
Requirement of skilled labor to restrict market expansion
The global market is projected to witness restricted growth due to the requirement of skilled labor to work with bonding films. Poor adhesion can lead to severe consequences and hence the material must be correctly bonded to the substrate. Due to this, bonding films should be applied with care and precision as too high pressure or temperature can lead to incorrect bonding. This limits the expansion of the global market as even though the demand for the product is high, the availability of skilled labor stands as a major concern.
Bonding Films Market: Opportunities
Growing technological development to provide excellent growth opportunities
With the increasing application of bonding films and the use of these adhesive materials in the large-scale business sector, global bonding films market players have increased their spending on research & development to improve the quality of the adhesive materials as well as upgrade their performance value. This could lead to more growth opportunities as the product can be used by other consumer group segments.
Bonding Films Market: Challenges
Fluctuating raw material prices to impact the growth period
The global market players have to constantly deal with the fluctuating prices of raw materials. Some of these components are silanes, petroleum resins, and rosin esters. The changing international trade conditions and power dynamics is a major factor that impacts the price of these components. This could create turmoil in the growth trajectory as the world's political scenario changes along with the Russia-Ukraine war.
Bonding Films Market: Segmentation
The global bonding films market is segmented based on technology, end-user, type, and region
Based on technology, the global market is segmented into pressure cured and thermally cured. Currently, the global market is led by thermally cured bonding films as it imparts the final product with higher chemical and heat resistance. With thermal curing, higher rigidity can also be expected in the outcome. In this chemical change induced by thermal energy, precursor resin is heated and hardened to manufacture composites. Most bonding films are cured at a temperature range of +100 °C and +150 °C. But this range may change depending on the manufacturing brand. Pressure-sensitive bonding films create bonds with the substrate when optimum pressure is applied with the bonding strength depending on the pressure applied.
Based on end-user, the global market segments are automotive, aerospace, transportation, electrical & electronics, packaging, and others. The global market may generate the highest revenue in the electrical & electronics segment because of the growing consumer database in this sector, Bonding films are used to create a large number of items that fall in the electronics segment including smart devices and other consumer goods. In 2021, the global consumer electronics manufacturing sector was valued at USD 1.59 trillion, and with the growing population, the market is anticipated to reach newer heights.
Recent Developments
In April 2022, Hexcel, a US-based public industrial material firm, announced the launch of fast-cure HexBond™ 679 adhesive film that functions at low temperatures. The new product is claimed to deliver excellent bonding output in sandwich structures while also offering a considerable reduction in time due to short-cure processes occurring at low-temperatures
In June 2021, Solvay, a leading science company, launched a ground-breaking bonding agent specially targeted for the aerospace industry. The breakthrough product is expected to upgrade production efficiency in the aviation sector.
Bonding Films Market Report Scope:
Report Attributes
Report Details
Report Name
Bonding Films Market Research Report
Market Size in 2021
USD 954.9 Million
Market Forecast in 2028
USD 1490 Million
Compound Annual Growth Rate
CAGR of 6.49%
Number of Pages
195
Forecast Units
Value (USD Million), and Volume (Units)
Key Companies Covered
Dai Nippon Printing Co., Ltd., 3M Company, DowDuPont, Inc, Specialty Adhesive Film Co Inc., H.B. Fuller Company, Gurit Holding AG, and Hitachi Chemical Co., Ltd to name a few.
Segments Covered
By Technology, By End-User, By Type and By Region
Regions Covered
North America, Europe, Asia Pacific (APAC), Latin America, Middle East and Africa (MEA)
Countries Covered
North America: U.S and Canada
Europe: Germany, Italy, Russia, U.K, Spain, France, Rest of Europe
APAC: China, Australia, Japan, India, South Korea, South East Asia, Rest of Asia Pacific
Latin America: Brazil, Argentina, Chile
The Middle East And Africa: South Africa, GCC, Rest of MEA
Base Year
2021
Historical Year
2016 to 2020
Forecast Year
2022 - 2028
Customization Scope
Avail customized purchase options to meet your exact research needs. Request For Customization
Bonding Films Market: Regional Analysis
Asia-Pacific to lead the market growth by 2028
The global bonding films market is projected to be dominated by Asia-Pacific during the projection period due to the high demand for bonding films across small and large-scale sectors. The immensely strong chemicals industry of China may drive regional growth along with the growing electronics and electrical segment of the region. In 2021, Asia-Pacific topped the list of largest exporters of electronic circuits with a shipment value of USD 893 billion which was around 88.1% of the global total.
This could be attributed to the low manufacturing and labor cost that Asian countries provide along with skilled workers. Shenzhen, a Chinese city, is named the global capital for electronics due to the country's efforts toward establishing itself as a world leader. The European market may grow due to the rising packaging industry. The regional market is highly regulated and the global market may benefit from these laws.
Bonding Films Market: Competitive Analysis
The global bonding films market is led by players including Dai Nippon Printing Co., Ltd., 3M Company, DowDuPont, Inc, Specialty Adhesive Film Co Inc., H.B. Fuller Company, Gurit Holding AG, and Hitachi Chemical Co., Ltd to name a few.
The global bonding films market is segmented as follows:
By Technology
Pressure Cured
Thermally Cured
By End-User
Automotive
Aerospace
Transportation
Electrical & Electronics
Packaging
Others
By Type
Acrylic
Epoxy
Polyurethane
By Region
North America
Europe

France
The UK
Spain
Germany
Italy
Rest of Europe

Asia Pacific

China
Japan
India
South Korea
Southeast Asia
Rest of Asia Pacific

Latin America

Brazil
Mexico
Rest of Latin America

Middle East & Africa

GCC
South Africa
Rest of Middle East & Africa