Market Overview
The global Biopharmaceutical Excipients market accounted for USD 2.07 Billion in 2020 and is expected to reach USD 3.97 Billion by 2028, growing at a CAGR of 8.5% from 2021 to 2028.
Biopharmaceutical excipients are macromolecular or cellular materials that are used in medicinal products such as blood and other genetically modified products. There are inert compounds that are mainly used as a carrier and do not have any therapeutic properties. To achieve the needed formulations, these are combined with other active pharmaceutical materials. It also increases the product's shelf life. Since biopharmaceuticals are very unstable molecules, they must be used with precision and care to obtain the necessary combination of excipients in order to enhance the combination's stability. They are used to change the colour, taste, binding capacity, elegancy, and release rate of active pharmaceutical ingredients, among other things. Emulsifier agents, diluent excipients, co-processed excipients, carrier agents, binding agents, and other stabilising substances are all widely used.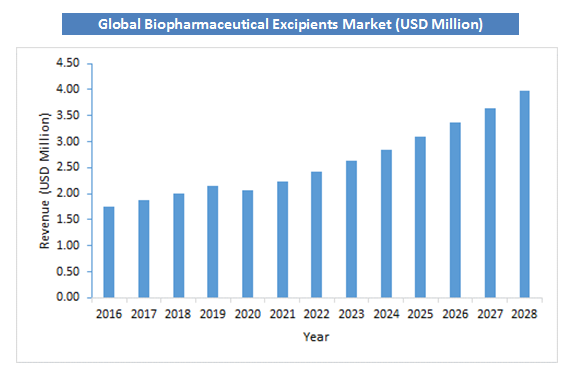 Request Free Sample
COVID-19 Impact Analysis
The outbreak of an infectious disease that caused a severe respiratory problem resulted in a surge in demand for macromolecules for treatment. The rising demand for these macromolecules necessitates biopharmaceutical excipients to improve stability and shelf life, which is expected to aid market growth in the near future. The pandemic has prompted major players to focus their efforts on developing genetically modified molecules for improved care of Covid-19 patients, which is expected to increase the use of pharmaceutical excipients in the immediate future.
Growth Factors
The major growth factors of Biopharmaceutical Excipients Market are: Supreme Properties of Biopharmaceutical Excipients, in recent years, the global demand for biopharmaceutical excipients has drawn substantial revenues. The capacity of biopharmaceutical excipients to have a degree of stability has been a major factor in the former's success. The presence of a unified pharmaceutical manufacturing industry is another development that has boosted the global market's growth trajectory.
Need for Improved Drug Delivery, the medical community has been emphasising the importance of developing new and improved drug lines. Biopharmaceutical excipients may be used to boost drug lines because they help to enhance the action of drugs. As a result, the global biopharmaceutical excipients market is expected to reach new heights in the coming years.
Report Scope: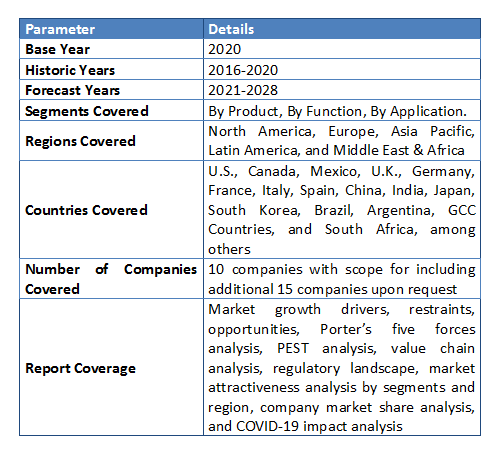 Request Free Sample
Product Type Segment Analysis
Products Type segment are Specialty Excipients, Carbohydrates, Polyols, Solubilizers & Surfactants/Emulsifiers, and Others. Carbohydrate-based excipient products dominated the market, and this trend is expected to continue during the forecast period. The dominance of the segment can be traced to the widespread use of starch, sucrose, and dextrose in different drug formulations. In addition, the growing use of carbohydrates as bulking agents in the lyophilization of biomolecules like proteins is fuelling segment development.
Function Segment Analysis
Pharmaceutical excipients are classified as fillers & diluents, binders, suspending & viscosity agents, flavouring agents & sweeteners, coating agents, colourants, disintegrants, lubricants & glidants, preservatives, emulsifying agents, and other functionalities, depending on their functionality. Fillers and diluents had the largest share of the market in 2020, based on functionality. As fillers and diluents are used in the production of tablets and capsules, there is a strong demand for them.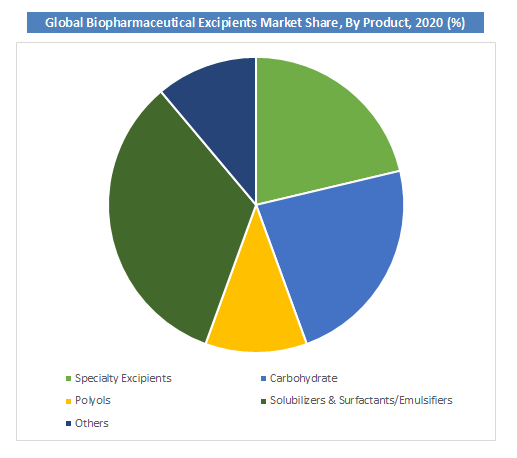 Request Free Sample
Regional Segment Analysis
North America had the largest market share of 31.2% in 2020, thanks to a number of factors including the involvement of major players, increased opioid production, and a massive population base. Collaborations are taking place in this area to establish biopharmaceutical excipients. For example, ReForm Biologics LLC and MilliporeSigma collaborated in February 2020 to commercialise the company's proprietary excipients used in biotherapeutic formulations. MilliporeSigma will finance R&D and commercialise ReForm Biologics' excipients for drug production under the terms of the collaboration.
The Asia Pacific region is projected to grow at a CAGR of 12.4% over the forecast period. Due to the disease incidences and the need for low-cost drugs, Asia Pacific is the fastest-growing area in the global biopharmaceutical excipients market. This is particularly true in countries like India and China. Several regions are undergoing expansion plans in order to increase manufacturing capacity and quickly scale up drug development standards. China, India, and South Korea, for example, are heavily involved in the production of biosimilars in this area. Affordability, a favourable regulatory environment, cost advantages, and the existence of a vast population base are all factors for the widespread production of biosimilars.
Key Market Players & Competitive Landscape
Some of key players in automated sortation system market are Evonik Industries AG, BASF SE, Akzo Nobel NV, DFE Pharma, Clariant, IMCD, Ferro Corporation, Roquette Frères, Spectrum Chemical Manufacturing Corp., Associated British Foods, among others.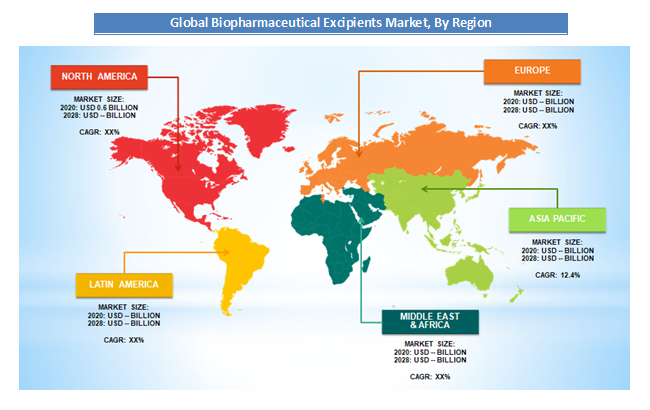 Request Free Sample
The global Biopharmaceutical Excipients market is segmented as follows:
By Products
Specialty Excipients
Carbohydrate
Polyols
Solubilizers & Surfactants/Emulsifiers
Others
By Function
Lubricants & glidants
Preservatives
Disintegrants
Coatings
Binders
Pharmaceutical Fillers
Others
By Application
Advanced Delivery System
Parenteral
Topical
Oral
By Region
North America
Europe

France
The UK
Spain
Germany
Italy
Rest of Europe

Asia Pacific

China
Japan
India
South Korea
Southeast Asia
Rest of Asia Pacific

Latin America

Brazil
Mexico
Rest of Latin America

Middle East & Africa

GCC
South Africa
Rest of Middle East & Africa