Description
According to the report published by Zion Market Research, global demand for Bio-Polyamide market was valued at approximately USD 149 Million in 2019, and is expected to generate revenue of around USD 298 Million by end of 2026, growing at a CAGR of around 11.5% between 2020 and 2026.
Global Bio-Polyamide Market: Overview
Polyamide is the dominating engineering plastics across the world, which is used in a number of applications such as electronics, consumer goods, automotive, sports equipment, and construction. Polyamide is artificially obtained from polymerization process. It is also known as nylon, which is occurring in the natural form of wool or silk. Polyamide-6 and polyamide-66 are among the leading artificially made polyamide, which is mainly used in the production of fibers. Some of the polyamides employed in the engineering plastics are polyamide-12 and polyamide-11. Sebacic and undecanoic acid are among the most dominant raw materials that are used in the production of bio-based polyamide. They are derived from castor oil.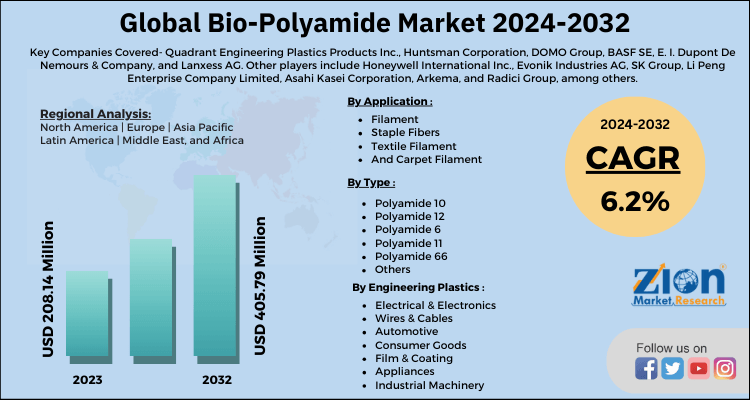 Global Bio-Polyamide Market: Growth Factors
Growing demand from automotive industries is expected to foster the global bio-polyamide market growth. The increasing use of bio-polyamides in the automotive industries reduces carbon emissions and saves fuels. By using bio-polyamide in manufacturing processes, fuel consumption can be saved up to 50%. Stringent regulations by the government to reduce the vehicle weight will automatically reduce carbon emissions; this may enhance the global bio-polyamide market in future. Moreover, growth in the electrical & electronics industries globally drives the market. Castor oil is the leading raw material used in the production of bio-polyamides may foster the global market in future. Conversely, unstable prices of the bio-polyamide and availability of large raw materials are anticipated to hamper the global market growth in future.
Global Bio-Polyamide Market: Segmentation
The global bio-polyamide market is classified based on engineering plastics, applications, types, materials, and geography. The engineering plastics segment includes electrical & electronics, wires & cables, automotive, consumer goods, film & coating, appliances, industrial machinery, and others. The application segment consists of the industrial filament, staple fibers, textile filament, and carpet filament. The type segment is categorized as polyamide 10, polyamide 12, polyamide 6, polyamide 11, polyamide 66, and others. Moreover, materials segment is bifurcated as engineering plastics and fibers.
Region-wise, the global market is segregated into North America, Europe, Asia Pacific, Latin America, and Middle East & Africa.
Global Bio-Polyamide Market: Regional Analysis
The European Bio-Polyamide market is projected to hold the largest share globally in the future. Asia Pacific is the dominating region in the global bio-polyamide market owing to increasing disposable income and changing lifestyle. Moreover, environmental regulations set across the world are anticipated to drive the global market. Asia Pacific is expected to continue its trend in terms of bio-polyamide consumption. It is considered as a major manufacturing hub for textiles, automotive, and electrical and electronics industries. Escalating demand for bio-polyamides from these industries also contributes to significant market growth. North America and Europe are following the same trend. Stringent environmental regulations implemented in order to reduce carbon emissions are projected to propel the growth in the global bio-polyamide market.
Global Bio-Polyamide Market: Competitive Players
Some main participants of the Bio-Polyamide market are Quadrant Engineering Plastics Products Inc., Huntsman Corporation, DOMO Group, BASF SE, E. I. Dupont De Nemours & Company, and Lanxess AG. Other players include Honeywell International Inc., Evonik Industries AG, SK Group, Li Peng Enterprise Company Limited, Asahi Kasei Corporation, Arkema, and Radici Group, among others.
Bio-Polyamide Market: Regional Segment Analysis
North America
Europe

France
The UK
Spain
Germany
Italy
Rest of Europe

Asia Pacific

China
Japan
India
South Korea
Southeast Asia
Rest of Asia Pacific

Latin America

Brazil
Mexico
Rest of Latin America

Middle East & Africa

GCC
South Africa
Rest of Middle East & Africa