Beer Market Size: Industry Analysis
The global beer market size was worth around USD 610.34 billion in 2021 and is estimated to grow to about USD 814.54 billion by 2028, with a compound annual growth rate (CAGR) of approximately 3.4 percent over the forecast period. The report analyzes the beer market's drivers, restraints/challenges, and the effect they have on the demands during the projection period. In addition, the report explores emerging opportunities in the beer market.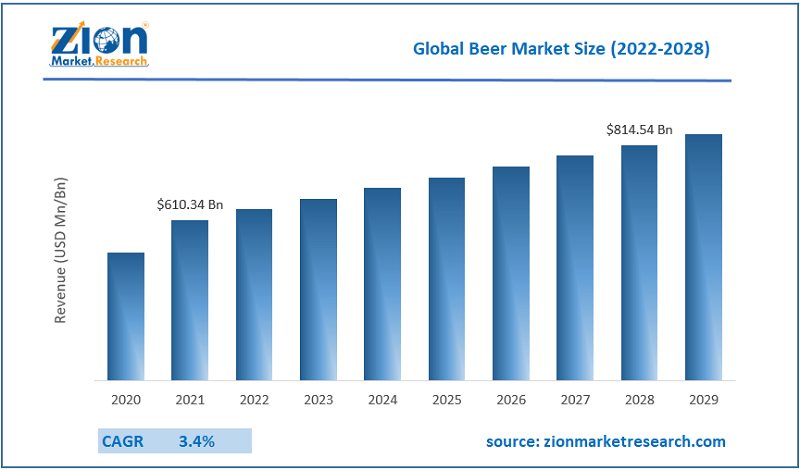 Request Free Sample
To know more about this report, Request A Sample Copy.
Beer Market: Overview
Beer is among the most popular alcoholic drinks on the planet, it is an alcoholic drink produced by fermentation procedure. It is generally prepared from hops, water, and a variety of cereal grains such as rice, wheat, maize, and rye. Depending on the type and composition of the formulation, the alcohol percentage ranges from less than 3% to 40% alcohol by volume.
COVID-19 Impact:
The COVID-19 pandemic severely impacted the global beer market. To begin with, shut down of restaurants, bars, pubs, and wine shops to halt the spread of the infection significantly dropped the sale of beer in the world. Secondly, a slowdown in manufacturing processes due to supply chain restraints, raw materials, and labor shortages caused low product sales during the pandemic period. However, huge demand for beer around the world is likely to surge the market with the occurrence of pre-pandemic conditions in the market.
Growth Drivers
Growing preference for low-alcoholic drinks may boost the beer consumption
Due to increased exposure and digitization, consumers' preferences and lifestyle choices have transformed in recent years. Alcohol has become a component of social relations as a result of urbanization and shifts in cultural viewpoints, as well as technical improvements. Due to a rise in disposable money and a demand for low-alcohol beverages, the beer business has gained popularity and social acceptance in recent years. The introduction of low- and no-alcohol beer variants, as well as online availability and convenience of delivery to doorsteps in some areas, are all moving the market forward. All these variables have played a crucial role in product diversity, clearing the path for low-alcoholic beverages to arise.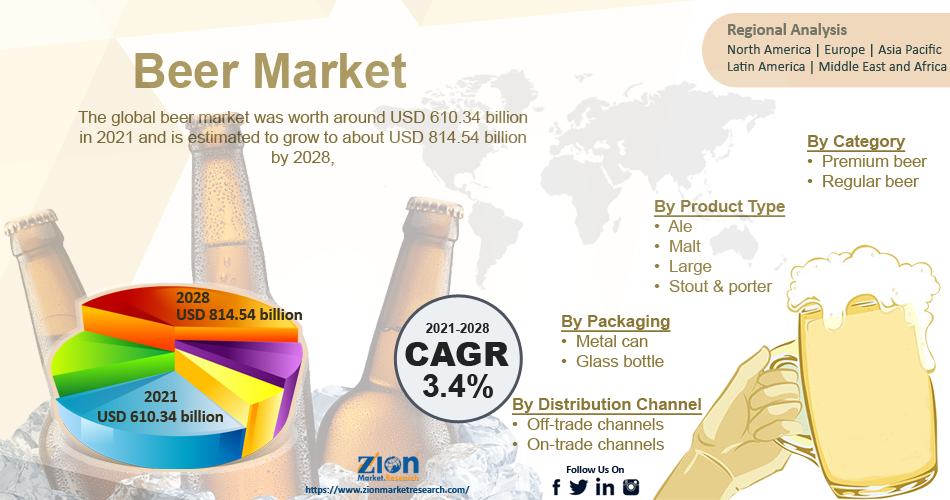 Request Free Sample
Restraints of Beer Market
Strict rules and regulations imposed by many governments to sell and advertise alcoholic beverages may hamper the market growth.
Beer is an alcoholic beverage and if drank in excess, alcoholic beverages are known to be addicting as well as harmful to one's health. The rise in the number of people addicted to alcohol has been a major source of concern for governments across the world. As a result, several countries have enacted strict laws governing the sale and distribution of these items. Furthermore, advertising and promotion of such items are restricted, limiting the marketing tactics accessible to producers. Furthermore, several governments back campaigns and non-governmental organizations (NGOs) that oppose the consumption of such beverages. These variables will operate as key roadblocks to market expansion.
Beer Market Report Scope:
Report Attributes
Report Details
Report Name
Beer Market Research Report
Market Size in 2021
USD 610.34 Billion
Market Forecast in 2028
USD 814.54 Billion
Compound Annual Growth Rate
CAGR of 11.1%
Number of Pages
180
Forecast Units
Value (USD Billion), and Volume (Units)
Key Companies Covered
Innovega Inc, Novartis AG, Samsung Electronics Co., Ltd., Google Inc., Sensimed AG, Sony Corporation, Liner Technologies, EP Global Communications, Inc., Analog Devices, Knowles, InvenSense, NXP Semiconductor, Rockwell Automation, Banner Engineering, Atmel, Murata Manufacturing, Nanomix, Hitachi, TOWA, STMicroelectronics, and Texas Instruments.
Segments Covered
By Product Type, By Category, By Packaging, By Distribution Channel, And By Region
Regions Covered
North America, Europe, Asia Pacific (APAC), Latin America, Middle East, and Africa (MEA)
Countries Covered
North America: U.S and Canada
Europe: Germany, Italy, Russia, U.K, Spain, France, Rest of Europe
APAC: China, Australia, Japan, India, South Korea, South East Asia, Rest of Asia Pacific
Latin America: Brazil, Argentina, Chile
The Middle East And Africa: South Africa, GCC, Rest of MEA
Base Year
2021
Historical Year
2016 to 2020
Forecast Year
2022 - 2030
Customization Scope
Avail customized purchase options to meet your exact research needs. Request For Customization
Market Opportunities
Crafted beers with bigger flavors and aromas offer a great opportunity for market expansion.
Major players are investing heavily in the development of craft beers that have different flavors and aromas to expand their consumer base and maintain a strong position in the market. With growing demand from millennials for such products, the market is expected to have beneficial opportunities for the growth of the global beer market during the forecast period.
Challenges.
Increasing trends for non-alcoholic beverages pose the biggest challenge for the beer market.
The beverage sector is continually undergoing huge transformations, especially with the rise of healthier parts of alcohol. Because consumers are becoming more aware of the considerable health concerns connected with alcohol usage, beverages that are low in alcohol content or devoid of alcohol are becoming more popular than typical alcoholic drinks. Non-alcoholic drinks are growing increasingly popular across the world, which is in line with shifting consumer attitudes toward alcohol usage.
Market Segmentation
The global beer market is categorized based on product type, category, packaging, distribution channel, and region. The product type segment of the market comprises ale, malt, large, stout & porter, and others. Based on the category, the market is segregated into premium beer and regular beer. Among these, the regular beer segment holds nearly 60 percent share whereas, the premium beer segment is expected to grow at a rapid rate over the forecast period. By packaging, the global market is bifurcated into metal cans and glass bottles. The distribution channel segment of the market is categorized into off-trade channels and on-trade channels. Among these, off-trade channels hold a dominant share of the market.
Recent Developments
In April 2021, B9 Beverages, the Indian company behind the Bira 91 beer brand, announced the launch of a slew of new beers as well as the re-launch of numerous existing ones.
In March 2021, BrewDog, the world-famous Scottish beer brand, opens its first outlet in India.
Regional Landscape
Europe is expected to lead the global beer market with a market share touching 40 percent. Key factors such as the large population of beer consumers, increasing beer consumption in the younger generation, and the presence of key beer manufacturers are fueling the market growth in European countries. Beer is an essential component of culture, tradition, and nutrition in all European countries. The European Union is one of the world's most important beer-producing areas. According to The Brewers of Europe, over 365,000 hectoliters of beer were consumed in 2019, made by over 11,050 brewers across Europe. The European beer business is a relatively diversified sector in terms of structure. It consists mostly of small and medium-sized businesses, such as microbreweries and breweries that operate on a local, regional, or national scale, as well as significant European brewers that are global leaders in their professions. Asia Pacific is the fastest-growing market for beer. The number of beer consumers is increasing rapidly, and besides availability of a large number of products and sale channels are contributing to the speedy growth of the market in APAC.
Competitive Landscape
Key players with major market share operating in the global beer market include
Heineken N.V.
Diageo Plc
Carlsberg A/S
China Resources Breweries
Anheuser-Busch InBev
Beijing Yanjing Beer Group Corporation
Kirin Holdings Co. Ltd
Asahi Group Holdings Ltd
Boston Beer Company
Molson Coors Beverage Company
among others.
The Global Beer market is segmented as follows:
By Product Type
Ale
Malt
Large
Stout & porter
Others
By Category
Premium beer
Regular beer
By Packaging
By Distribution Channel
Off-trade channels
On-trade channels
By Region
North America

Europe

France
The UK
Spain
Germany
Italy
Rest of Europe

Asia Pacific

China
Japan
India
South Korea
Southeast Asia
Rest of Asia Pacific

Latin America

Brazil
Mexico
Rest of Latin America

Middle East & Africa

GCC
South Africa
Rest of Middle East & Africa