Description
The bean pasta market is set for a rapid growth over the forecast period. In terms of revenue, the global bean pasta market accounted for USD 1,098.2 Million in 2019 and is expected to reach USD 2,620.1 Million by 2026, growing at a CAGR of 13.7%.
Global Bean Pasta Market: Overview
Bean pastas have the most fiber and protein as compared to regular pasta. These are made either from black beans, chickpeas, or lentils are fortified or all combines. It can be made by crushing the beans into flour and mixing xanthan gum or tapioca, or by just mixing water with bean powder.
Global Bean Pasta Market: Growth Factors
Bean pasta provides offer numerous benefits over regular pasta and offers several benefits. Bean pasta could be an excellent option for people with dietary restrictions such as gluten sensitivities, and wheat allergies or people suffering from celiac disease.
The rising number of health conscious consumers is causing a shift from regular pasta to better alternatives such as bean pasta. Rising demand for gluten free food, and inclination of consumers toward organic foods along with surging adoption of healthy & nutritious food are some of the factors fueling bean pasta market. The growing food-processing industries coupled with rising demand for ready-to-eat food products with extended shelf life and easy storage option are also propelling bean pasta market. Furthermore, the rising occurrence of many lifestyle disorders, like obesity, diabetes, and gluten & lactose intolerance, are further propelling the market growth. Additionally, certain companies are doing R&D on faba beans and peas, due to their healthy dietary fibers.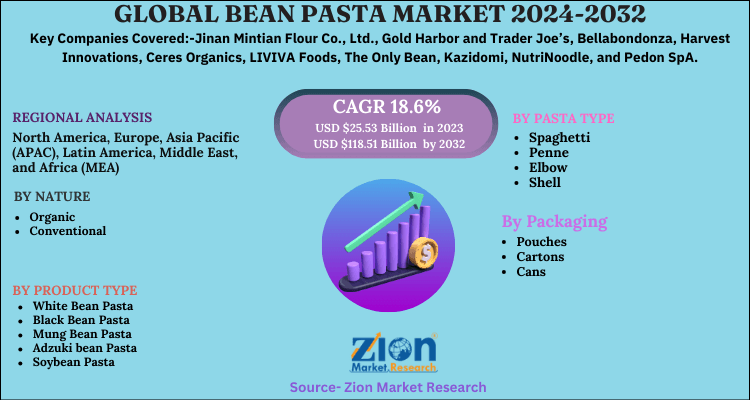 Global Bean Pasta Market: Segmentation
The bean pasta market is divided on the basis of nature, product type, pasta type packaging, distribution channel and region. The nature segment is further segregated into organic and conventional. The product type is segregated into white bean pasta, black bean pasta, mung adzuki bean pasta, bean pasta, soybean pasta and others. The pasta type is further segregated into spaghetti, penne, elbow, shell and others. The packaging segment is further segmented into pouches, cartons, and cans. The distribution channel is bifurcated into supermarkets & hypermarkets, convenience stores, online, and others.
Global Bean Pasta Market: Regional Analysis
Based on regions, the global bean pasta market is segmented into North America, Europe, Asia Pacific, Latin America, and Middle East and Africa. North America region held a significant share in the forecast period. Owing to the rising demand of organic product in the U.S region the demand for bean pasta will experience growth in the coming years.
The Asia Pacific is also expected to witness growth but at a slower pace, owing to the lack of knowledge and high product pricing. Furthermore, due to the rise in disposable income in the Asia countries the demand for organic and gluten-free products is expected to rise which will have a synergy effect on bean pasta market.
Global Bean Pasta Market: Competitive Players
Some of key players in bean pasta market are Jinan Mintian Flour Co., Ltd., Gold Harbor and Trader Joe's, Bellabondonza, Harvest Innovations, Ceres Organics, LIVIVA Foods, The Only Bean, Kazidomi, NutriNoodle, and Pedon SpA among others.
Global Bean Pasta Market: Nature Segment Analysis
Global Bean Pasta Market: Product Type Segment Analysis
White Bean Pasta
Black Bean Pasta
Mung Bean Pasta
Adzuki bean Pasta
Soybean Pasta
Others
Global Bean Pasta Market: Pasta Type Segment Analysis
Spaghetti
Penne
Elbow
Shell
Others
Global Bean Pasta Market: Packaging Segment Analysis
Global Bean Pasta Market: Distribution Channel Segment Analysis
Supermarkets & Hypermarkets
Convenience Stores
Online
Others
Global Bean Pasta Market: Regional Segment Analysis
North America
Europe

France
The UK
Spain
Germany
Italy
Rest of Europe

Asia Pacific

China
Japan
India
South Korea
Southeast Asia
Rest of Asia Pacific

Latin America

Brazil
Mexico
Rest of Latin America

Middle East & Africa

GCC
South Africa
Rest of Middle East & Africa