Market Overview
The global Aviation Coating market accounted for USD 1.5 Billion in 2020 and is expected to reach USD 2.4 Billion by 2028, growing at a CAGR of 6.5% from 2021 to 2028.
Aviation coating offers the metals with a wide wear-resistant finish that can prohibit water and air from the surface of the metal to prevent corrosion. There has been tremendous growth in the use of aviation in emerging economies across the globe. Aviation coating is generally carried out using two major processes such as powder coating, liquid coating, and another process.
The factors for the growth of the market are increased demand for aerospace coatings from various end users such as military aviation, commercial, and general aviation. The coatings are used on the exteriors surface of the aircraft for decorative paintings to enhance its appearance. Moreover, the increase in production of aircraft is likely to positively impact on the growth of the market. For instance, In Canada, aircraft production has risen from 18,783,235 in 2017 to 19,742,834 in 2018.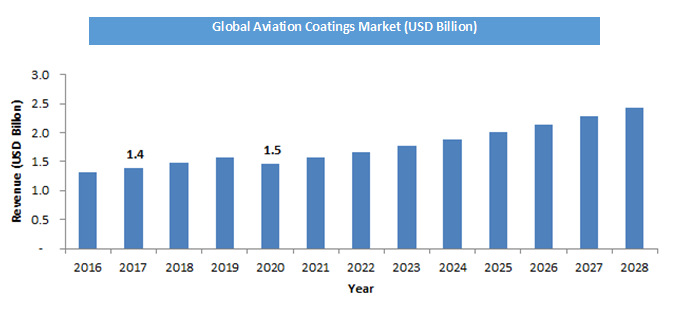 Request Free Sample
COVID-19 Impact Analysis:
The global aviation coating market has witnessed a significant decrease due to the lockdown enforcement placed by the various governments across the globe in order to contain COVID spreading. People had no option but to remain indoor, so the travel industry had decrease drastically. The restrictions imposed by various nations to contain COVID had stopped the travelling to any other countries resulting in a disruption across the globe. However, the world markets are slowly opening to their full potential and theirs a surge in demand of aviation coating. The market would remain bullish in upcoming two-three year.
Growth Factors
Rapidly developing industrialization and urbanization in emerging economies is expected to boost the growth of aviation market which in turn is expected to fuel the aviation coating market. However, regulations restricting Volatile Organic Compound (VOC) emission along with hazardous waste generation and disposal may hamper the growth of aviation coating market. Nonetheless, ongoing research for development in aviation coating is anticipated to propel the growth of aviation coating market in the forecast period. Moreover, growing demand from the emerging countries for the aviation coating market is likely to offer new opportunities in the coming years.
Report Scope:
Request Free Sample
Type Segment Analysis Preview
Some of the major aviation coating types are acrylic, polyurethane, epoxy and other types. Polyurethane provides enhanced moisture resistance with high flexibility. Thus, polyurethane is the leading segment due to various end-user applications. Furthermore, acrylic and epoxy are likely to gain market in foresee period. The aviation coating process includes powder coating, liquid coating, and another process. Liquid coating is the most efficient segment owing to its ease of application and requires less machinery as compared to another coating process.
Application Segment Analysis Preview
There has been a high usage of powder coatings in defense and other aerospace high-performance applications have been inadequate. This is mainly due to demanding specification requirements, test and development expenses, disinclined customer acceptance of powders, and comparatively low production rates as compared to commercial applications. However, powders are rapidly gaining demand owing to huge environmental regulations and cost constraints on other applications. Some of the major end users of aviation coating are general aviation, commercial aviation and military aviation. Among all, a commercial segment dominated the aviation coating market with significant market share in 2020.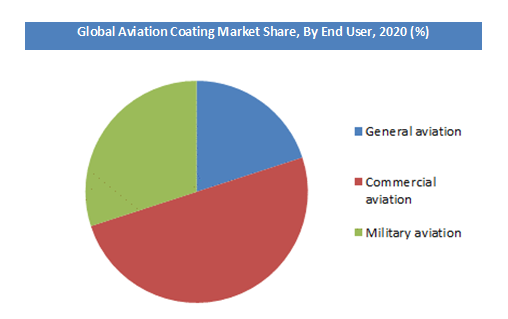 Request Free Sample
Key Market Players & Competitive Landscape
Some of key players in Aviation Coating market are BASF SE, Akzonobel N.V., IHI Ionbond AG, PPG Industries, Inc., Zircotec Ltd., Mankiewicz Gebr. & Co, Zodiac Aerospace, The Sherwin-Williams Company, Hentzen Coatings, Inc., Henkel AG & Co. KGaA, Mapaero and Merck Performance Materials among others.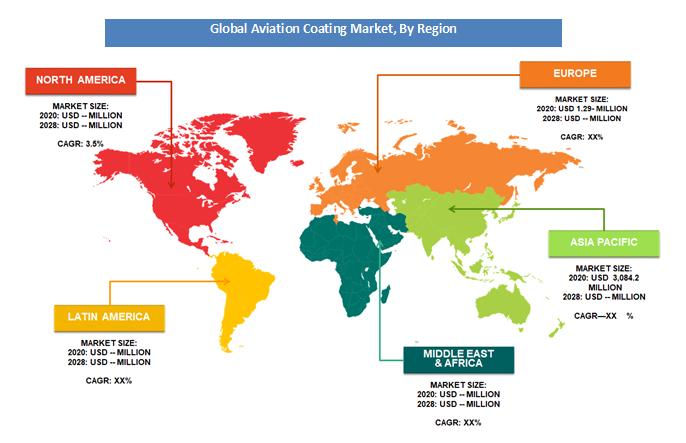 Request Free Sample
The global Aviation Coating market is segmented as follows:
By Type
Acrylic
Polyurethane
Epoxy
Others
By Process
Powder coating
Liquid coating
Others
By End User
General aviation
Commercial aviation
Military aviation
By Region
North America
Europe

France
The UK
Spain
Germany
Italy
Rest of Europe

Asia Pacific

China
Japan
India
South Korea
Southeast Asia
Rest of Asia Pacific

Latin America

Brazil
Mexico
Rest of Latin America

Middle East & Africa

GCC
South Africa
Rest of Middle East & Africa