Market Overview
The Global Augmented Analytics Market accounted for USD 9.33 Billion in 2020 and is expected to reach USD 84.41 Billion by 2028, growing at a CAGR of 31.7% from 2021 to 2028.
Augmented Analytics is a method of enabling technologies such as machine learning and artificial intelligence to assist with data preparation, insights extraction and insights explanation in order to augment how people explore data in BI platforms and analytics. It is based on business intelligence and analytics. The market is primarily driven by the increasing amount of complex business data in the organizations. Augmented analytics is especially useful in the today's age where there is need of extraction of data, but there are not enough data scientists to do the task. The Augmented Analytics has many capabilities such as creation, analysis and building of data models. It greatly helps in data exploration and analysis.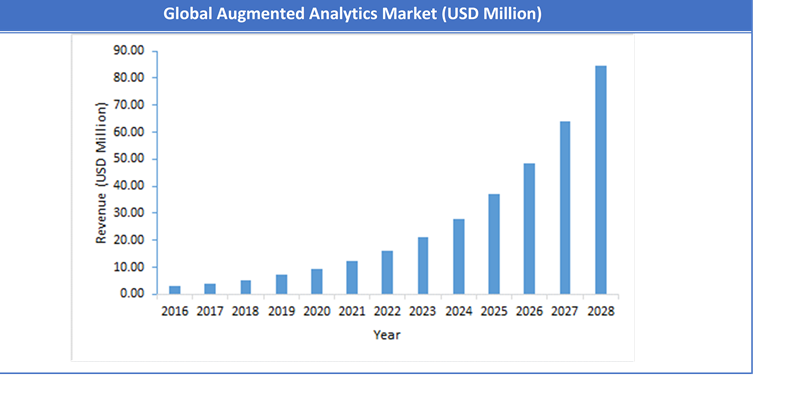 Request Free Sample
COVID-19 Impact Analysis
The COVID-19 pandemic has disrupted the entire eco-system across the globe and it has affected almost all the sectors of industry. Due to restricted lockdowns, there is no sufficient workforce operating from the offices. There has been some considerable demand for the augmented analytics markets as companies have been using it to predict the scenarios of the post covid era. As there has been huge losses for the companies, they have been studying the data and getting the useful insights from the Augmented Analytics technology and thus have been planning their future road map to best recover the losses incurred.
Growth Factors
The increasing amount of complex business data across the organization has been the driving force of the Augmented analytics market. Due to the integration of artificial intelligence and machine learning technologies into analytics platforms, there is a growing demand in the software industry. The analytics market is also experiencing a transformation from traditional manual processes, while generating insights, into advanced AI, and ML-enabled bots.
Organizations have been on the increasing trend of building models and integrating data for simplifying and automating their tasks, and to do this augmented analytics has been an effective solution. The usage of augmented reality saves both time and resources that are needed to generate actionable insights out of the data. The SMEs have also been adapting augmented analytics solutions to a faster rate to enhance their operational productivity and maximize their profits. As augmented analytics helps SME's to monitor growth of their businesses and generate ideal insights, there has been considerable demand for this market.
Report Scope :
Service Analysis Preview
Augmented Analytics uses technologies such as Artificial Intelligence and Machine learning to get actionable insights from the data. Organizations use these insights to make informed decisions while operating their businesses. Thus, these insights prove extremely useful in consulting services where actionable insights have to be generated from complex data. Depending upon the insights obtained from the augmented analytics techniques, organizations train the workforce as required to maximize profits and increase overall organizational efficiency.
Organization Size Preview
This is due to the fact that there has been increasing demand for augmented analytics in the SMEs as they can use data, obtain specific insights and make it best use for driving innovation, business agility, developing new revenue streams and reducing operational risks. As it has been noticed that in this particular sector of industry, data collected is never revisited and is left unnoticed. So, there has been growing awareness to make the best use of this data using augmented analytics and drive organizational profits.
Regional Analysis Preview
North America held a share of 34% in 2020. It is supposed to be one of the highest revenue-generating regions for this market during the forecasted period. This high growth is due to the factors such as technologically advanced infrastructure and the adoption of machine learning and artificial intelligence technologies on a large scale. Also, there have been significant advancements in the healthcare sector due to digitization. These upcoming tools like augmented analytics have been greatly helping the researchers and medical practitioners in this region to get connected in terms of data and actionable insights.
Asia-Pacific is expected to have a CAGR of 35.6 from 2021 to 2028. This is due to the fact that organizations have begun shifting from conventional enterprise reporting to augmented analytics tools in order to boost data preparation and cleansing. Companies have been readily investing in training the workforce for augmented analytics and thus there is considerable demand for this market is high in the Asia-Pacific region.
Augmented Analytics Market: Report Scope
Report Attributes
Report Details
Report Name
Augmented Analytics Market Report
Market Size in 2020
USD 9.33 Billion
Market Forecast in 2028
USD USD 84.41 Billion
Growth Rate
CAGR of 31.7%
Number of Pages
140
Key Companies Covered
Tableau, SAP SE, Qlik Software, Tibco Software, IBM Corporation, Salesforce, Sisense Inc., SAS Institute, Yellowfin International and Microsoft.
Segments Covered
By Service, By Organization Size, and By Region
Regions Covered
North America, Europe, Asia Pacific (APAC), Latin America, Middle East, and Africa (MEA)
Base Year
2020
Historical Year
2018 to 2020
Forecast Year
2021 - 2028
Customization Scope
Avail customized purchase options to meet your exact research needs. Request For Customization
Key Market Players & Competitive Landscape
Some of the key players in the Augmented Analytics market include
Tableau
SAP SE
Qlik Software
Tibco Software
IBM Corporation
Salesforce
Sisense Inc.
SAS Institute
Yellowfin International and Microsoft.
In April 2021, Subex launched HyperSense, which is an end-to-end augmented analytics platform. This is a flexible, modular and no-code solution built to accelerate the adoption of Artificial Intelligence in enterprise analytics. HyperSense involves data management studio, business modelling studio, AI studio, Business Intelligence studio and process automation studio.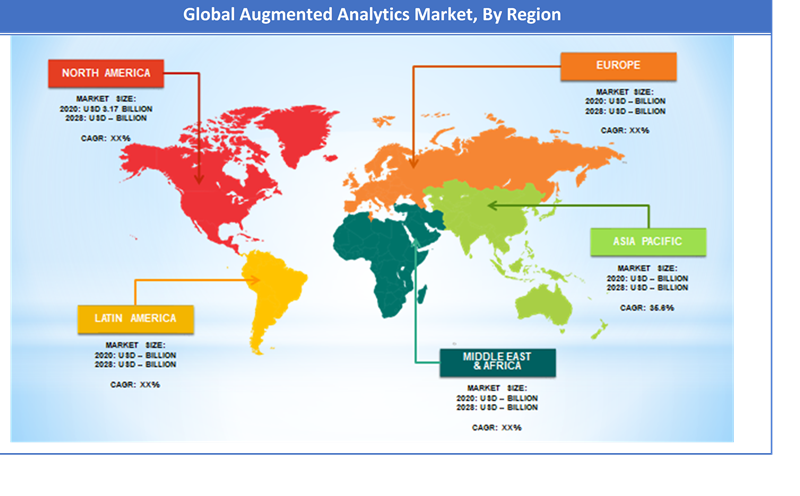 Request Free Sample
The Global Augmented Analytics Market is segmented as follows:
By Service
Deployment and Integration
Training and Consulting
By Organization Size
By Region
North America
Europe

France
The UK
Spain
Germany
Italy
Rest of Europe

Asia Pacific

China
Japan
India
South Korea
Southeast Asia
Rest of Asia Pacific

Latin America

Brazil
Mexico
Rest of Latin America

Middle East & Africa

GCC
South Africa
Rest of Middle East & Africa