Description
According to the report, the global apple accessories market was valued at USD 19.9Billion in 2019 and is expected to reach over USD 27.4Billion by 2026, growing at a CAGR of around 4.7% during the forecast period from 2020 to 2026.
Apple has become a very popular brand and IPhone is the most selling product of apple brand due to which the usage for screen guards has also increased to a larger extent as it is the most important accessory. Also, introduction of various new models in IPhone at a budget friendly rate has also increased the usage of screen guards which is a driving factor for the apple accessories market.
Global Apple Accessories Market: Overview
Apple Inc. is world's largest information technology company by revenue and world's second largest mobile manufacturer that designs and develops consumer electronics, computer software and online services. Apple products include the ipad tablet computer, the iphone smartphone, the Mac personal computer and others and their accessories such as Headphones, Chargers, Cables, Cases and Covers, Screen Guards.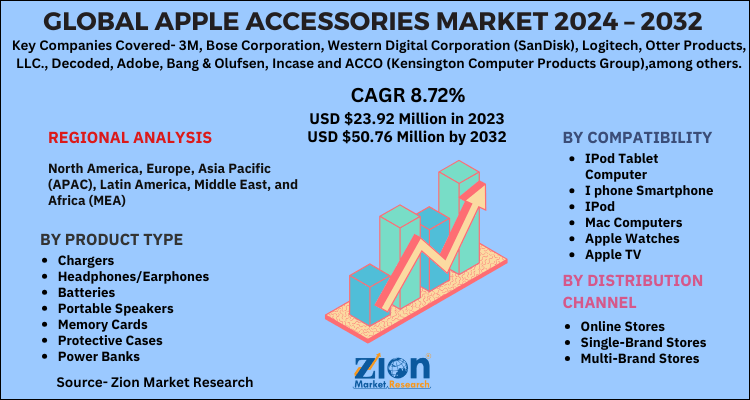 Global Apple Accessories Market: Growth Factor
Today's smart phones and tablet computers are mostly touch-screen centric. Touch screen is the most important component of devices and also more prone to damages as well. Manufacturer use some kind of toughened glass to prevent screen from shattering and damages. This has increased demand for screen guards to protect the screen of these expensive devices like the iphone and pad. This factor is driving the increased demand of screen guards in Apple accessories market and it is forecasted that the iphone and ipad screen guard is the most productive segment of Apple accessories market. Weak distribution channels in emerging markets have remained a longstanding challenge for manufacturers. However, popularity of e-commerce and focus on creating alternative distribution channels has positively impacted Apple accessories sales in emerging markets. The steady growth in these markets is expected to offset weak demand in developed markets of the U.S. and Europe.
Global Apple Accessories Market: Segmentation
The segmentation of Apple accessories can be done by product type, distribution channel and compatibility with Apple devices. Segmentation by product type includes chargers, headphones/earphones, batteries, portable speakers, memory cards, protective cases and power banks. Compatibility with Apple devices includes ipad tablet computer, iphone Smartphone, iPod, Mac computers, Apple watches and Apple TV. Segmentation by distribution channel includes online stores, single-brand stores and multi-brand stores.
Global Apple Accessories Market: Regional Analysis
Regional analysis of apple accessories market includes North America, Europe, Asia Pacific, Middle East and Africa and Latin America. North America will continue to be the most lucrative market, with the US leading total sales.
Global Apple Accessories Market: Competitive Players
Some of the most important market players in Apple accessories market globally are 3M, Bose Corporation, Western Digital Corporation (SanDisk), Logitech, Otter Products, LLC., Decoded, Adobe, Bang & Olufsen, Incase and ACCO (Kensington Computer Products Group),among others.
Global Apple Accessories Market: Regional Segment Analysis
North America
Europe
The Asia Pacific
Latin America
The Middle East and Africa
What Reports Provides
Full in-depth analysis of the parent market
Important changes in market dynamics
Segmentation details of the market
Former, on-going, and projected market analysis in terms of volume and value
Assessment of niche industry developments
Market share analysis
Key strategies of major players
Emerging segments and regional markets
Testimonials to companies in order to fortify their foothold in the market.