Antitussive Drugs Industry Prospective:
The global antitussive drugs market size was worth around USD 1307.5 million in 2022 and is predicted to grow to around USD 1876.9 million by 2030 with a compound annual growth rate (CAGR) of roughly 4.62% between 2023 and 2030.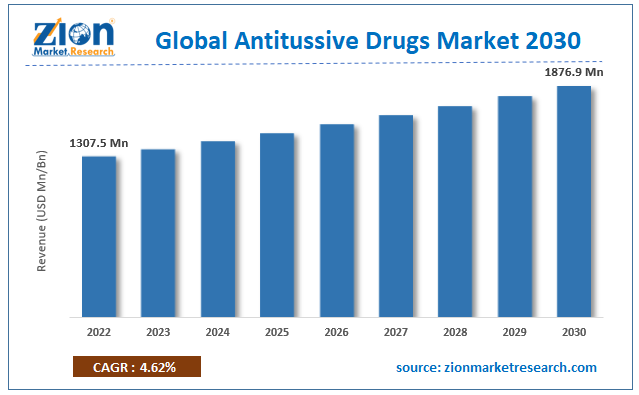 Request Free Sample
The report delves deeper into several crucial aspects of the global antitussive drugs market. It includes a detailed discussion of existing growth factors and restraints. Future growth opportunities and challenges that impact the antitussive drugs industry are comprehensively addressed in the report.
Antitussive Drugs Market: Overview
Antitussive drugs are commonly known as cough syrups. They are used to reduce or treat the symptoms associated with coughing. It is a reflex action triggered by the brain that assists in clearing the airways of mucus, irritants, or any other foreign substance. However, excessive or persistent coughing can be uncomfortable and disruptive, particularly during daily activities or while sleeping. Antitussive drugs act on the cough reflex of the central nervous system (CNS) or they numb the cough receptors in the respiratory tract.
Key Insights:
As per the analysis shared by our research analyst, the global antitussive drugs market is estimated to grow annually at a CAGR of around 4.62% over the forecast period (2023-2030)
In terms of revenue, the global antitussive drugs market size was valued at around USD 1307.5 million in 2022 and is projected to reach USD 1876.9 million, by 2030.
The antitussive drugs market is projected to grow at a significant rate due to the growing demand for sustainable packaging
Based on indication segmentation, the cough was predicted to show maximum market share in the year 2022
Based on drug segmentation, Dextromethorphan was the leading drug in 2022
On the basis of region, North America was the leading revenue generator in 2022
Antitussive Drugs Market: Growth Drivers
Growing prevalence of respiratory diseases to drive market growth
The global antitussive drugs market is projected to grow owing to the increasing cases of respiratory diseases across the globe. These are medical conditions that impact the lungs or certain parts of the respiratory system. Currently, such conditions are a major public health concern since it affects people of all gender, race, and age. In certain countries, the number of patients suffering from respiratory conditions is higher due to high pollution rates or poor air quality among other factors. As per the latest report published by the World Health Organization (WHO), more than 262 million were affected by asthma in 2019. It is one of the most common respiratory conditions that impact the quality of human life.
Antitussive Drugs Market: Restraints
Side effects or safety concerns related to antitussive drugs could restrict market expansion
In recent times, there have been multiple reported cases of side effects due to the consumption of certain cough syrups. In 2020, Gambain Scientist and the Centers for Diseases Control and Prevention (CDC) reported that cough syrups imported from India to Gambia were contaminated with ethylene glycol (EG) and diethylene glycol (DEG). The consumption of these syrups led to multiple children being affected by acute kidney injury (AKI). As a response to this, WHO had to issue an alert against 4 brands of cough syrups exported by India. Such factors are likely to impede antitussive drug industry expansion in the coming years.
Antitussive Drugs Market: Opportunities
Development of combination therapies to provide growth opportunities
The global antitussive drugs market is expected to experience higher growth opportunities owing to the increasing investment in the development of combination therapies. This includes incorporating other forms of cough management agents along with antitussive drugs. Some examples of new agents include expectorants or mucolytics. Combination therapies are expected to deliver better than standalone treatment measures since time and efficiency both are crucial for quality care.
Antitussive Drugs Market: Challenges
Growing competition from generic medicines to challenge the market expansion
There is a steadily growing demand for generic medicines. Large pharmaceutical giants do not have control over the production of generic medicines once the patent duration is completed. Since the generic form of medicines are relatively lesser prices and deliver the nearly same result, these drugs are more buyers. This leads to reduced market share for branded products and creates intensive pricing competition within the industry. Managing profits, revenue streams, and supply chain under conditions often pose severe challenges for antitussive drugs industry players.
Antitussive Drugs Market: Segmentation
The global antitussive drugs market is segmented based on indication, drug class, drug, dosage, and region.
Based on indication, the global market segments are pain, cold, cough, and others. The industry registered the highest growth in the cough segment such antitussive drugs are highly recommended if a patient suffers from persistent coughing. In 2022, the impact of Covid-19 was still visible as many patients registered mild coughing frequently. These syrups tend to be effective in managing most forms of coughing including productive and dry cough. More often, antitussive drugs are used in comprehensive treatment in combination with other medicines for other respiratory conditions such as colds, bronchitis, allergies, or upper respiratory infections. In these conditions, coughing is a common symptom and in certain instances, a patient may have to deal with intense and frequent coughing. As reported by Lippincott Williams & Wilkins, nearly 34 million people in India are reported to have asthma.
Based on drug class, the antitussive drugs industry is divided into peripherally acting drugs, centrally acting drugs, and others.
Based on drug, the global market is segmented into Dextromethorphan and Benzonatate. In 2022, Dextromethorphan became the fastest-selling drug. It is a centrally acting drug and is available as an over-the-counter (OTC) medicine. It is also found in numerous cough and cold medicines. On the other hand, Benzonatate which is a peripherally acting drug is only available through prescription and hence the sale is highly restricted as compared to the counterpart. Some factors that are responsible for the growing popularity of Dextromethorphan are high awareness rates along with the effectiveness of the medicine in managing mild or severe cough symptoms. More healthcare professionals tend to be aware of the impact of Dextromethorphan. The chances of a person developing asthma are 3 to 6 times higher in children with parents already living with the disease.
Based on dosage form, the antitussive drugs industry is segmented into tablets, syrups, and others.
Recent Developments:
In September 2021, Sun Pharmaceuticals Industries, one of the leading Indian pharma companies, launched a novel cough syrup formulation called Chericof 12. It can be used to treat patients over 6 years of age and is the first prescription-based formulation launched in the country that claims to give relief for up to 12 hours of consumption
In October 2022, the Indian Health Ministry launched a probe against cough syrups supplied to Gambia which resulted in the death of 66 children. The syrups were produced by Maiden Pharmaceuticals
In May 2023, the Indian government initiated a new rule to ensure that cough syrups exported from the country are safe for consumption. The new rule that has been set in since 1st June 2023 required cough syrup manufacturers to undergo product testing at specific government laboratories before they receive permits for exporting the products
Antitussive Drugs Market: Report Scope
Report Attributes
Report Details
Report Name
Antitussive Drugs Market Research Report
Market Size in 2022
USD 1307.5 Million
Market Forecast in 2030
USD 1876.9 Million
Growth Rate
CAGR of 4.62%
Number of Pages
233
Key Companies Covered
Pfizer Inc., Johnson & Johnson, Sanofi S.A., GlaxoSmithKline plc, Merck & Co. Inc., Novartis International AG, AstraZeneca plc, Boehringer Ingelheim International GmbH, Roche Holding AG, Bayer AG, Teva Pharmaceutical Industries Ltd., Sun Pharmaceutical Industries Ltd., Mylan N.V., Cipla Ltd., Reckitt Benckiser Group plc, Perrigo Company plc, Glenmark Pharmaceuticals Ltd., Lupin Limited, Takeda Pharmaceutical Company Limited, Hikma Pharmaceuticals PLC, Pharmaceuticals Ltd., Torrent Pharmaceuticals Ltd., Dr. Reddy's Laboratories Ltd., Glenmark, Wockhardt Ltd., and Alkem Laboratories Ltd.
Segments Covered
By Indication, By Drug Class, By Drug, By Dosage Form, and By Region
Regions Covered
North America, Europe, Asia Pacific (APAC), Latin America, Middle East, and Africa (MEA)
Base Year
2022
Historical Year
2017 to 2021
Forecast Year
2023 - 2030
Customization Scope
Avail customized purchase options to meet your exact research needs. Request For Customization
Antitussive Drugs Market: Regional Analysis
North America to grow at a higher CAGR during the forecast period
The global antitussive drugs market will register the highest growth in North America with the existence of a robust pharmaceutical sector in the US region acting as the primary driver for growth. It is home to some of the largest pharmaceutical companies that cater to global demands for medicine including antitussive drugs. Increased spending on research and development along with new scientific findings in terms of cough syrup formulation and rising strategic collaborations with smaller nations for establishing pharma-based trade relations are crucial for regional market expansion.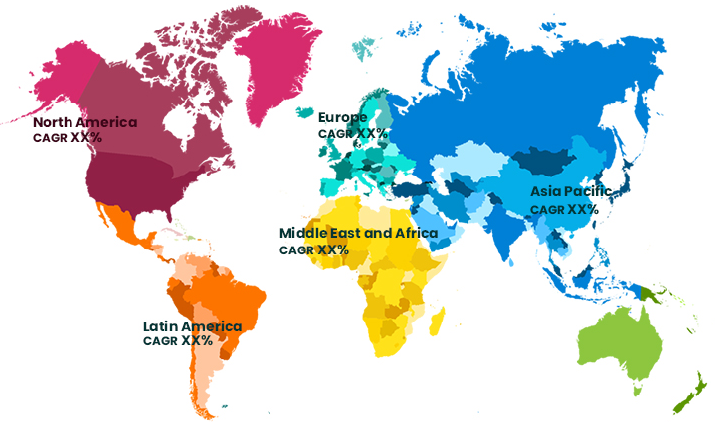 Request Free Sample
In addition to this, patient awareness and better accessibility to quality primary medical care along with strict rules surrounding the sale of OTC and prescribed medicine add to the regulated revenue generated in North America. Latin America is expected to act as a growing market due to the increasing number of people suffering from several forms of respiratory ailments. This region is characterized by the sale of branded and generic medicines.
Antitussive Drugs Market: Competitive Analysis
The global antitussive drugs market is led by players like:
Pfizer Inc.
Johnson & Johnson
Sanofi S.A.
GlaxoSmithKline plc
Merck & Co. Inc.
Novartis International AG
AstraZeneca plc
Boehringer Ingelheim International GmbH
Roche Holding AG
Bayer AG
Teva Pharmaceutical Industries Ltd.
Sun Pharmaceutical Industries Ltd.
Mylan N.V.
Cipla Ltd.
Reckitt Benckiser Group plc
Perrigo Company plc
Glenmark Pharmaceuticals Ltd.
Lupin Limited
Takeda Pharmaceutical Company Limited
Hikma Pharmaceuticals PLC
Pharmaceuticals Ltd.
Torrent Pharmaceuticals Ltd., Dr. Reddy's Laboratories Ltd.
Glenmark
Wockhardt Ltd.
Alkem Laboratories Ltd.
The global antitussive drugs market is segmented as follows:
By Indication
By Drug Class
Peripherally Acting Drugs
Centrally Acting Drugs
Others
By Drug
Dextromethorphan
Benzonatate
By Dosage Form
By Region
North America
Europe

France
The UK
Spain
Germany
Italy
Rest of Europe

Asia Pacific

China
Japan
India
South Korea
Southeast Asia
Rest of Asia Pacific

Latin America

Brazil
Mexico
Rest of Latin America

Middle East & Africa

GCC
South Africa
Rest of Middle East & Africa