According to the report published by Zion Market Research, global demand for Animal Feed Micronutrients market was valued at approximately USD 1,371.2 Million in 2019, and is expected to generate revenue of around USD 2,312.1 Million by end of 2026, growing at a CAGR of around 6.5% between 2020 and 2026.
Global Animal Feed Micronutrients Market: Overview
Animal feed micronutrients are vital animal feed supplements used extensively for enhancing the quality of feed to boost the yield and overall animal health. Animal feed micronutrients demand is increasing as it propels the performance and has wide applications such as cure and prevention of diseases, growth promoter, for enhancing feed digestibility in animals, and for boosting reproduction rate. Owing to the rising urbanization and globalization, there has been a huge change in lifestyles of the consumers. To fulfill the daily requirement of nutrients in order to maintain their brisk lifestyle, the consumers have significantly increased the nutrient consumption. This has generated a huge demand for dairy and meat products globally, leading to a rise in the requirement for micronutrients in the animal feed..
Global Animal Feed Micronutrients Market: Growth Factors
The major factors propelling the growth of the global animal feed micronutrients market include the expanding middle-class population and increasing per capita income. Other factors propelling the global market growth include high spending on animal health and wellness and increasing awareness regarding protein-rich food benefits.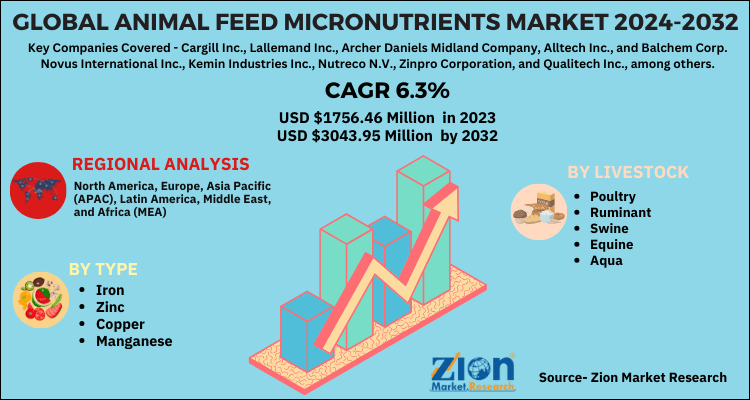 Global Animal Feed Micronutrients Market: Segmentation
The global animal feed micronutrients market can be segmented based on type, livestock, and geography. The type segment of the global market is sub-segmented into iron, zinc, copper, and manganese. The livestock segment of the animal feed micronutrients market is divided into poultry, ruminant, swine, equine, and aqua.
Region-wise, the global market is segregated into North America, Europe, Asia Pacific, Latin America, and Middle East & Africa.
Global Animal Feed Micronutrients Market: Regional Analysis
Asia Pacific is expected to grow at a fast pace in the animal feed micronutrients market in the near future. The growth of the market can be attributed to factors such as huge population base, increased economic growth, and increasing demand for meat protein. North America is anticipated to witness above average growth in the coming period owing to the increasing demand for meat. Latin America is assumed to grow remarkably in the animal feed micronutrients market due to rising demand for protein-rich food along with the rise in population. The European industry is expected to grow positively owing to the improving meat costs and increasing concerns related to food safety. North America is also assumed to grow at a substantial rate in the animal feed micronutrients market in the coming period.
Global Animal Feed Micronutrients Market: Competitive Players
Some main participants of the Animal Feed Micronutrients market are Cargill Inc., Lallemand Inc., Archer Daniels Midland Company, Alltech Inc., and Balchem Corp. The other key players in the global market are Novus International Inc., Kemin Industries Inc., Nutreco N.V., Zinpro Corporation, and Qualitech Inc., among others.
Animal Feed Micronutrients Market: Regional Segment Analysis
North America
Europe

France
The UK
Spain
Germany
Italy
Rest of Europe

Asia Pacific

China
Japan
India
South Korea
Southeast Asia
Rest of Asia Pacific

Latin America

Brazil
Mexico
Rest of Latin America

Middle East & Africa

GCC
South Africa
Rest of Middle East & Africa