The global Animal Drug Compounding market accrued earnings worth approximately 1.21(USD Billion) in 2020 and is predicted to gain revenue of about 3.31(USD Billion) by 2028, is set to record a CAGR of nearly 6.5% over the period from 2021 to 2028. The report offers an assessment and analysis of the Animal Drug Compounding market on a global and regional level. The study offers a comprehensive assessment of the market competition, constraints, revenue estimates, opportunities, evolving trends, and industry-validated data. The report provides historical data from 2018 to 2020 along with a forecast from 2021 to 2028 based on revenue (USD Billion).
Animal Drug Compounding Market: Synopsis
Animal drug compounding is a process of mixing and changing ingredients for creating medicine tailored to the requirements of a particular animal or a small animal group. These drugs play a major role in veterinary activities. Furthermore, animal-compounded drugs are manufactured & licensed by either veterinarians or pharmacists. According to U.S. FDA, the federal food, drug, and cosmetic act allow animal drug compounding when active ingredient source is a finished FDA-approved medicine and not a bulk material. Reportedly, on June 11 2020, the U.S. FDA released revised draft guidance on animal drug compounding from bulk drug materials. This include (i) filling of patient-specific medical prescriptions by veterinarians & pharmacists for non-food manufacturing animals, (ii) compounding antidotes for food-producing animals, and (iii) compounding office stock from bulk drug materials for non-food producing animals.
Furthermore, when a pet gets ill and there is no apt medicine available for treating it, pharmacists or veterinarians prescribe drug formulation through the animal drug compounding process. They depend on two key animal drug compounding methods including bulk ingredients and extra-label drugs. In bulk ingredients process, pharmacists compound new medicines by combining bulk ingredients with fillers, suspension solutions, and flavors. In case of extra-label drugs procedure, the pharmacist makes use of FDA-approved veterinary medicine and combines it with tablets & other ingredients for fulfill medical needs of pet animal.
Animal Drug Compounding Market: Growth Factors
Safe & effective drugs are a key for veterinarians for treating animals & pets. Moreover, a veterinarian drug approved by U.S. FDA is not always available to veterinary doctors for treating pets and in such situations, veterinarians make use of compounded drugs for effectively treating animal conditions. Such moves & initiatives are anticipated to expedite growth of animal drug compounding market. Apparently, animal health sector aids usage of animal drug compounding activities for addressing medical requirements of animals, thereby embellishing growth of animal drug compounding market. Surge in demand for myriad animal anti-infective drugs & animal anti-inflammatory medicines like tramadol, metronidazole, and ketoconazole will create new growth avenues for animal drug compounding industry during forecast timespan.
Furthermore, key producers are trying to launch new products with different routes of administration including oral, ocular, topical, and injection. This, in turn, will translate into increase in market size during forthcoming years. Apparently, rise in demand for product across companion animal & livestock sector will drive industry trends. Breakthroughs in pharmaceutical industry will spearhead growth of animal drug computing market in foreseeable future.
Regional Landscape
Europe To Make Notable Contributions Towards Global Market Size By 2028
The growth of animal drug compounding market in Europe Over 2021-2028 is due to massive production of animal drug compounding in countries such as Germany. In addition to this, escalating demand for anti-infectives and anti-inflammatories along with thriving pharma sector will drive regional market trends. Apart from this, favorable laws aiding use of customized animal drug compounding for treating pets in countries such as the UK, Italy, Russia, France, Belgium, Switzerland, and Germany will prompt growth of animal drug compounding business in Europe. Focus of players in continent for addressing medicine shortages will aid regional market growth.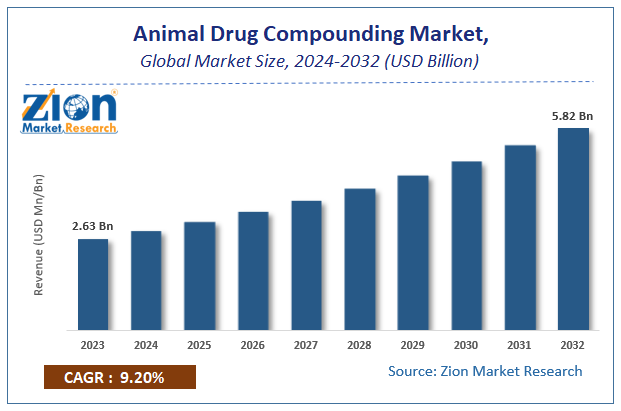 Request Free Sample
Competitive Landscape
Key players influencing market growth and profiled in study are Wedgewood Pharmacy, Davis Islands Pharmacy, Millers Pharmacy, Wellness Pharmacy of Cary, Smith's Pharmacy, Central Compounding Center South, Caringbah Compounding Pharmacy, and Triangle Compounding Pharmacy.
Animal Drug Compounding Market: Report Scope
Report Attributes
Report Details
Report Name
Animal Drug Compounding Market Report
Market Size in 2020
USD 1.21 Billion
Market Forecast in 2028
USD 3.31 Billion
Growth Rate
CAGR of 6.5%
Number of Pages
130
Key Companies Covered
Wedgewood Pharmacy, Davis Islands Pharmacy, Millers Pharmacy, Wellness Pharmacy of Cary, Smith's Pharmacy, Central Compounding Center South, Caringbah Compounding Pharmacy, and Triangle Compounding Pharmacy.
Segments Covered
By Product, By Animal Type, By Dosage Form, By Route of Administration, and By Region
Regions Covered
North America, Europe, Asia Pacific (APAC), Latin America, Middle East, and Africa (MEA)
Base Year
2020
Historical Year
2017 to 2020
Forecast Year
2021 - 2028
Customization Scope
Avail customized purchase options to meet your exact research needs. Request For Customization
The global Animal Drug Compounding Market is segmented as follows:
By Product
Anti-Infectives
Anti-Inflammatory
GI Drugs
CNS Agents
By Animal Type
Companion Animal
Livestock Animal
By Dosage Form
Capsule
Powder
Solution
Suspension
By Route of Administration
Oral
Injectables
Ocular
Topical
Rectal
By Region
North America
Europe

France
The UK
Spain
Germany
Italy
Rest of Europe

Asia Pacific

China
Japan
India
South Korea
Southeast Asia
Rest of Asia Pacific

Latin America

Brazil
Mexico
Rest of Latin America

Middle East & Africa

GCC
South Africa
Rest of Middle East & Africa