Description
According to the report published by Zion Market Research, global demand for Aircraft Fuel Systems market was valued at approximately USD 7.31 Billion in 2019, and is expected to generate revenue of around USD 13.34 Billion by end of 2026, growing at a CAGR of around 7.71% between 2020 and 2026.
Global Aircraft Fuel Systems Market: Overview
The passage of jet or aviation fuel to the auxiliary power unit and propulsion system is possible through the fuel system. The fuel system comprises pumps, storage tanks, filters, valves, metering devices, monitoring devices and fuel lines. These fuel systems may differ according to the aircraft performance in which they are installed. The rising demand for unmanned aerial vehicles fuels the growth of the global aircraft fuel systems market.
Global Aircraft Fuel Systems Market: Growth Factors
The factors escalating the global aircraft fuel systems market growth are increasing modernization of military aircraft, commercial aircraft deliveries, and development in the commercial aviation sector. The fluctuating oil prices along with heavy-weight fuel systems are increasing the demand for fuel-efficient aircraft. Thus, the increase in the fuel efficiency has led to declining in the operating costs, which in turn lowers the global market growth. The rise in the number of air passenger traffic is a prospect for the global market growth. The air passenger traffic, in turn, increases the demand for new aircraft, which in turn will foster the need for aircraft fuel systems. The global market growth is influenced by the factor such as increasing investments to support oil and gas operations and acquiring new civil helicopters.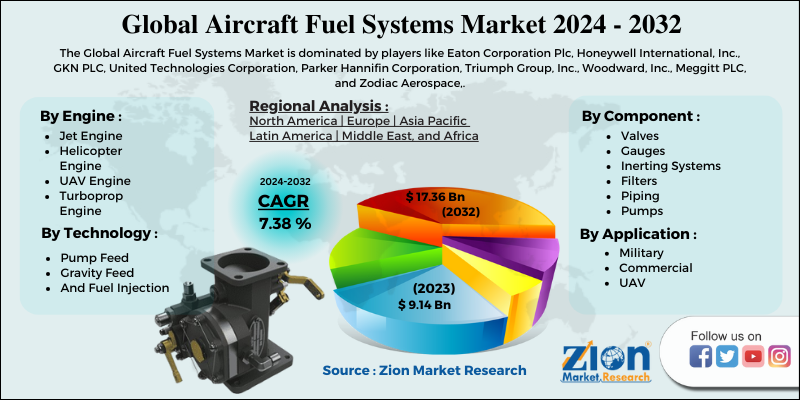 Global Aircraft Fuel Systems Market: Segmentation
The segmentation of the aircraft fuel market is done on the basis of engine type, component, technology, application, and region. The engine type segment is further segmented into the jet engine, helicopter engine, UAV engine and a turboprop engine. The component segment of the global aircraft fuel systems market is further subdivided into valves, gauges, inerting systems, filters, piping, pumps, and fuel controlling monitoring systems. The technology segment is further categorized into pump feed, gravity feed, and fuel injection. The application segment is bifurcated into military, commercial and UAV.
Region-wise, the global market is segregated into North America, Europe, Asia Pacific, Latin America, and Middle East & Africa.
Global Aircraft Fuel Systems Market: Regional Analysis
The highest growth in the aircraft fuel systems market in the Asia-Pacific region is due to the increasing demand for the commercial aircraft deliveries. Europe and North America are also expected to be the next rapidly growing aircraft fuel systems market.
Global Aircraft Fuel Systems Market: Competitive Players
Some main participants of the Aircraft Fuel Systems market are Some Eaton Corporation Plc, Honeywell International, Inc., GKN PLC, United Technologies Corporation, Parker Hannifin Corporation, Triumph Group, Inc., Woodward, Inc., Meggitt PLC and Zodiac Aerospace, among others.
Aircraft Fuel Systems Market: Regional Segment Analysis
North America
Europe

France
The UK
Spain
Germany
Italy
Rest of Europe

Asia Pacific

China
Japan
India
South Korea
Southeast Asia
Rest of Asia Pacific

Latin America

Brazil
Mexico
Rest of Latin America

Middle East & Africa

GCC
South Africa
Rest of Middle East & Africa