The global air duct market valued around USD 4.5 billion in 2018 and is estimated to grow at a CAGR of around 3.05 % between 2019 & 2026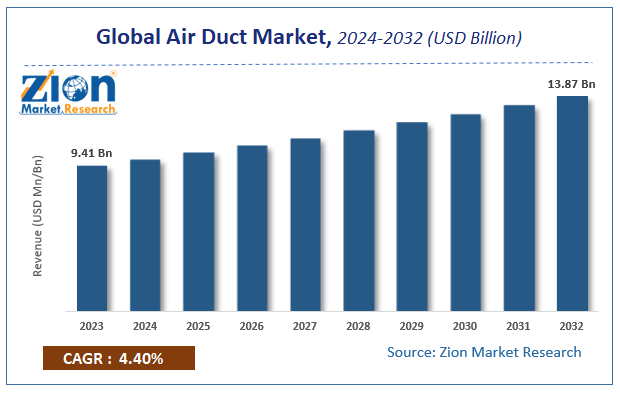 Request Free Sample
The report covers forecast and analysis for the global air duct market on a global and regional level. The research report presents a comprehensive valuation of the market, competition, opportunities, emerging trends, and industry-validated market figures. The study provides historic data of 2016 to 2018 along with a forecast from 2019 to 2026 based on revenue (USD Million).
The global air duct market is likely to have prominent growth in the forecast years and is anticipated to grow at a steady rate within the forecast period. There is immense scope for the air duct market, owing to a variety of applications, technological advancements, and growing demand for air ducts in the market. The excellent properties of air ducts, such as improved efficiency, superior performance, less impact on surroundings, and health benefits are the major factors that are anticipated to significantly propel the air duct market across the globe. Additionally, an increase in urbanization and enhanced infrastructure has fueled the demand for the air ducts over the years. The worsening quality of indoor air has given rise to the formation of committees in energy and environmental design systems, to create a framework to build healthy, efficient and cost-saving green buildings. This green building construction concept is expected to upsurge the growth of the air duct market over the forecast timeframe.
The global air duct market has been segmented on the basis of material and application. Based on the material, the air duct market is segmented into galvanized steel, aluminum, fiberglass, and polymers. The galvanized steel is majorly used for most of the ducting and is suitable for high-temperature applications. Aluminum ducts are often used for kitchen chimney ventilation and light-duty air movement applications. Based on the application, the air duct system is segmented into corporate offices, airport & rapid transit, retail stores & shopping complexes, hospitality, multiplex/auditorium, hospitals, manufacturing.
The rise in the demand for the product, owing to the emerging trend of insulated and fabric system in new constructions and an increased focus on energy conservation, and enhanced efficiency is the main driver which is expected to propel the growth of the air duct market over the forecast years. The secondary factor that is expected to boost the demand for air ducts is the increasing usage of HVAC equipment in commercial and residential constructions. Some of the factors which might hamper the growth of the air duct market over the forecast years are increased adoption of the ductless equipment, and the high cost associated with the HVAC equipment such as dampers and isolators.
The key players operating in the global air duct market are Hennemuth Metal Fabricators, Set Duct Manufacturing, Zinger Sheet Metal Co., D&N Duct Solutions, Hamlin Companies, Sisneros Bros. Mfg., M&M Manufacturing, Masterduct Inc., Linx Industries, among others.
This report segments the global air duct market as follows:
Global Air Duct Market: Material Segment Analysis
Galvanized Steel
Aluminum
Fiberglass
Polymers
Global Air Duct Market: Application Analysis
Corporate offices
Airport & Rapid transit
Retail stores & shopping complexes
Hospitality
Multiplex/Auditorium
Hospitals
Manufacturing
Global Air Duct Market: Regional Segment Analysis
North America
Europe
Asia Pacific
Latin America
Middle East and Africa