Description
According to the report published by Zion Market Research, global demand for Agrochemicals Market was valued at approximately USD 197 Billion in 2019, and is expected to generate revenue of around USD 282 Billion by end of 2026, growing at a CAGR of around 5 % between 2020 and 2026.
Global Agrochemicals Market: Overview
Agrochemicals are chemical compounds that are commonly used in horticulture, agriculture and floriculture. Agrochemicals include fertilisers, antibiotics, hormones and many other chemical growth agents. They are primarily used to protect crops from insects, diseases and to promote their further growth and production.
Global Agrochemicals Market: Growth Factors
The global demand for agrochemicals is driven by growing recognition among farmers in developed countries, as well as by modern technical farming practises. Increased demand for food grain and diminishing cultivable land due to industrialization and urbanisation is also one of the key factors driving global market develop pment. Crops such as fruit and vegetables, cereals and grains of high value, along with covered crops, have raised returns on investments that help raise the global demand for agrochemicals. The demand for agricultural goods from the greenhouse system has contributed to more growth in the industry. The global market for agrochemicals is powered by rising demand for pest-free crops, and various research and intellectual property rights, along with changing R&D spending, are accelerating global agrochemical market growth. Global demand growth is enhanced by growing farmers' attention to high-quality agrochemical crops. But the global market is limited by the high demand for agricultural chemicals and bio-farming.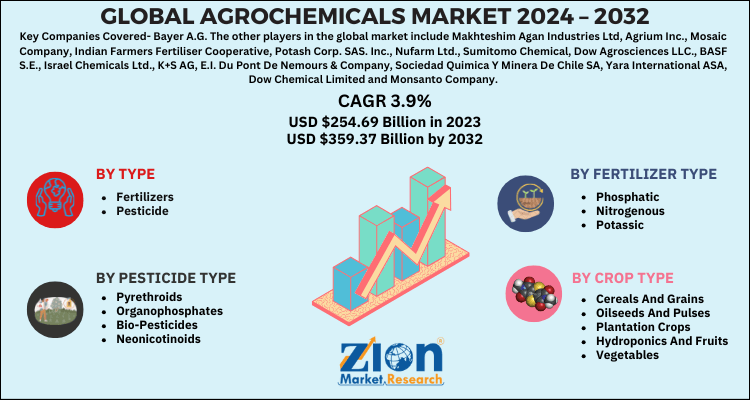 Global Agrochemicals Market: Segmentation
The global agrochemicals market is segmented on the basis of type, pesticide type, fertilizer type, subtype, crop type, and region. The type segment is further segmented into fertilizers and pesticides. The pesticide type segment is bifurcated into pyrethroids, organophosphates, bio-pesticides and neonicotinoids. The fertilizer type segment is further divided into phosphatic, nitrogenous and potassic. The crop type segment of the global agrochemicals market is further sub-segmented into cereals and grains, oilseeds and pulses, plantation crops, hydroponics and fruits, and vegetables. The region segment is further categorized into Latin America, Asia Pacific, North America, Europe and Rest of the World.
Global Agrochemicals Market: Regional Analysis
A vast number of fertile land and excellent soil fertility have resulted in the growth of the global market for agrochemicals in the Asia-Pacific regions. North America and Europe are projected to be fast-growing economies in the future. Rising demand for food grains from the increasing population and higher food grain exports in India and China are projected to fuel the market for agrochemicals in the Asia-Pacific regions. The US is the biggest manufacturer of agrochemicals in North America.
Global Agrochemicals Market: Competitive Players
Some main participants of the Agrochemicals Market are Bayer A.G. The other players in the global market include Makhteshim Agan Industries Ltd, Agrium Inc., Mosaic Company, Indian Farmers Fertiliser Cooperative, Potash Corp. SAS. Inc., Nufarm Ltd., Sumitomo Chemical, Dow Agrosciences LLC., BASF S.E., Israel Chemicals Ltd., K+S AG, E.I. Du Pont De Nemours & Company, Sociedad Quimica Y Minera De Chile SA, Yara International ASA, Dow Chemical Limited and Monsanto Company. The competitors adopt various growth strategies such as joint ventures, agreement, collaborations, and partnerships in order to maintain their standard in the market.
Agrochemicals Market: Regional Segment Analysis
North America
Europe

France
The UK
Spain
Germany
Italy
Rest of Europe

Asia Pacific

China
Japan
India
South Korea
Southeast Asia
Rest of Asia Pacific

Latin America

Brazil
Mexico
Rest of Latin America

Middle East & Africa

GCC
South Africa
Rest of Middle East & Africa