Major companies in U.S. steel wire market are American Manufacturing, Barrette Outdoor Living, Bekaert Corporation, Davis Wire Corporation, Draka Elevator Products, Fort Wayne Metals Research Products Corp, Insteel Wire Products Company, Laclede Chain Manufacturing Company, and Loos & Co., among others. These players are set to bolster the development of U.S. steel wire market.
According to analysts at Zion Market Research, the U.S. steel wire market accounted for USD 13847.24 Million in 2020 and is expected to reach USD 17541.27 Million by 2028, growing at a CAGR of 3.0% from 2021 to 2028.
This review is based on a report by Zion Market Research, titled "U.S. Steel Wire Market by Form (Non-rope and Rope), by Type (Carbon Steel, Alloy Steel, and Stainless Steel), by Thickness (0.01 mm to 0.8 mm, 0.8 mm to 1.6 mm, 1.6 mm to 4 mm, and 4 mm & above), by End User (Construction, Automotive, Energy, Agriculture, and Others): Industry Perspective, Comprehensive Analysis and Forecast, 2021 – 2028."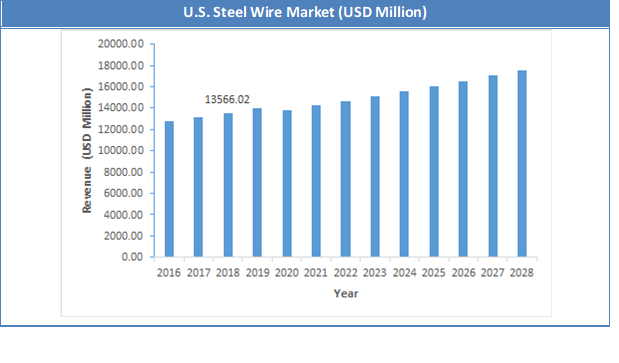 Increasing demand from Automotive Sector to Spur Growth
Steel wire is primarily used in the manufacturing of different components of a vehicle. On an average, 900 kg of steel is used to make a vehicle. With the rapidly growing U.S. automotive industry, the demand for lightweight vehicle has significantly increased. Today, majority of the consumers are looking for vehicle that offer better mileage and improve the driving experience. In line with this, most of the leading automotive manufacturers have stated adopting carbon steel wire that can offer high strength, resistance to corrosion and abrasion, and lightweight.
With the introduction and rapidly growing adoption of electric vehicle, the market is projected to witness a significant boost in the overall demand for steel wire in the country as the weight of an EV plays a key role in determining of maximum distance covering range in single charge.
Based On Form, The Nope-rope Steel Wire Segment To Lead The Market
Nope-rope steel wire is projected to continue dominating the market in the coming years. This can be majorly attributed to its numerous applications across different sectors such as for making wire for tires, ACSR strands, hoses, armoring of conductor cables, galvanized wires and strands, springs, staples, mesh, fasteners, clips, screws, nails, Steel wire, barbed wires, chains, and fencing finds. Nope rope steel wire is witnessing strong demand, especially from the construction and automotive sectors. As per our analysis, the demand for non-rope wire will continue growing on account of well-established construction and automotive sectors in the country. Moreover, the U.S. government has taken several infrastructure developments projects that would need non-rope steel wire on large scale.
Browse the full "U.S. Steel Wire Market by Form (Non-rope and Rope), by Type (Carbon Steel, Alloy Steel, and Stainless Steel), by Thickness (0.01 mm to 0.8 mm, 0.8 mm to 1.6 mm, 1.6 mm to 4 mm, and 4 mm & above), by End User (Construction, Automotive, Energy, Agriculture, and Others): U.S. Industry Perspective, Comprehensive Analysis and Forecast, 2021 – 2028." Report at https://www.zionmarketresearch.com/report/us-steel-wire-market
The U.S. steel wire market is segmented as follows:
By Form
By Type
Carbon Steel
Alloy Steel
Stainless Steel
By Thickness
0.01 mm to 0.8 mm
0.8 mm to 1.6 mm
1.6 mm to 4 mm
4 mm & above
By End User
Construction
Automotive
Energy
Agriculture
Others
By Region