The U.S. condom market accounted for USD 1,537 Million in 2020 and is expected to reach USD 2,020 Million by 2028, growing at a CAGR of 3.0% from 2021 to 2028.
Zion Market Research has published a new report titled "Condom Market by Gender (Male and Female), Distribution Channel (Commercial Outlets, Non-commercial Outlets, and Non-traditional Outlets) – U.S. Industry Perspective, Comprehensive Analysis, and Forecast, 2016 – 2028". According to the report, U.S. condom market was valued at USD 1,537 million in 2020 and is expected to reach USD 2,020 million by 2022, growing at a CAGR of 3.0% between 2021 and 2028.
A condom is a sheath-shaped obstruction device used during sexual intercourse. It is very beneficial for reducing the chances of pregnancy. It also decreases the risk of sexually transmitted infections (STIs) such as HIV/AIDS.There are different types of condoms available in the market with the variety of thickness, texture, material, size, color and taste. Condoms are highly effective to reduce the probability of pregnancy if used consistently and correctly.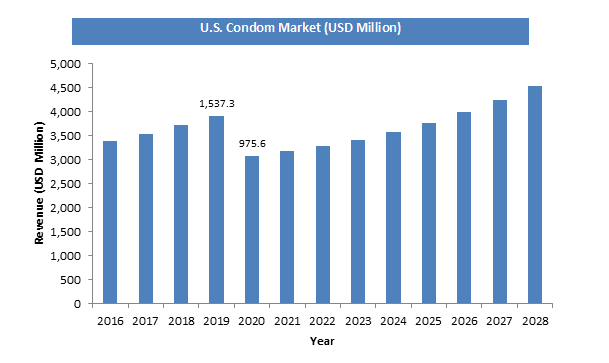 ???????
Increasing awareness regarding sexually transmitted diseases (STD) and HIV is the major driving factor of condom market in U.S. Increasing prevalence of sexually transmitted diseases (STD) and HIV in U.S. is expected to boost the demand for condoms.Recent estimates from the Centers for Disease Control and Infection shows that there are 19.7 million new STDs/STIs cases in U.S. every year.In 2008, there were around 110 million common STIs among women and men in the U.S.From which more than 20% (22.1 million) were among women and men aged 15 to 24 years. This is due to the fast changing lifestyle in urban countries.In addition, increasing the need for family planning coupled with population control is expected to boost the condom market.Condom market in U.S. is undergoing different technological innovations. New improvements such as condoms with warming gels, glow in the dark condoms, water-based lubricants such as KY Jelly, Glyde etc., climax delaying lubricants, skin on skin condoms, ribbed condoms, and custom sized condoms are getting popular among consumers. This innovation raises the popularity of condom during sexual intercourse.
U.S. has the highest rate of sexually transmitted infections worldwide and exceeding other regions by 50 to 100 times. However, some restraining factors like lack of awareness and availability of other contraceptive methods may hamper the growth of condom market during the projected period. In the U.S., innovation in the condom category created an opportunity to modify the product for the modern consumer. Some of the novel opportunities include innovative packaging, use of nitrile polymer for female condoms, line extensions and innovative labeling of condoms.
Based on gender, condom market can be segmented as male and female condoms. Male condom acquired the largest share of the total market in U.S. It accounted for more than 98% share of the total market in terms of revenue in 2020 due to its advantages of being inexpensive, ease of use and few side effects. A male condom is a thin sheath usually made of latex (rubber) while the female condom is a polyurethane sheath with a flexible ring. Both the condoms should not be used at the same time because they can get stuck together during intercourse.
On the basis of the distribution channel, condom market is segmented into commercial outlets, non-commercial outlets, and non-traditional outlets. Commercial outlets segment was the leading segment of U.S. condom market and accounted for around 50% share of the entire market in 2020. The non-commercial outlet was the second largest distribution channel in 2020.
Key industry participants in this market include TTK Group, Sagami Rubber Industries, Reckitt Benckiser Group, Ansell Healthcare LLC, Graphic Armor LLC, and Church & Dwight.
The report segments the U.S. Condom market into:
By Product
Male Condom
Female Condom
By Distribution Channel
Commercial Outlets
Non-commercial Outlets
Non-traditional Outlets