Analysis
Wave and tidal energy harvesting have been around for past decades. It has become more realistic in the recent years due to the advancement in research and technology. Wave, tidal, and ocean energy technologies would be proactively used as potential commercial power sources in the coming years. This technology can be deployed using smaller units. In comparison with other forms of power generation, wave and tidal energy hold less share. Wave power refers to the energy of the ocean surface waves, which is used for desalination, electricity generation, and pumping of water into reservoirs. Wave power is different from tidal power. Wave and tidal energy are able to supply at least 10% of the global consumption of energy. Most of the wave energy plants in operation today are the prototypes or pilot projects. Wave power yield potentially more energy as compared to tidal power, as it can be implemented in more locations.
The improvement of wave and tidal energy in the Celtic Seas is majorly driven by the prevalence of strong marine in the Atlantic and high tidal range in the bays and channels. It is more reliable and attractive as compared to wind energy. The wave and tidal energy sector are in the pre-development stage. The International Renewable Energy Agency (IRENA) is an inter-governmental organization which helps countries in their evolution of sustainable energy and serves as the major platform for international co-operation. IRENA also promote wide acceptance and sustainable use of all forms of renewable energy, such as geothermal, bioenergy, ocean, solar hydropower, and wind energy. Such initiatives are expected to drive the global wave and tidal energy market growth over the forecast period.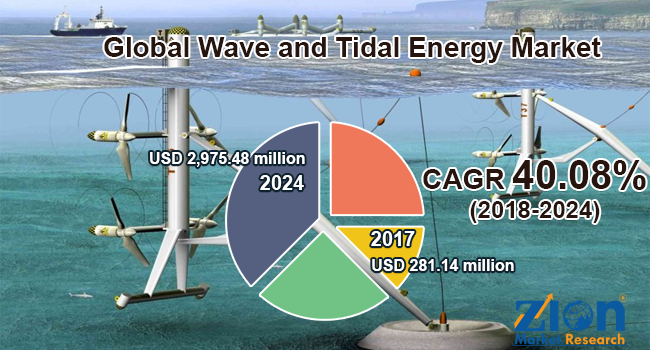 Based on the type, the market is segmented into wave energy and tidal energy. On the basis of technology, the market is segmented into the pendulor device, tidal steam generator, barrage, oscillating water columns, and others. Based on end-users the market is segmented into industrial, residential, and commercial.
The Asia Pacific held a substantial revenue share in the global wave and tidal energy market in 2017 and the region is likely to grow at a significant growth rate over the forecast timeframe. Rising public funding programs, government policies, environmental regulations, and action plans to enhance research activities pertaining technologies of marine renewable energy in the Asia Pacific region are the factors anticipated to drive the wave and tidal energy market in the region over the forecast period.
Some of the key players operating in wave and tidal energy market include Marine Current Turbines, Pelamis Wave Power, Carnegie Wave Energy, Aquamarine Power, Aquagen Technologies, Ocean Power Technologies, Ocean Renewable Power Company, S.D.E. Energy, Tenax Energy, and Atlantis Resources. Industry players are mostly focusing on developing innovative technology through research and development to gain revenue share.