Analysis
In this growing world, non-renewable energy sources are moving towards extinction and many global concerns have arisen such as global warming and greenhouse effect. Therefore, there is a need to generate an alternate unconventional energy source which can be considered as a significant alternative for the existence of the future. Waste to energy is the process where various technologies are used for the conversion of non-recyclable waste into energy. The energy includes various forms such as electricity, heat, and also produces combustible fuels such as ethanol, methanol, and others. The various technologies processing on waste include pyrolysis, incineration, gasification, anaerobic digestion, and landfill gas recovery, among others. The waste includes both biomass and non-biomass material such as plastic waste, food waste, and paper & paperboard, among others. Waste to energy management plays a significant role in waste disposal infrastructure of any nation.
Rising population which, in turn, has lead to an increase in the generation of waste is the strong factor prominently increasing the demand for the waste to energy market. Moreover, supportive government initiatives and stringent regulations regarding the waste disposal is also a considerable factor driving the growth of the waste to energy market during the forecast period. In addition to this, rising technological advancement in waste disposal processes is also bolstering the market growth. However, high installation and maintenance cost are certain factors hampering the growth of the market.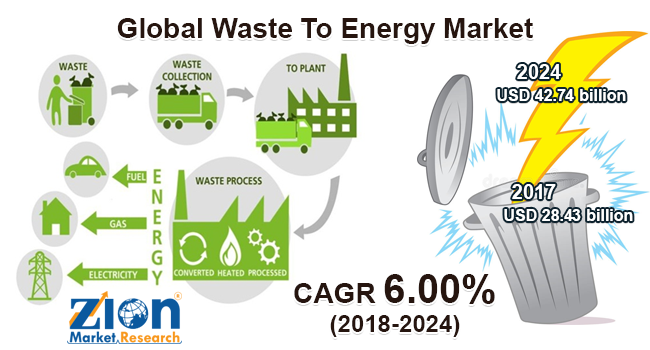 On the basis of technology, waste to energy market is segmented into thermal and biological technologies. Thermal technologies are further classified into pyrolysis, gasification, and incineration. Biological technologies include anaerobic digestion. On the basis of application, the market is segmented into electricity generation, heat generation, and transport fuels.
Regionally, Europe dominates the overall waste to energy market followed by Asia Pacific and North America. The market growth in Europe is accredited to the technological advancements in waste disposal processes coupled with the stringent regulations and government initiatives to minimize the industrial waste. Moreover, various countries in this region such as Germany, the Netherlands, Sweden, Luxembourg, and Austria are experimenting waste to energy technologies such as incineration to utilize the industrial waste for the means of energy production. For instance, in 2015 Sweden practiced incineration of approximately 49% of total industrial waste for power generation. Such factors are anticipated to positively influence the market growth. Asia Pacific is anticipated to be the fastest growing market during the forecast period. China and Japan are significantly dominating the market due to the increasing industrial waste and rising technology adoptions in this region.
The major players operating in the waste to energy market are Novo Energy Ltd., Hitachi Zosen, Foster Wheeler A.G., Sierra Energy, Xcel Energy, China Everbright International, Covanta Energy Corp., Green Conversion Systems, Babcock & Wilcox Enterprises, Keppel Seghers, Xcel Energy Inc., Abu Dhabi National Energy Company PJSC, Wheelabrator, Constructions Industrielles de la Mediterranee., Inc., and Plasco Energy, among others.