Analysis
A virtual sensor is used for the estimation of process conditions or product properties with the help of mathematical models. These models help companies in estimating the desired values by using information gathered from different physical sensors. A virtual sensor network is formed by a group of sensors, where the nodes are given certain high-speed tasks that play a crucial role in the virtual sensors market. The rising demand for virtualization architecture in wireless sensor networks (WSN) is anticipated to create lucrative market opportunities over the forecast timeframe.
The growing use of virtual IoT sensors is increasing the insights and analytics to solve real-time problems, which is primarily driving the virtual sensors market globally. The rising investments in IoT technology have paved the way for the high adoption of virtual sensors. Virtual IoT sensors are software-based Windows or Linux services that read the information on different physical sensors over a motherboard and post them on a cloud system. It is estimated that by 2020, the IoT market will be worth USD 1.7 trillion. The manufacturing sector is anticipated to fuel the IoT network connections growth, which will drive the virtual sensors market over the upcoming years. The increasing adoption of virtual sensors worldwide is still in the initial state. Thus, the lack of awareness about the associated benefits of virtual sensors and a shortage of skilled workforce with expertise and technical knowledge may hinder the virtual sensors market growth in the years ahead.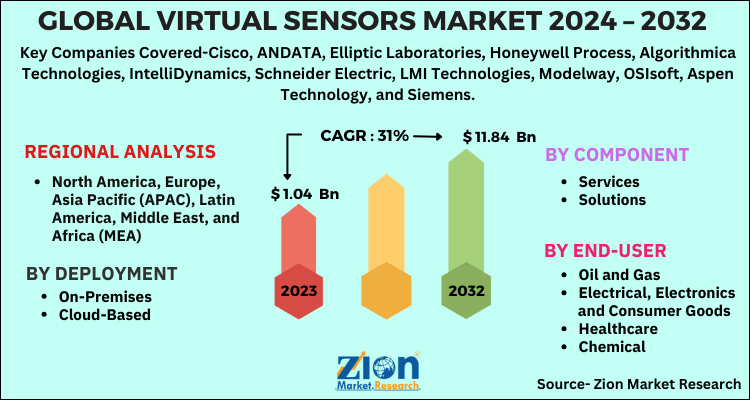 The global virtual sensors market is fragmented based on deployment, component, and end-user. On the basis of deployment, the market is majorly classified into on-premises and cloud-based. By component, the market includes services and solutions. Virtual sensor solutions are highly preferred by organizations for estimating different product properties, which is and fuelling the solutions segment growth in the global market. The end-user segment of the global virtual sensors market includes electrical, electronics, and consumer goods, oil and gas, healthcare, manufacturing and utilities, chemical, automotive and transportation, and others. The electronics, electrical, and consumer goods industry is likely to hold a major market share in the future, owing to the growing virtual sensors demand due to unique and complex product designs.
North America dominated the virtual sensors market in 2018 and is anticipated to hold the largest market share globally in the upcoming years as well. This can be attributed to the presence of prominent market players in the region.
Some renowned players of the virtual sensors market are Cisco, ANDATA, Elliptic Laboratories, Honeywell Process, Algorithmica Technologies, IntelliDynamics, Schneider Electric, LMI Technologies, Modelway, OSIsoft, Aspen Technology, and Siemens.