Analysis
Transdermal drug delivery systems deliver drugs via the skin to ensure a systemic drug circulation and maintain clinically effective concentrations at a predetermined rate over an estimated timeline. The substantial advancements in the biotechnology industry and improving capabilities of medical practitioners who use drugs at a target location without causing skin rupture is enabling the worldwide acceptance of transdermal drug delivery systems as the preferred drug administrating route worldwide.
The rising occurrences of chronic diseases and various technological developments in healthcare, pharmaceutical, and biotechnology sectors are boosting the transdermal drug delivery system market globally. A plethora of applications of these systems are witnessed in pain management, hormonal disorders, cardiovascular diseases, and central nervous system ailments, which will generate lucrative growth avenues for the transdermal drug delivery system market in the years ahead. Beneficial features like non-invasiveness, lower pain sensations in patients, complete administration of a dose, and ease of treatment termination are also driving this market. Growing geriatric population base and escalating patient population suffering from chronic disorders, such as diabetes, angina, and hypertension, are likely to fuel the transdermal drug delivery system market expansion in the future. Moreover, the surging adoption rate of latest delivery system technologies like ultrasound is also boosting this market. However, these drug delivery systems have various disadvantages like irritation at the application site and edema, which may impede this global market.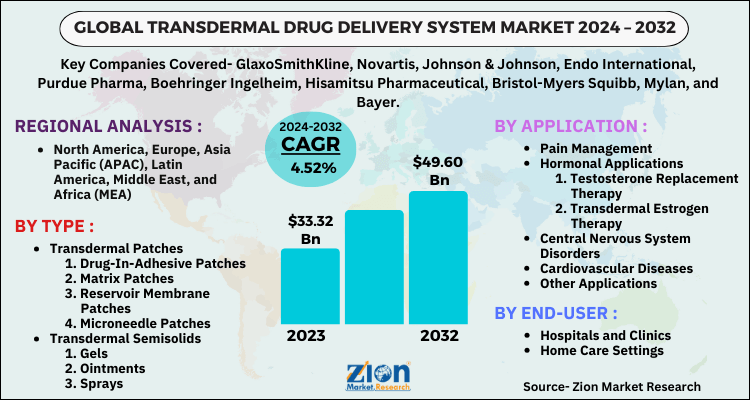 The transdermal drug delivery system market is fragmented based on type, application, and end-user. By type, the market is divided into transdermal semisolids and transdermal patches. The transdermal patches are further segmented into reservoir membrane patches, matrix patches, drug-in-adhesive patches, and microneedle patches. The transdermal semisolids further include sprays, ointments, and gels. By application, the transdermal drug delivery system market includes cardiovascular diseases, central nervous system disorders, pain management, hormonal applications, and others. The end-user segment of the market for transdermal drug delivery system is bifurcated into hospitals and clinics and home care settings.
North America accounted for the largest share in the global transdermal drug delivery system market in 2018 and is anticipated to remain dominant over the forecast time period as well. The Asia Pacific transdermal drug delivery system market is expected to register the highest growth rate globally in the future.
Some key players in the transdermal drug delivery system market are GlaxoSmithKline, Novartis, Johnson & Johnson, Endo International, Purdue Pharma, Boehringer Ingelheim, Hisamitsu Pharmaceutical, Bristol-Myers Squibb, Mylan, and Bayer.