Analysis
Hemorrhage is one of the leading causes of death among most of the traumatic injuries across the globe. An early slowdown of bleeding can prevent death in case of hemorrhage. A tourniquet system is a device that applies pressure to the limb to obstruct or stop the blood flow. Hemorrhage control systems are devices aimed to stop or reduce the flow of blood. This tourniquet system is mostly used in emergencies, traumatic battlefield injuries, surgeries, post-operative rehabilitation, etc. There are different types of tourniquet systems available in the market today. These systems are made of silicone or elastic rings and are self-contained mechanical machines that do not require electricity or tubes. These systems also vary in sizes. To select a tourniquet system for a particular patient, the circumference of that body part that needs occlusion is measured and the patient's blood pressure is recorded and then the best suitable tourniquet system model is suggested.
There are various factors expected to support the growth of the global tourniquet systems market in the future, such as rising number of traumatic injuries in the battlefield, an increasing number of accidents, and government approval for marketing of tourniquet systems in different regions. Clutching necessity for a capable blood occlusion method is another major factor driving the demand for tourniquet cuffs and other instruments. This, in turn, is also fuelling the market for tourniquet systems.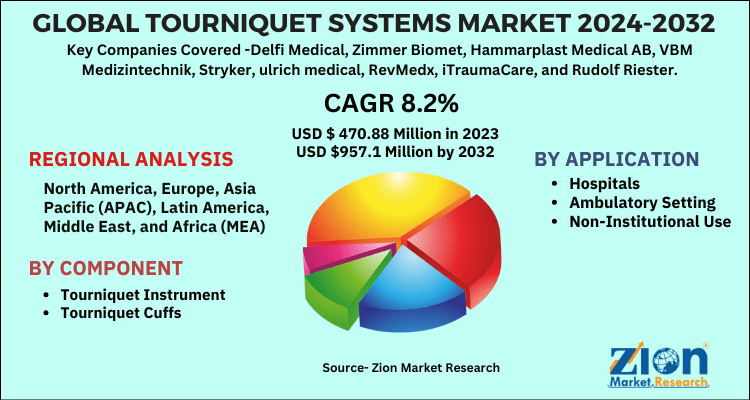 The global tourniquet systems market is bifurcated into component and application. Based on component, the tourniquet systems market includes tourniquet instrument and tourniquet cuffs. The tourniquet cuff segment is further divided into pneumatic and non-pneumatic cuffs. The pneumatic cuffs are expected to dominate the market attributed to the ease of use of the product. Pneumatic cuffs are further segmented into disposable and reusable cuffs. The disposable pneumatic tourniquet systems are anticipated to show the fastest growth over the forecast time period. Based on application, the tourniquet systems market is fragmented into hospitals, ambulatory setting, and non-institutional use. The hospitals segment accounted for a major market share globally in the year 2018.
Geographically, the North America region is expected to lead the global tourniquet systems market over the forecast time period. The region is anticipated to be closely followed by Europe. The Asia Pacific tourniquet systems market is likely to experience notable growth rate in the future, owing to the developing healthcare facilities, the introduction of latest tourniquet systems, and the presence of a large patient pool in the region.
Some key players of the global tourniquet systems market include Delfi Medical, Zimmer Biomet, Hammarplast Medical, VBM Medizintechnik, Stryker, ulrich medical, RevMedx, iTraumaCare, and Rudolf Riester.