Analysis
The thermoelectric generator is also called as seebeck generator. It is a solid state device that converts heat into electrical energy through a phenomenon called the seebeck effect or thermoelectric effect. It is largely used as portable power source to charge and operate various pads, phones, 12v batteries, small refrigerators while traveling long distances and in remote camping sites. Thermoelectric generators are primarily used as remote and off-grid power generators for unmanned sites.
Rising demand for solid state and immobile devices is expected to be the major drivers for the global thermoelectric generator market. Moreover, the requirement for durable and maintenance free power sources are also anticipated to drive the thermoelectric generator market over the forecast period. However, the high cost of thermoelectric material and low efficiency may pose the challenge to the market growth. Demand for thermoelectric in healthcare and rising demand for low-power generators in the sensor network may open potential growth opportunities for the thermoelectric generator market within the forecast period.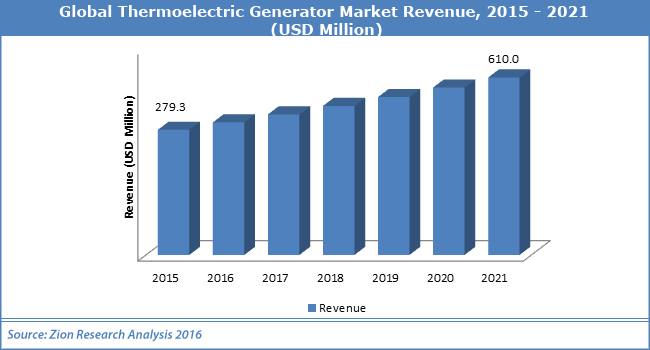 Based on sources, thermoelectric generator market has been segmented into waste heat recovery, energy harvesting, direct power generation, and co-generation. Thermoelectric generator market was dominated by waste heat recovery and is expected to continue its dominance in the global market over the estimated period. Energy harvesting, direct power generation, and co-generation are also expected to grow at a significant rate during the years to come.
Automotive, aerospace & defense, industrial and others are key applications of the global thermoelectric generator market. Aerospace & defense emerged as one of the largest application segments in 2015. Automotive sector emerged as another key outlet for thermoelectric generator market in 2015 and accounted for the largest share of around 57.8% of the overall market. Industrial application segment is expected to exhibit moderate growth in the next few years due to the availability of low-cost devices.
Thermoelectric generator market is growing across the world. North America was the largest regional market due to increased demand from automotive end-users in this region. Asia pacific is anticipated to experience promising growth in the thermoelectric generator market in the coming years. Asia-Pacific is expected to grow at the highest CAGR rate due to the increased demand of thermoelectric generators by the automotive manufacturers to boost the fuel efficiency and improved industrialization in the region.
Some of the key players in the global thermoelectric generator market include Alphabet Energy, Thermo Electric Company, Inc., Evident Thermoelectrics, Gentherm, green TEG AG, II-VI Marlow, Inc., Perpetua Power Source Technologies, Inc.,Romny Scientific, Inc., Laird Technologies, Inc., Ferrotec Corporation, RGS Development, B.V. Tellurex Corporation, Teledyne Energy Systems, Inc., and Micropelt GmbH.