Analysis
The thermal insulation is a process that is used for insulating material in order to transfer heat between the materials which have thermal conductivity. The thermal insulation can be achieved with special engineered methods. This process retards the flow of heat transferring between the objects. The most common material used for thermal insulation is fiberglass, cellulose, polyurethane foams, and others.
A tremendous growth has been observed in the construction industry over the past few years. Awareness regarding the need of energy-efficient structure and to reduce high energy cost in commercial buildings are expected to drive the market in the upcoming years. The countries with cold climate are particularly promoting zero energy buildings which can be attained by means of reliable insulation material. According to a recent article published by the Institute of Energy Diversification and Saving, the thermal insulation accounts for around 30% drop in heat consumption which is converted to the reduction of CO2 emission and also saves the money. The governments in these regions are introducing various policies and regulation that will support the growth of the market. However, high prices of the insulation materials limit the market growth. Nevertheless, high energy requirements are expected to provide ample opportunities for the key players working in the global thermal insulation market.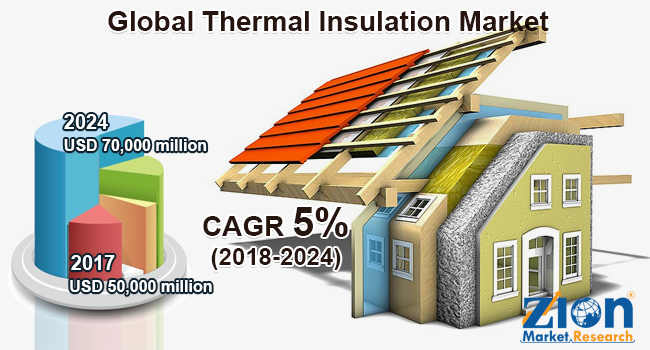 The global thermal insulation market can be fragmented based on product, foam, and end-user. The product is segmented into the fibrous material, cellular material, and granular material. The foam is further segmented into primary, secondary, and tertiary. The process segment is further divided into the rigid board, rigid foam/foam board, sprayed foam, loose fillers, flexible foam, barriers, batts, and others. Based on end-user, the market is further segmented into building & construction, oil & gas, aerospace & aviation, mechanical systems, clothing, automotive, industrial, and others. Building & construction is expected to be the most dominant segment of the global thermal insulation market and is expected to maintain this inclination over the predicted period. Increase in the construction industry is expected to drive the demand for thermal insulation in the years to come.
Based on region, the market is segmented into Europe, North America, Asia Pacific, Latin America, and the Middle East and Africa. North America comprised the most significant share for the thermal insulation market in terms of volume during 2017. This can be attributed to the huge development in the construction industry in the region. Asia Pacific thermal insulation market is also likely to witness noteworthy growth during the predicted period.
Some of the major players operating in the global thermal insulation market are Asahi Kasei Corporation, Kingspan Group Plc, Johns Manville, Covestro AG, The Dow Chemicals Company, Armacell, Insulcon Group, Isolatek International, BASF SE, Owens Corning, Saint-Gobain S.A., Saint-Gobain S.A., amongst others.