Free Analysis
Tea is a traditional beverage originated in China. Tea is the oldest and the most popular, non-alcoholic caffeine-containing beverage. Tea is basically made from the leaves of the tea plant named Camellia sinensis which is a member of the Theaceae family. Tea processing is the method in which the leaves of the tea plant are transformed into dry leaves.
Tea has antioxidant property due to the presence of polyphenols and is anti-carcinogenic in nature. Moreover, it shows anti-cancerous activity and is effective for the different type of cancers such as lung, prostate, esophageal, stomach, and pancreatic cancer. Tea is a rich source of fluoride and aluminum. It has different amino acids and helps to develop strong immunity, increase metabolism, and reduced cholesterol. There are different types of tea such as green tea, white tea, black tea, yellow tea, oolong tea, and fermented tea. The most commonly consumed tea is black, green, and oolong. Each type of tea has a different smell, taste, and appearance. The main techniques involved in tea making are oxidation and drying. Steps involved in tea processing are plucking, withering, disruption, oxidation or fermentation, fixation, shaping, and drying.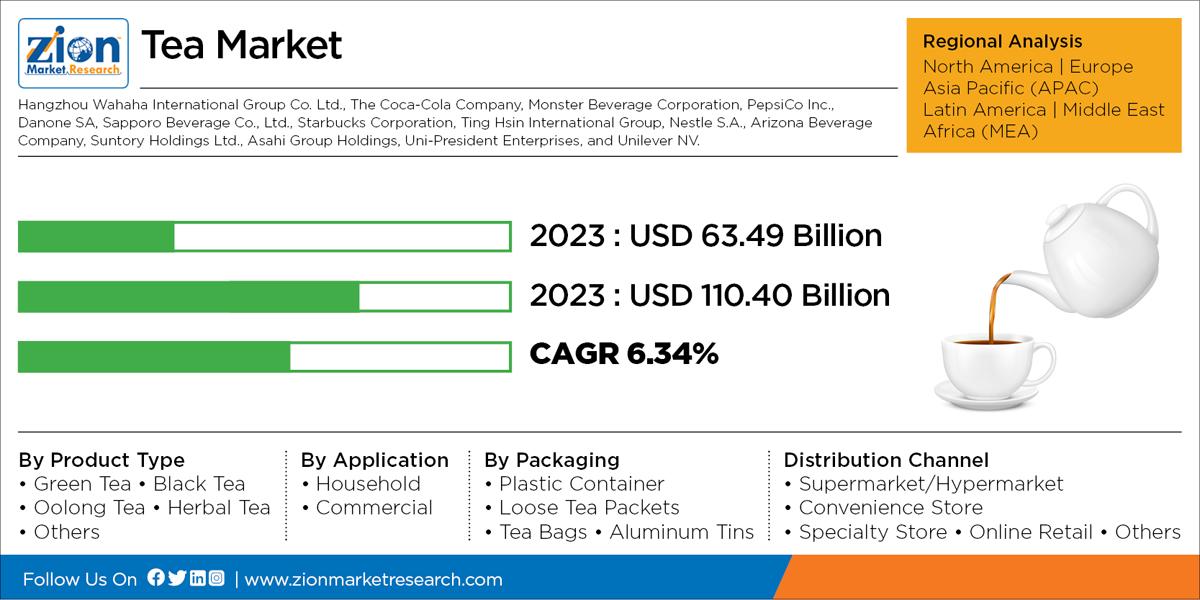 Increasing promotional and marketing strategies applied by tea manufacturers and producers is affecting the global tea market positively. Growing awareness among people regarding the benefits of tea consumption has increased the intensity of demand for tea among consumers. This is increasing the customer base consuming tea on the daily basis which is expected to boost the growth of the global tea market. This growth is mainly due to changing lifestyle and busy daily schedule of people.
The product type of the global tea market includes green tea, black tea, oolong tea, herbal tea, and others. In terms of consumption, black tea is anticipated to dominate the market owing to large demand and consumer base associated with it. On the basis of application, global tea market is segmented into household and commercial. However, increasing cost of raw material is expected to hinder the market growth.
On the basis of packaging, global tea market is segmented into a plastic container, loose tea packets, tea bags, and aluminum tins. On the basis of the distribution channel, the market is segmented into a convenience store, supermarket/hypermarket, online retail, specialty store, and others. Hypermarket & supermarket segment is projected to be the most popular sales channel during the forecast period. This is due to high discount rates and offers such as buy one get one free offered at hypermarket & supermarket.
By geography, Asia Pacific is expected to be the fastest growing region in terms of revenue. Emerging economies are experiencing growing demand for processed food items along with increased population the demand for tea is expected to rise in the region. Developed nations in the region of North America and Europe are anticipated to show significant growth due to the popularity of convenience and healthy beverage option which has grown the consumer preferences for tea. The Middle East and Africa region are projected to show a considerable growth rate during the forecast period due to the growing demand for tea by tea loving expatriates.
Some of the key players have been focusing on merger and collaboration with tea vendors, research & development, nutritional advancement, maintaining the quality of the product, and packaging and pricing strategy in order to hold their ascendancy in the market. Key players operating in this market are PepsiCo Inc., The Coca-Cola Company, Sapporo Beverage Co., Ltd., Suntory Holdings Ltd., Arizona Beverage Company, Ting Hsin International Group, Nestle S.A., Asahi Group Holdings, Monster Beverage Corporation, Danone SA, Uni-President Enterprises, Unilever NV., Starbucks Corporation, Hangzhou Wahaha International Group Co. Ltd., and others.