Free Analysis
Tahini is a food ingredient prepared from grounded hulled sesame seeds and is one of the most popular dishes of the Mediterranean cuisine and several other ethnic cuisines including Turkish, Greek, and North African. It contains a wide range of necessary nutrients, such as magnesium, vitamin B1, essential fatty acids, and phosphorous. Tahini is an important ingredient for making spreads and sauces. It is also widely used in preparing Baba Ghanouj, Falafel Pitas, Hummus, and other ethnic dishes of the Mediterranean cuisine. Tahini is expected to witness a significant increase in demand in the years ahead, owing to the rising worldwide popularity of ethnic foods.
The tahini market globally is anticipated to observe significant growth over the forecast years, owing to the rising awareness regarding the several health benefits of tahini. These benefits include weight loss, prevention against anemia, detoxification, and better skin health. Additionally, a shift has been witnessed among young consumers toward flavored and healthy food products, which will further drive the of tahini market development globally over the forecast timeline.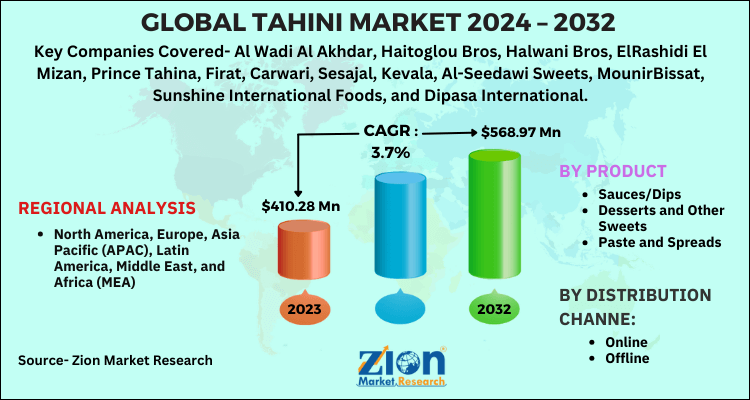 The tahini market is fragmented into product and distribution channel. By product, the tahini market includes sauces/dips, desserts and other sweets, and paste and spreads. The paste and spreads segment is expected to dominate the tahini market globally over the forecasted time period. Growing inclination toward different Middle Eastern flavors along with the growing demand for hummus and other tahini-based cuisines are anticipated to fuel the pastes and spreads segment in the years ahead. Additionally, the paste and spreads segment is estimated to witness a steady rate of growth in the future. The sauces and dips segment is expected to show a significant rise in their market share over the forthcoming years, owing to the increasing demand for the Middle Eastern flavors in North American and Southern European countries.
The Middle East and Africa region dominated the global tahini market in 2018. Furthermore, this regional market is estimated to its dominance over the forecast time period as well. This can be attributed to the high domestic consumption of tahini and huge awareness about the benefits of tahini among the regional population.
Some key participants operating in the global tahini market are Al Wadi Al Akhdar, Haitoglou Bros, Halwani Bros, ElRashidi El Mizan, Prince Tahina, Firat, Carwari, Sesajal, Kevala, Al-Seedawi Sweets, MounirBissat, Sunshine International Foods, and Dipasa International.