Analysis
Autoclaves use water, pressure, and heat to create superheated steam that kills microorganisms and spores. They are used to decontaminate certain biological waste and sterilize media, instruments, and labware. Steam sterilization is mainly a function of temperature, pressure and time. Autoclaves are sterilizers using high pressure and high-temperature steam to sterilize media, glassware, instruments, waste, etc. A steam autoclave uses pressurized steam to generate moist heat to eliminate viable microbes from non-heat-sensitive medical devices used for surgical and general patient care. Steam autoclave consists of a stainless steel sterilizing chamber (rounded or rectangular) outfitted with a data recorder and/ or microprocessor. The unit may house a steam generator, removable racks, and/or water saver system. In a gravity sterilizer, air is exhausted through a steam trap at the bottom of the chamber. Vacuum sterilizers eliminate air by applying a partial vacuum and therefore require a vacuum pump. Tabletop steam sterilizers require minimal installation and are used in a wide variety of medical and laboratory environments.
Steam autoclaves use high pressure and high-temperature steam to kill pathogens. In order for the steam autoclave to be effective, the materials to be sterilized must be saturated with steam. Sterilization refers to the absolute destruction of all microorganisms that are present in fluids, on surfaces of materials, in medication and culture media. Steam sterilization works by denaturing proteins. Denaturing proteins involves protein coagulation which is a change in the conformation of the protein rendering it inactive. Basically, the steam autoclave is a pressure cooker that uses steam under pressure as its sterilizing agent. The increase in pressure above one atmosphere allows steam to reach a higher temperature. The extra pressure brings the boiling temperature of water higher bringing about more killing power. Thermal death time is information used to determine how long it takes to kill specific microorganisms at a specified temperature. The death rate is directly proportional to the number of microorganisms present at any given time. Moist heat autoclaving is the most often used form of sterilization. It is the fastest and most reliable form of sterilization. The increased demand for sterilization in medical and laboratory environment is major growth factor of this market. Moreover, growing need for safe management of infectious medical waste is driving the steam autoclaves market. However, for the small-scale hospitals, the high equipment cost has emerged as a roadblock for the steam autoclave market. Growing number of government regulations regarding the mandatory implementation of biosafety regulations, growing demand for portable autoclaves and the introduction of cost-effective devices may generate new opportunities in the forecast period.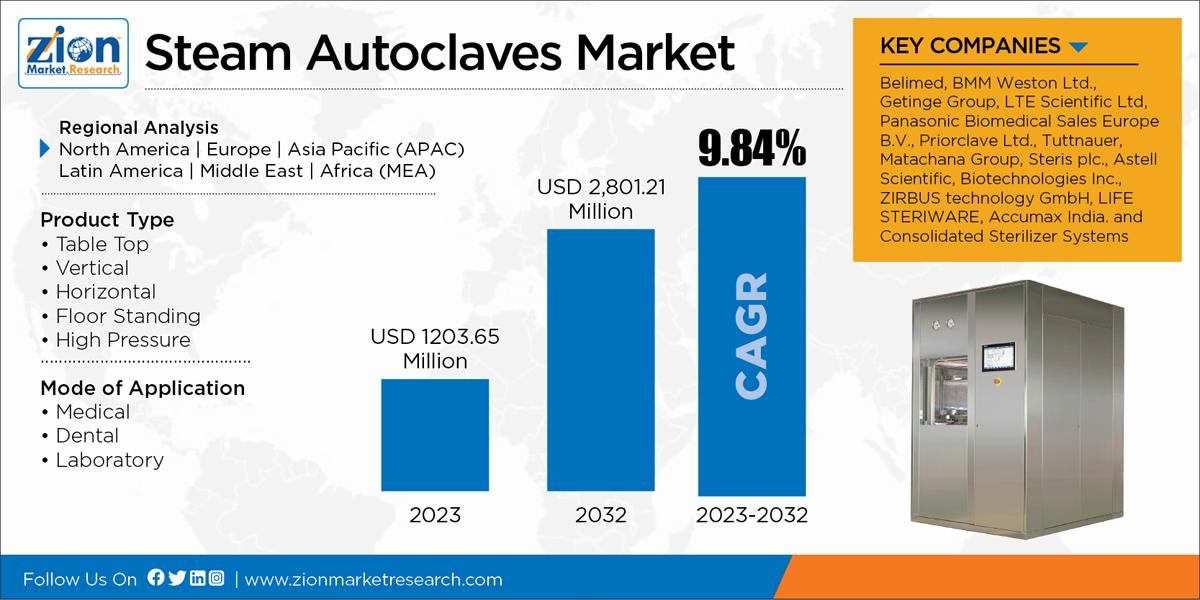 Based on product type, the market of the steam autoclave is segmented into Table Top, Vertical, Horizontal, Floor Standing, and High Pressure. In 2017, the Tabletop type and vertical type segment dominated the market.
Based upon application, the market of the steam autoclave is classified into Medical, Dental, and Laboratory. Medical and dental application dominated the market in 2017. In forecast period Laboratory applications is projected to grow at healthy growth rate.
Based on the geography, the market of steam autoclaves has been segmented into North America, Europe, Asia Pacific, Latin America, and the Middle East and Africa. In 2016, North America dominated the market with major market share and as a result of increasing government funding for medical waste management systems. Europe region was growing at significant growth rate mainly due increasing funding and regulations by the government bodies. Asia Pacific region also grows at a healthy rate primarily due to raising awareness about medical sterilization.
Key players operating in the steam autoclave market include Belimed, BMM Weston Ltd., Getinge Group, LTE Scientific Ltd, Panasonic Biomedical Sales Europe B.V., Priorclave Ltd., Tuttnauer, Matachana Group, Steris plc., Astell Scientific, Biotechnologies Inc., ZIRBUS technology GmbH, LIFE STERIWARE, Accumax India. and Consolidated Sterilizer Systems.