Analysis
The sports betting market is one of the fastest growing markets in the world and continues to gain popularity among people of all generations. This market offers tremendous growth potential for both the sportspersons and the bettors. With digital revolution transforming the world every second, the sports betting market is likely to grow dynamically in the future.
In various countries across the globe, the regulations that were put earlier on betting activities are being lifted by several governments in recent years. For instance, in the U.S., the Supreme Court overturned the federal ban on professional and amateur sports protection act. Various companies, like 888 Holdings PLC, are famous for online gaming operators, such as casino, poker, etc., are making various developments in the market for attracting bettors. 888 Holdings PLC is one of the leading players in the market and has already positioned itself in the market by partnering with various companies based in the U.S. The increasing popularity of virtual sports betting is one of the major factors likely to support the market for sports betting over the forecast time period. On the other hand, the strict regulations led down by various governments of different countries across the world might hamper the development of the sports betting market on a global scale in the future.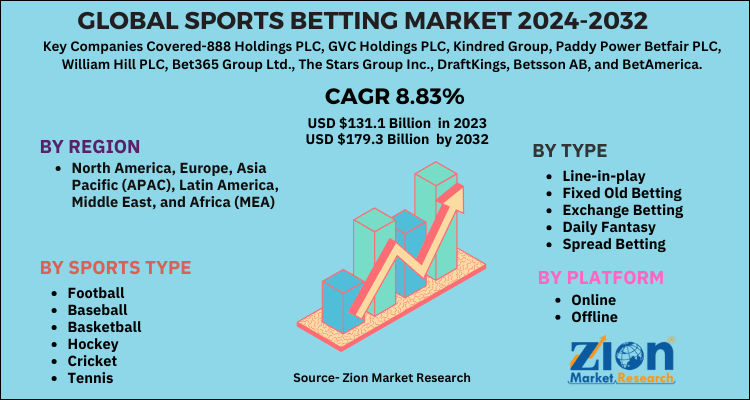 The global sports betting market is segmented based on platform, sports type, and type. Based on platform, this global market is bifurcated into online and offline. On the basis of type, this market is segmented into line-in-play, fixed old betting, exchange betting, daily fantasy, spread betting, e-sports, pari-mutuel, and others. The sports type segment of this market comprises football, baseball, basketball, hockey, cricket, tennis, golf, boxing, horse riding, auto racing, and others.
Based on region, this global market includes Asia Pacific, North America, Latin America, Europe, and the Middle East and Africa. The Asia Pacific region held the most significant share of the sports betting market in terms of value during 2017, owing to the growing awareness of sports betting in the developing regions of China, India, etc. The North American sports betting market is likely to witness a noteworthy rate of growth over the estimated timeframe.
Some key participants operating in the global sports betting market, such as 888 Holdings PLC, GVC Holdings PLC, Kindred Group, Paddy Power Betfair PLC, William Hill PLC, Bet365 Group Ltd., The Stars Group Inc., DraftKings, Betsson AB, and BetAmerica, among others.