Analysis
Speech and voice recognition is the process wherein a machine or an inbuilt program receives, interprets, as well as understands the dictation and carries out the spoken command by converting them to a machine-readable format. Speech and voice recognition both appear to be similar but there is a slight difference between them. In speech recognition, process words are recognized in the spoken language whereas voice recognition is used to identify person's or speaker's voice. Automatic voice recognition, speech recognition, and text-to-speech software work all together in many voice-enabled applications including both consumer and commercial applications.
Global speech and voice recognition technologies market is highly competitive owing to the presence of a large number of providers. Since the market is expanding tremendously it will have an immensely positive effect on both the large and small scale vendors. The demand for biometrics is immensely increasing worldwide in numerous sectors due to rising awareness of security concerns. The biometric featured with voice assistance is currently attracting enormous consumers. Among all sectors, there is rapid growth observed in the adoption of voice-based biometric in banking. Today's young generation not only avoids old pin code methods of banking but gives utmost preference to facial recognition, voice-based and fingerprint technology. Furthermore, raising awareness of security concerns have led to a rise in demand for multifactor authentication. This has led to a rise in demand for biometrics operating on the principle of speech and voice recognition.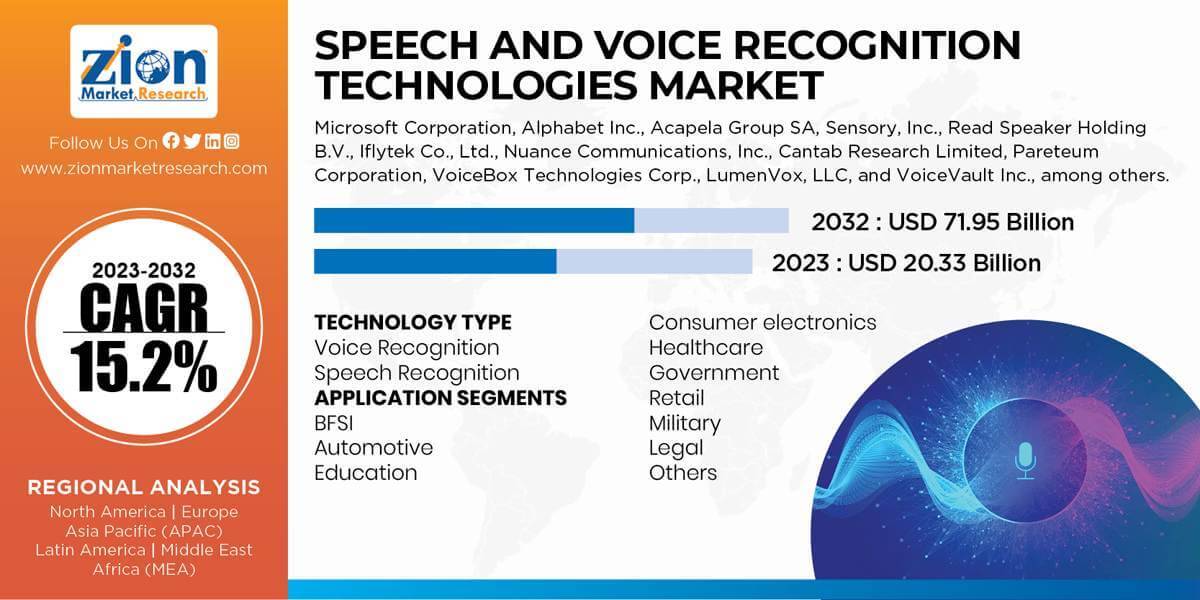 However, there are instances were these systems commit errors due to unwanted recognition such as children screaming, dogs barking, or loud external conversations can restrain market growth. Numerous emerging end-user segment including consumer centers, automotive vehicles centers, telecommunications, enterprise contact, and mobile electronic devices are further enhancing the market demand globally. Further, it is predicted that many leading companies will enter into agreements with speech and voice recognition technologies in augmented reality and artificial intelligence.
Speech and voice recognition technologies market are segmented on the basis of technology, application, and region. Based on technology, the market is bifurcated under two section voice recognition and speech recognition. In the forecast period, voice recognition segment is observed to grow remarkably. The rising need for biometrics globally has resulted in an acceleration in demand for voice recognition integration technology. Voice recognition is further classified as speaker identification and speaker verification. Also, speech recognition is further classified as automatic speech recognition and text to speech. Application wise speech and voice recognition technologies market includes consumer electronics, healthcare, automotive, retail, enterprise, BFSI, government, military, legal, and education. Rising demand for automation in emerging countries like India and China has led to increased demand for consumer electronics application sector which anticipates being the significant shareholder of the market.
Speech and voice recognition technologies market in the Asia Pacific is expected to grow at the highest rate during the forecast period. Geographically it includes the overview of policies opted in each region of Europe, Asia Pacific, North America, Latin America, and MEA. Presence of urging security awareness has led North America to be the largest market shareholder. The Asia Pacific is observed to grow tremendously in the upcoming years due to emerging demand of consumer electronics segment.
Key players operating in speech and voice recognition technologies market are Microsoft Corporation, Alphabet Inc., Acapela Group SA, Sensory, Inc., Read Speaker Holding B.V., Iflytek Co., Ltd., Nuance Communications, Inc., Cantab Research Limited, Pareteum Corporation, VoiceBox Technologies Corp., LumenVox, LLC, and Voice Vault Inc. Numerous companies across all sectors are looking for a competitive edge that will distinguish them in a growing competitive business environment and are significantly opting for technically advanced biometric systems.