Analysis
Solid state battery is a technology that uses both solid electrolytes and solid electrodes. This battery technology is the substitute of old and traditional lithium-ion battery systems. In the late 1950s, consecutive efforts were made to develop a solid-state battery. Later, solid-state batteries were developed. In simple words, a solid state battery mainly consists of an anode, cathode, and a solid electrode or a solid electrolyte. The operational functionality of the solid state batteries is no different than traditional lithium-ion batteries. Solid-state batteries can be made flexible, thinner, and contain more energy as compared to a traditional lithium-ion battery. Solid-state batteries are mainly utilized in radio-frequency identification (RFID), wearable devices, electric vehicles, pacemakers, and other consumer electronics.
The global solid state battery market is likely to experience significant growth in the future, owing to the increasing adoption of solid state batteries in consumer electronics. This growing acceptance is driven by the growing solid-state batteries' acceptance as they are considered far safer than traditional lithium batteries as the former batteries don't contain flammable liquid electrolyte solution. Additionally, solid-state batteries contain more energy units than traditional batteries. Furthermore, the increasing production of electric vehicles is likely to escalate the growth of the solid-state battery market globally in the years ahead. Automobile manufacturing organizations, such as Tesla, Hyundai, etc., are significantly investing in R&D to develop the potentiality of their electric vehicles. Moreover, solid-state batteries are lightweight and long-lasting, which is also contributing to the solid state battery market growth. However, the high costs of solid-state batteries may hamper the market growth in the future.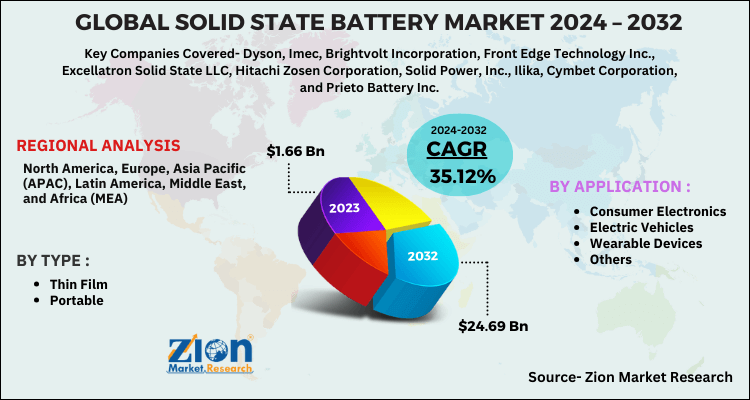 Based on product, the global solid state battery market is segmented into the thin film and portable. By application, the solid state battery market is categorized into wearable devices, consumer electronics, electric vehicles, and others.
North America held an extensive share of the global solid state battery market and is expected to continue with its regional authority in the upcoming years as well. This regional growth can be attributed to the high product demand from packaging and smart card sectors across this region. Moreover, the rising production of electric vehicles owing to stringent government rules and regulations for maintaining eco-friendly environment is likely to provide potential growth opportunities for this regional market. The Asia Pacific region is expected to provide significant opportunities to the global solid state battery market in the future, owing to the increasing investments made by the key players toward solid-state battery up-gradation and development and the growing adoption of solid-state batteries in the wearable devices in China and Japan.
Some key industry players operating in the global solid state battery market include Dyson, Imec, Brightvolt Incorporation, Front Edge Technology Inc., Excellatron Solid State LLC, Hitachi Zosen Corporation, Solid Power, Inc., Ilika, Cymbet Corporation, and Prieto Battery Inc.