Analysis
A snow melting system prevents the build-up of snow and ice on walkways, patios, and roadways. Most snowmelt systems operate in conjunction with an automatic activation device that will turn the system on when it senses precipitation and freezing temperatures and turn it off when temperatures are above freezing. Basically, snow melting systems are available in two formats: mat and cable. Snowmelt systems can be installed in new construction and retrofit for almost any driveway and walkway surface. Snowmelt systems also provide a permanent solution to the pangs of winter. These systems are on demand, maintenance free and computer controlled.

Increasing market for new residential constructions in developed countries including North America and Europe is anticipated to impact positively the global snow melting system market. Moreover, heavy snowfall is an imperative factor fueling the snow melting system market growth. The emergence of technological advancement in hydronic systems is expected to fuel the market growth over the years to come. However, the high cost of raw material may hinder the market growth within the forecast period.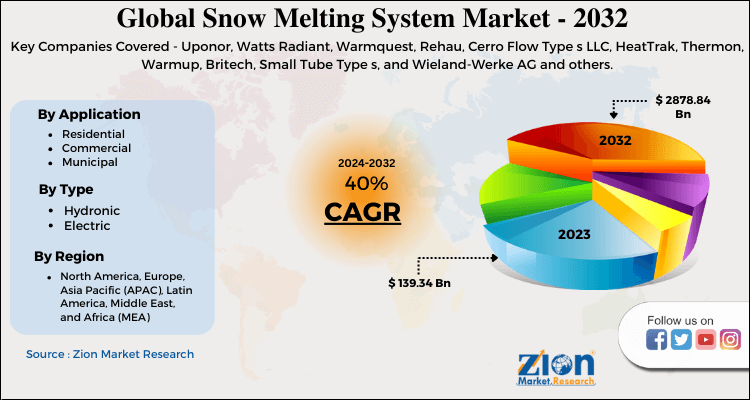 Snow melting system market is categorized into hydronic and electric. Hydronic was the leading segment and it accounted for over 45% share of total revenue generated in 2016. This market growth is attributed due to its superior properties such as a large heating area with existing boilers and durable PEX tubing.

Based on the application, the market is segmented into residential, commercial, and municipal. Residential was the largest segment and is expected to show substantial growth in the forecast period due to heavy snowfalls in Europe and North America which requires constant manual work to remove snow from the porch and walkways.
By geography, North America accounted for a large chunk of market share in terms of revenue in 2016 due to rising consciousness of the homeowners and the increase in the residential construction activity in developed countries like the U.S., and Canada. In terms of revenue, Europe was followed by North America in 2016. Europe is expected to show significant growth in the years to come. This is mainly due to the growth of radiant heating industries.
The global snow melting systems market is moderately consolidated, with the leading four players accounting for a significant share of the market in 2016. Some of the major companies have been investing in product innovation, technological advancement, and maintaining quality standards in order to retain their dominance in the market. Some of the key players are Uponor, Watts Radiant, Warmquest, Rehau, Cerro Flow Type s LLC, HeatTrak, Thermon, Warmup, Britech, Small Tube Type and Wieland-Werke AG and others.